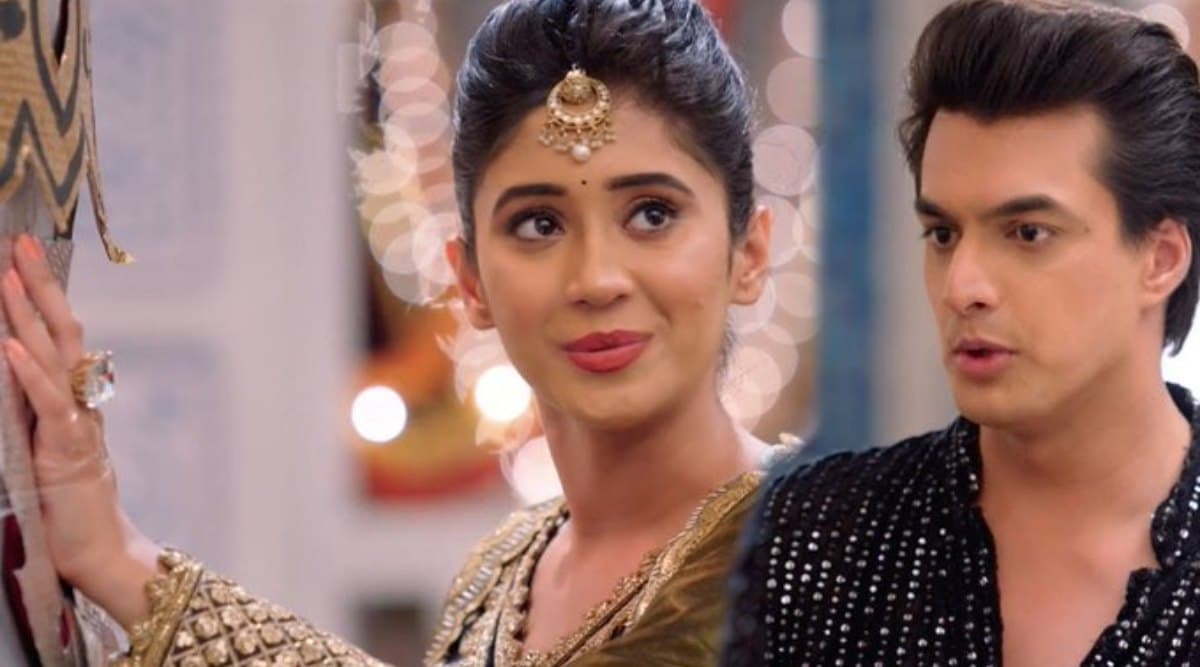 In yesterday's episode of Yeh Rishta Kya Kehlata Hai, we saw Kartik deciding to celebrate Kairav's birthday grandly. Later, Naira and Kartik come to know that Kairav is missing and Naksh holds Kartik accountable for the events. Tonight's episode starts with Vedika asking Naira (Shivangi Joshi) why did she call her and says sorry for what she did. Naira says no one is to blame and that this thing had to happen one day so it did. Naira apologises to Vedika and says she should not have separated Kairav from Kartik and that he was the one who was most affected by all the happenings. Naira says it is her fault as she thought of everyone but forgot about Kairav and that he sensed something is wrong and got disturbed. Later Naira tells Vedika that it will not affect her and Kartik's life and asks if she is okay with it. Vedika says she has already decided everything and leaves from there. Yeh Rishta Kya Kehlata Hai October 22, 2019 Written Update Full Episode: Kairav Goes Missing, While Kartik Prepares for a Grand Birthday Celebration of His Son
On the other hand, Suhasini tells Kartik (Mohsin Khan) and everyone that as the Singhanias have called them home for Dussehra, they should all go and enjoy the festival like one big family. Kartik gets a message from Naira, telling him that they are not going to Goa and that it is his birthday gift from her. Kartik is overjoyed and hugs Suhasini and tells everyone about it.
Meanwhile, Naira tells everyone in the Singhania house about her decision and everyone is happy for her and Kairav. Naira tells them that she feels Vedika is upset with this but Kaveri and Devyani make her understand that with time, all problems will be solved. Naksh says that now it is time for the party as so many people are going to come home and everybody goes to make arrangements. Later, Kairav sees the tickets to Goa and gets disturbed, thinking he has to do something to stop it. Yeh Rishta Kya Kehlata Hai's Shivangi Joshi Stuns in Her Latest Photoshoot and Fans Can't Stop Gushing Over Her (View Pics)
On the other hand, Vedika comes to Suwarna to tell her about her problems, but she asks her to get ready and meet them at the Singhania house and leaves. Vedika sees a paper and writes something down in it and keeps it near the mandir, so that someone sees it.
The Goenkas come to the Singhania house for the Dushera festival. Naira sees that everyone except Vedika has come and wonders why? Later when Kartik greets Kairav, he ignores him and goes away as he reminisces Kartik fighting with Naira. Meanwhile, Naira wishes everyone on the auspicious day and asks Kartik about Vedika. He tells her that she has gone out and will come later.
On the other hand, Suhasini and Devyani spend some quality time with each other. Meanwhile, Vansh and Kairav discuss their fathers and say that all fathers just scold their kids every time. Kairav asks Vansh to suggest some ideas so that he and Naira will not be sent to Goa. Vansh tells him to act like he got wounded and everyone will stop them from going. Later Naira and Kartik both decorate the idol of Raawan for the festival and start arguing with each other and laugh.
In the next episode, everyone prays when the idol of Raavan is being burnt and Kairav hides behind the idol.