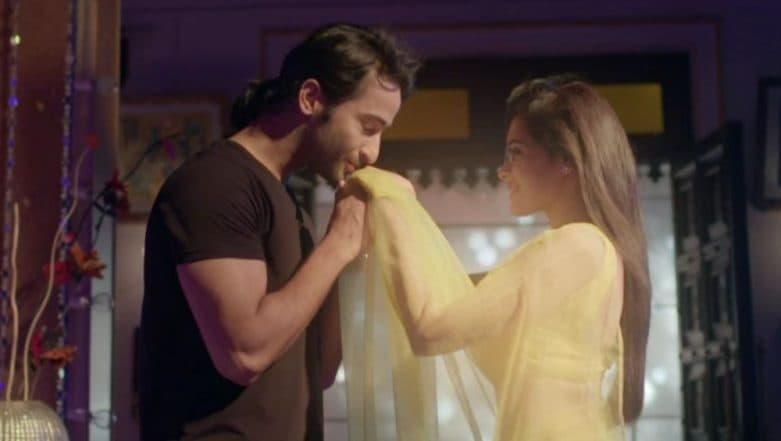 In yesterday's episode of Yeh Rishtey Hain Pyaar Ke, we saw Meenakshi humiliate Parul when the latter misbehaves with her. Later, Abir and  Mishti share a kiss while Kunal (Ritvik Arora) struggles to confess his true feelings to Kuhu (Kaveri Priyam). Tonight's episode starts with Abir (Saheer Sheikh) holding Mishti's (Rhea Sharma) hand and sleeping. Meanwhile, Meenakshi returns home and sees everyone drunk. She gets annoyed and screams asking who brought alcohol into the house. Mishti hears Meenakshi's voice and gets tensed and hides. Yeh Rishtey Hain Pyaar Ke August 7, 2019 Written Update Full Episode: Mishti Kisses Abir at the Bachelor Party, While Kunal Goes to Inform Kuhu That He Has No Plans to Marry Her
On the other hand, Kunal struggles to tell Kuhu the truth and says that he hates Mishti and asks Kuhu how she stays with her in one room. Meenakshi comes to know that Kunal has gone to meet Kuhu and gets worried as he may tell everything to her as he is drunk. There, as Kunal goes to tell Kuhu that he is playing games with her, Meenakshi calls him and stops him from telling her anything and orders him to come back home. Kunal switches off his phone and says that no one should disturb him. Kuhu tells Kunal to express his feelings for her. Meenakshi calls Jasmit and tells her to check if Kunal is there. Later she comes to the Maheswari household and asks forgiveness for Kunal's behaviour.
Jasmit brings Kunal down and tells Meenakshi to take him. While going she reminds Mishti to do her work which she had told her. Next morning, Yashpal comes to wake up Abir. Abir tells Yashpal that Mishti had come home yesterday night but is holding herself back and is unable to express her feelings. Yashpal advises him that he should take the first step.  Meanwhile, Kunal tells Meenakshi that yesterday he could have told everything to Kuhu as he was drunk. Yeh Rishtey Hain Pyaar Ke August 6, 2019 Written Update Full Episode: Mishti Decides to Inform Abir About Meenakshi's Vicious Plan, While Kuhu Confesses Her Love to Kunal
Meenakshi says it is good that the Maheswaris think that he loves Kuhu very much and that now Mishti will agree to do their work. Abir comes and tells Meenakshi to get ready so that they can go for the Mehendi function. Just then Jugnu comes and gives Abir his phone and tells that Mishti was calling her. Meenakshi gets alert. In the Maheswari household, Ananya comes to attend Kuhu's marriage function. Meenakshi calls and scolds Mishti as why she called Abir and tells her that they are on the way and reminds her of her work. Mishti tells Ananya to give a surprise to Varsha and Shaurya and hides her in her room and tells her to come when the function begins.
In the next episode, Abir puts mehendi on Mishti's palm and gives her a deadline to confess her feelings or else he will. Later Meenakshi tells Mishti that when Varsha takes the Mehendi to apply on Kuhu's palm, she should stop her and unveil the truth.