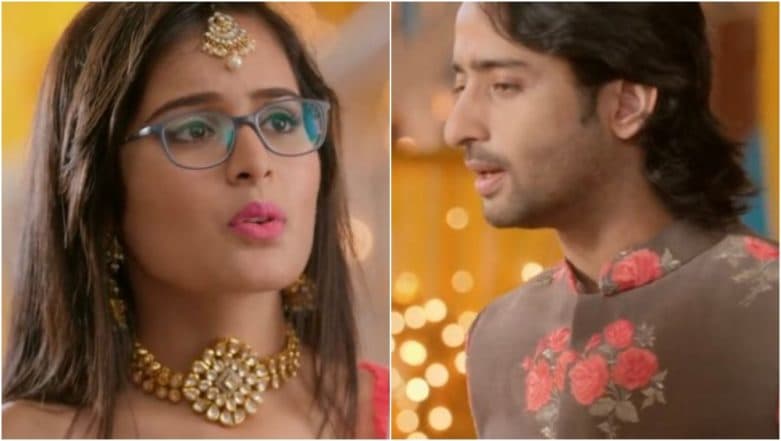 In yesterday's episode of Yeh Rishtey Hain Pyaar Ke, we saw Meenakshi is worried when she learns that an inebriated Kunal is spending time with Kuhu. Later, the former puts Mishti in a tight spot. Tonight's episode starts with Kuhu's and Kunal's mehendi programme where Abir (Shaheer Sheikh) searches for Mishti as he wants to confess his feelings to her. Meanwhile, Mishti (Rhea Sharma) thinks how can she do the work that Meenakshi has assigned to her. Ananya gets ready for the function so that she can surprise the family. Yeh Rishtey Hain Pyaar Ke August 8, 2019 Written Update Full Episode: Abir Gives Mishti A Deadline To Confess Her Feelings; Meenakshi Plans To Sabotage Kuhu and Kunal's Haldi Ceremony!
On the other hand, Abir asks Rajshree that she has not searched a companion for him till now. Rajshree tells Abir to select the girl and it will be her responsibility to arrange for the marriage. Just then Mishti comes and announces that she has a surprise for everyone. She goes on to say that as within two days Kuhu will get married and will leave them, she has planned something so that no one forgets this day. Ananya comes and surprises everyone, Rajshree introduces her to Meenakshi and tells her that she is Kuhu's elder sister. Meenakshi comes and asks Kuhu whether she is her real sister.
Meanwhile, Abir sees Mishti disturbed and asks what is the problem and why did she come to his house the earlier day. Mishti says that she just wanted to meet Kunal and talk to him regarding some marriage preparations and nothing else. Abir tells Mishti that she has not given him an answer to his question till now, and says if she does not give the answer then he will tell her in the presence of everyone. Abir sings a song for Mishti (Mehendi laga ke rakhna track plays in the background) and everyone sings and dances with him. Meenakshi tells them to start the mehendi function and tells that first the boy's mother and then the girl's mother will apply. Meenakshi reminds Mishti what she has to do. Meenakshi goes and applies the first Mehendi on Kuhu's palm and then calls Varsha to apply. Mishti asks Varsha to stop and as she is about to do what Meenakshi asked her to, Abir presses a wrong button on his mobile in which a video starts and everyone gets distracted. Kunal goes to help him in stopping the video. Mishti goes inside and Meenakshi follows her. By that time Varsha applies the mehendi on Kuhu's palm. Yeh Rishtey Hain Pyaar Ke August 7, 2019 Written Update Full Episode: Mishti Kisses Abir at the Bachelor Party, While Kunal Goes to Inform Kuhu That He Has No Plans to Marry Her
Later, when Mishti is in her room, she thanks Abir as he unknowingly helped her. Abir comes into the room and asks why is she thanking him. Abir reminds her that she has only two days to tell him her answer and takes the mehendi and writes '2 days to go' on her palm, so that she will not forget.  Mishti tries to erase the mehendi with water but it does not go. Just then Meenakshi comes and says why she did not tell about Varsha and chides her and asks why she did not stop Abir when he applied mehendi on her palm. Meenakshi says as she has not obeyed her now Mishti will be responsible for whatever happens with Kuhu and Kunal's relation. Parul overhears them and gets tensed.
In the next episode, Mishti tells everyone that Kuhu is not Varsha's real daughter. Everyone is shocked when Mishti reveals the truth.