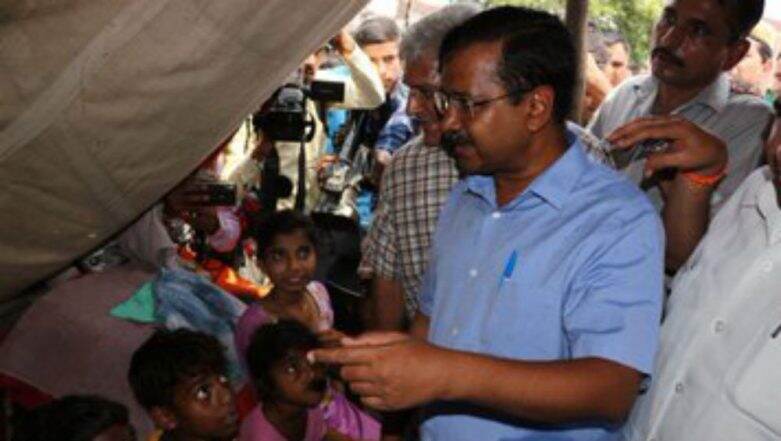 New Delhi, August 21: Delhi chief minister Arvind Kejriwal on Wednesday visited the flood affected people at Yamuna coast, who have been hit by the rising water-levels in Yamuna as the river continues to overflow. The Delhi CM also informed about the measures taken to provide relief to the people. "Temporary tents have been arranged for people," said Kejriwal. The water-level in Yamuna river is at 206.6 metres, said the CM. The danger level is the mark of 205.33 metres. Delhi Flood Alert: Yamuna Water Level Continues to Swell Beyond Danger Mark, Around 14,000 People Evacuated to Safe Places.
Kejriwal also expressed relief over the fact that "there has been no loss of life," since the surge in Yamuna river. He added that the people will only be allowed to go back to their homes once the water recides. Yamuna River Crosses 'Warning Mark', Delhi CM Arvind Kejriwal Call Emergency Meeting.
The AAP leader shared pictures from his visit. "Tents, food, water, medicines etc have been arranged for all these people," said Kejriwal in his tweet.
See the Pictures in the Tweet Below:
अभी यमुना तट पर बाढ़ प्रभावित लोगों से मुलाक़ात की। अधिकतर लोगों का सामान घर में ही रह गया। अच्छी बात ये है कि अभी तक किसी जान का नुक़सान नहीं हुआ। इन सभी लोगों के लिए टेंट, खाना, पानी, दवाई आदि का इंतज़ाम किया है। यदि कहीं कोई कमी हो तो बताएँ, हम तुरंत ठीक करा देंगे। pic.twitter.com/SBOLMyPL89

— Arvind Kejriwal (@ArvindKejriwal) August 21, 2019
Though there has been no loss of life, farmers have lost crops in excess of Rs 40 lakh due to the flooding caused in and around Yamuna river. A PTI report said that crops in excess of Rs 40 lakh has been lost to the floods. Yamuna river started overflowing after the release of water from Hathni Kund barrage in Haryana.
Arvind Kejriwal addressed a press conference on Monday and said that, "Water level (of Yamuna River) is expected to cross the danger mark, today evening. Water can reach here during the next two days with full force, all our officers and ministers are monitoring the situation 24x7." However, at the time of filing the report, the water-flow in Yamuna was higher than the danger-mark but constant.