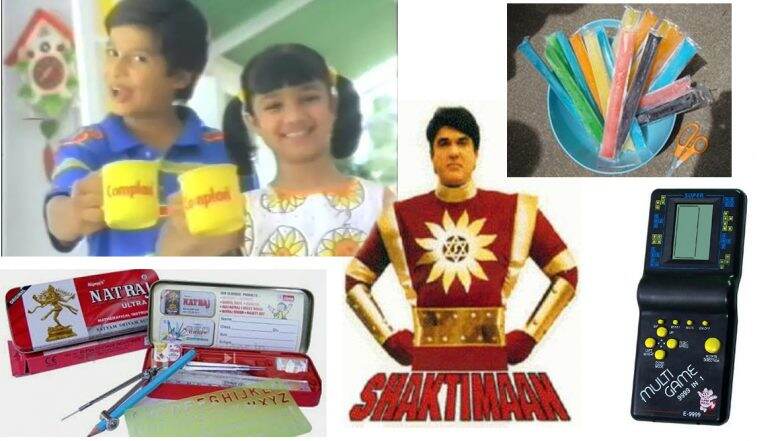 From one millennial who refused to grow up to the others, wish you all a Happy Children's Day! There is still a part of us that refuses to adult. We have all spent most of our adulthood complaining about adulthood itself! So let's spare ourselves this children's day by reminiscing all the beautiful memories that we never thought would become so special one day. Who knew little things like do rupaye ki desi pepsi or multi-functional pencil box of the 90s would take us back to the beautiful memory lanes in no time? The desi millennials, most of whom are struggling to make ends meet as adults, had no idea we will start speaking like adults and begin most of our sentences with, "Humare zamane me..."; but here we are! Children's Day 2019: 10 Things Schools Owe Our Future Generation. 
Well, when you do not have control over something, there is no point being upset about it. BUT we can certainly cherish our golden days and be thankful! Let's take a ride down the memory lane. Here is a list of things from our childhood that are extremely close to our hearts.
Shaktiman
Superman, Batman and all the other superheroes can go home! VFX-filled superhero movies of today pale in comparison to Shaktiman. If you didn't pretend to rotate like Shaktiman as a kid, were you even a kid at all? Some of us still say "sorry, Shaktiman", after making a mistake, call us crazy!
Check Out This Amazing Video From the Show Shaktiman:
View this post on Instagram
Do Rupaye Wali Pepsi
Summer vacations used to be incomplete without these treats dubiously and unofficially known as "Pepsi"(I wonder if the brand Pepsi even knows about it!). The two minutes of sheer joy that Pepsi gave us is unforgettable! We would legit save money for this treat and have a sparkle in our eyes as soon as we saw the Pepsi wala come to us.
View this post on Instagram
Fancy Pencil Box
You know what we are talking about! The one that has several compartments, attached sharpeners and a small area to keep your erasers. We have all wished to have that as kids.
View this post on Instagram
Video Game
You Xbox is totally "pani kam chai" when it comes to the 16-bit video games that kept us glued for hours. But, real talk, did you ever beat the highest score?
View this post on Instagram
Natraj
What were you doing as a kid if you didn't have Natraj compass kit? Right from pencils to erasers, Natraj produced a range of stationery that was reasonable and lasted for long!
View this post on Instagram
Complan
The joy shouting our lungs out: "I am a Complan boy/girl" at home with a cup of hot beverage as kids! Some of us didn't grow tall enough but still, we loved being Complan boys and girls.
Big Babol
We have no idea why they stopped producing it, blowing Big Babol in our mouths made us look so cool. Can't you still remember the taste of the chewing gum?
Chacha Chaudhary
Most of us grew up reading Chacha Chaudhary ki kahaniyaan and also watching it on TV. Now repeat with me, "Chacha Chaudhary ka dimag computer se bhi tez hai!"
Landline
Does anyone still have a landline connection at home yet? OMG, there was a time we would memorise our best friend's numbers and chat for hours with them after school.
Flames
Tinder, what? We used to ship people by crossing out letters from the names. We have all done F.L.A.M.E.S with our friends and blushed when we got "Marriage"  as results.
Rol.a.Cola
Parle Poppins and Rol.a.Cola, some we would relish with our friends and have favourite colours in! What a treat these candies were!
Fryums
Remember sticking your fingers into the "finger chips" and looking uber cool. I don't know what kids these days do with their food, we had a hell lot of fun with our snacks.
Yashica and Kodak Cameras
From waiting for the camera rolls to develop to receiving pictures with our eyes closed, the whole process was so exciting. Please don't tell me you didn't think of those pictures in your head, only to get a heartbreaking reality check when the pictures were developed.
Phantom Cigarettes
The coolest thing we did as kids, was pretending to smoke with Phantom cigarettes! The tasty treats were a party for our taste buds and added to our swag!
Steam Boat
Favourite summer vacation memory! We all played with the steamboat and felt like sailors.
*Already have tears of joy rolling down my cheeks*
These are just a few of the best memories we had as kids. I can say, on behalf of all the millennials we will remain ever grateful for being born in an era when technology didn't ruin things and simple joys enriched our lives. We are lucky enough to have witnessed the best of both worlds.