Sawan Shivratri 2019 is being celebrated on Tuesday, July 30. It is a significant day in the holy month of Shravan and is dedicated to Lord Shiva. While devotees pray to Lord Shiva during the entire Shravan maas, a special puja is performed on the day of Shravan Shivratri. It also marks the end of Kanwar Yatra as kanwariyas who carry Gangajal from the holy river barefoot offer the water to shivling in different parts of the country. Devotees offer milk, flowers, bhaang leaves and Gangajal to Lord Shiva on this day and also observe a day-long fast. LatestLY brings you Sawan Shivratri wishes in Hindi, WhatsApp stickers and messages and images to share online on the auspicious day dedicated to Lord Shiva. Sawan Shivratri 2019 Date: Know Significance, Puja Vidhi and Muhurat of This Auspicious Day in Month of Shravan.
Sawan Shivratri is celebrated on a large scale in parts of North India such as Uttar Pradesh, Uttarakhand, Rajasthan, Haryana, Madhya Pradesh, Punjab, Himachal Pradesh and Bihar. Devotees also listen to and dance on Shiv bhajans and chant Shiv stuti on Shravan Shivratri. This Sawan Shivaratri, share these messages and wishes on this auspicious day. Sawan Shivratri 2019 Wishes and Messages: Facebook Greetings, Lord Shiva WhatsApp Stickers, GIF Images and Quotes to Celebrate This Auspicious Festival.
Shravan Shivratri Messages in Hindi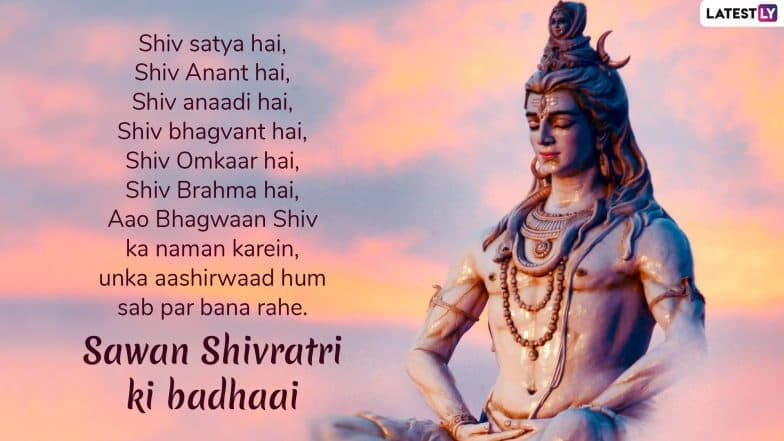 WhatsApp Message reads: Shiva satya hai, Shiva Anant hai, Shiv Anaadi hai, Shiv Bhagvant hai, Shiv omkaar hai, Shiv Brahma hai, Aao Bhagwaan Shiv ka naman karein, unka aashirwaad hum sab par bana rahe. Sawan Shivratri ki badhaai.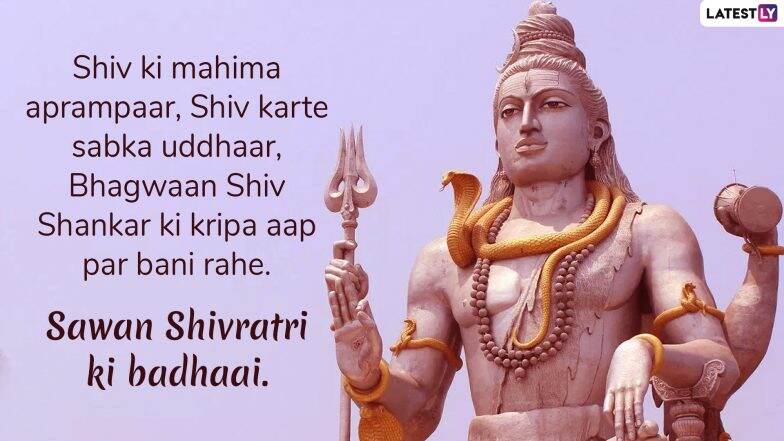 WhatsApp Message reads:  Shiv ki mahima aprampaar, Shiv karte sabka uddhaar, Bhagwaan Shiv Shankar ki kripa aap par bani rahe. Sawan Shivratri ki badhaai.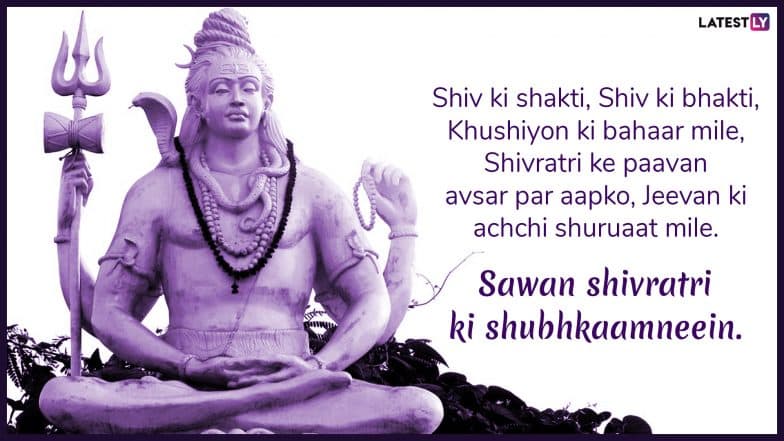 WhatsApp message reads: Shiv ki shakti, Shiv ki bhakti, Khushiyon ki bahaar mile, Shivratri ke paavan avsar par aapko, Jeevan ki achchi shuruaat mile. Sawan shivratri ki shubhkaamneein.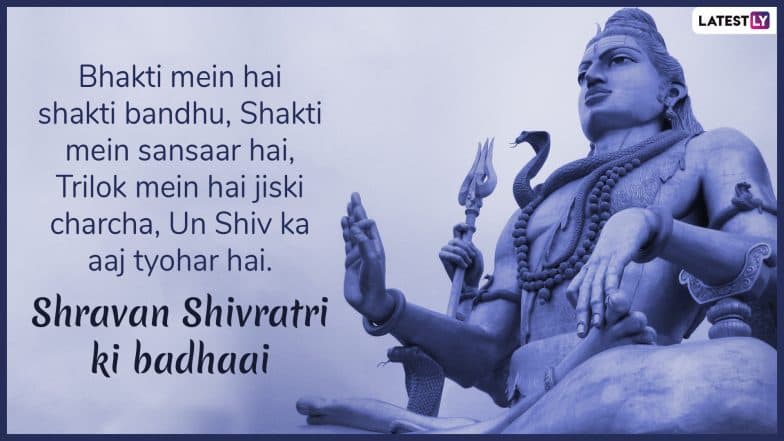 WhatsApp message reads: Bhakti mein hai shakti bandhu, Shakti mein sansaar hai, Trilok mein hai jiski charcha, Un Shiv ka aaj tyohar hai. Shravan Shivratri ki badhaai.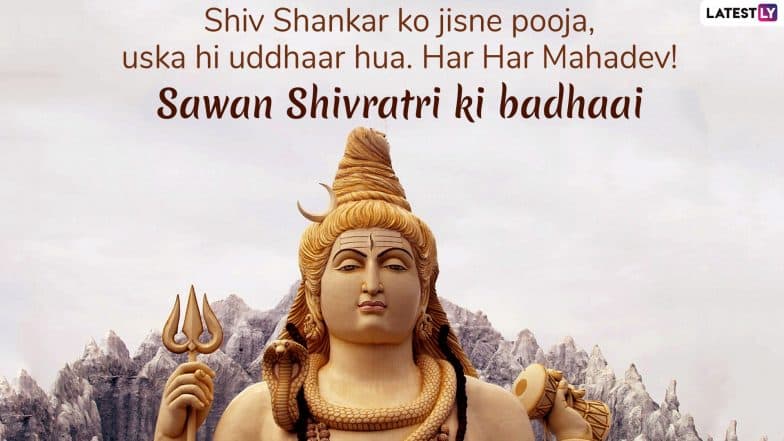 WhatsApp message reads: Shiv Shankar ko jisne pooja, uska hi uddhaar hua. Har Har Mahadev! Sawan Shivratri ki badhaai.
Watch: Sawan Shivratri Greetings in Hindi
It is said that observing a fast and praying to Lord Shiva on the occasion of Shrava Shivratri helps devotees attain Moksha. Share the above messages to fellow Shiv bhakts to celebrate the occasion of Sawan Shivratri. LatestLY wishes you a Happy Shivratri.
(The above story first appeared on LatestLY on Jul 30, 2019 06:00 AM IST. For more news and updates on politics, world, sports, entertainment and lifestyle, log on to our website latestly.com).