Vishwakarma Jayanti celebrates Vishwakarma, the Hindu God of architecture and engineering. People worship Vishwakarma on this day and offer special prayers to him. Vishwakarma is believed to be the creator of the world or Swayambhu. According to Hindu scriptures, he is also known as the world's first architect and engineer who helped in laying the foundation stone of the universe. Vishwakarma Puja 2019 will be observed on September 17. On this day, people send Vishwakarma Puja messages wishing the observance. As the observance approaches, we have compiled a list of WhatsApp Stickers, Facebook greetings, GIF Images and SMS to wish on the festival. Vishwakarma Puja 2019 Date and Puja Vidhi: Know Significance and Shubh Muhurat to Celebrate The Festival of Hindu God of Architecture.
According to the Hindu mythology, as Lord Vishwakarma was born during Magh Shukla Trayodashi, he is considered to be an incarnation of Lord Shiva. It is believed that Lord Vishwakarma is the one who helped in the making of heaven, Dwapar and even Hastinapur. Hence, people pray to Lord Vishwakarma before starting the work for various structures. In the Hindu scriptures, his name first appears in Rig Veda and is also credited with Sthapatya Veda, the science of mechanic and architecture. Here are Vishwakarma Puja messages and greetings you can send your friends and family to wish 'Happy Vishwakarma Jayanti'.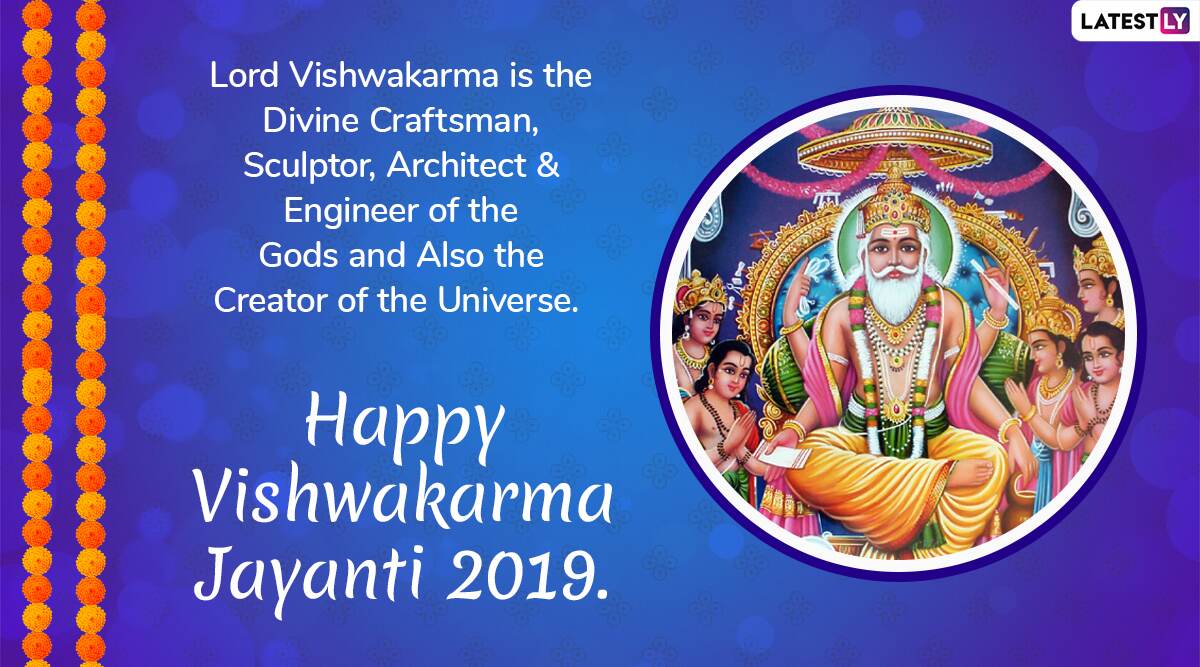 Vishwakarma Jayanti Message: Lord Vishwakarma is the Divine Craftsman, Sculptor, Architect & Engineer of the Gods and Also the Creator of the Universe. Happy Vishwakarma Jayanti 2019.
Vishwakarma Jayanti Greetings: May This Vishwakarma Puja Bring You Everything You Desire. May Success Accompany You in Every Step. Have a Blessed Vishwakarma Puja 2019.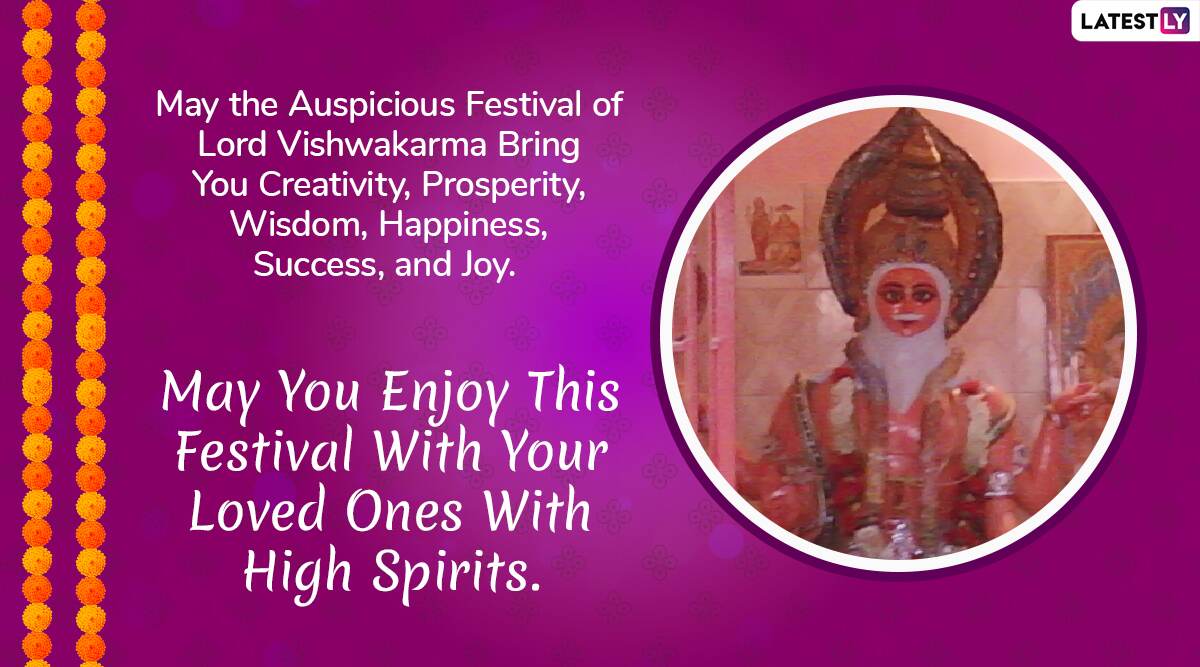 Vishwakarma Jayanti Wishes: May the Auspicious Festival of Lord Vishwakarma Bring You Creativity, Prosperity, Wisdom, Happiness, Success, and Joy. May You Enjoy This Festival With Your Loved Ones With High Spirits.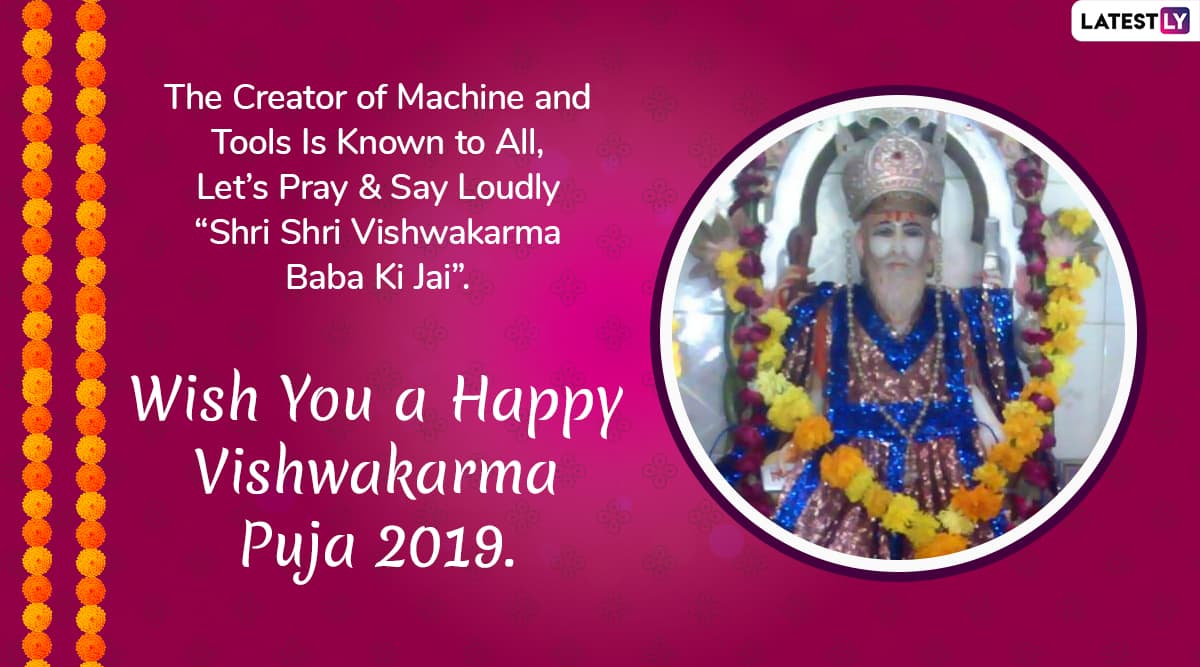 Vishwakarma Jayanti SMS: The Creator of Machine and Tools Is Known to All, Let's Pray & Say Loudly 'Shri Shri Vishwakarma Baba Ki Jai'. Wish You a Happy Vishwakarma Puja 2019.
Download Vishwakarma Jayanti 2019 WhatsApp Stickers
Vishwakarma Jayanti messages can also send as WhatsApp Stickers. You can download beautiful Vishwakarma Puja images and Angarki Sankashti Chaturthi wishes from PlayStore. You can also download Vishwakarma 2019 WhatsApp Stickers, GIF images, Ganpati photos which can be shared with your family and friends.
Vishwakarma is also said to have made the Palace of Illusions or Maya Sabha for the Pandavas. He is also credited with the creation of weapons for the Gods including Indra's Vajra. For the same, he is referred to as the divine carpenter. On Vishwakarma Jayanti, devotees fast and pray to him seeking understanding and wisdom in the respective jobs. We wish everyone Happy Vishwakarma Day in advance!
(The above story first appeared on LatestLY on Sep 17, 2019 06:00 AM IST. For more news and updates on politics, world, sports, entertainment and lifestyle, log on to our website latestly.com).