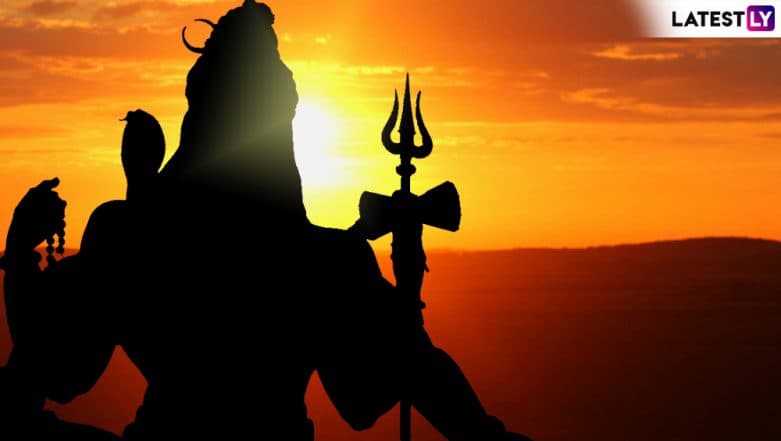 Maha Shivratri 2019 is marked on March 4 this year. The 'great night of Shiva', the day of Mahashivratri sees a lot of devotees staying up the entire night to pray to the Mahadev. Lord Shiva prayers and chants are recited the entire night, people meditate and observe great devotion of the lord. Mahamrityunjaya Mantra or the Rudra Mantra is also known as Tryambakam Mantra is one of the important prayers of Lord Shiva. It is actually a verse of the Rigveda which is said to eliminate fear from people's lives. It is the oldest mantra in Vedas which addresses the Rudra avatar of Shiva. Let us know more about the meaning of Maha Mrityunjaya Mantra and why it is beneficial to chant this mantra. Mahashivratri 2019 Date and Day: Know Maha Shivaratri History, Significance and Legends Associated With the Festival of Lord Shiva.
On Mahashivratri people observe a fast, visit Lord Shiva temple to make offerings and seek his blessings. Lord Shiva is considered the Mahadev- the greatest of the Gods. So needless to say, there are a lot of worshippers and followers of this god. A destroyer of all evils, Lord Shiva is a favourite God for many. He is often considered as the supreme power of creation as well as the destruction of the universe. Mahashivratri is an important day honouring Lord Shiva and worship done on this day is said to please Lord Shiva most. Mahashivratri 2019: Why did Shiva do the Tandav? The Story Behind the Lord's Cosmic Dance.
Meaning and Significance of Maha Mrityunjaya Mantra
Mahamrityunjaya is made up of three words- Maha meaning great, Mrityun meaning death and Jaya means victory. The mantra thus means 'great death-conquering mantra.' It is thus also called the Moksha Mantra of Lord Shiva. It seeks blessings from the three-eyed-one. Lord Shiva is addressed as Sankara and Tryambaka in this chant. Reading and chanting this mantra is said to create a divine vibe. This vibe eliminates the fear of death or any unexpected event. Mahashivratri 2019: DO NOT ANGRY Lord Shiva By Offering These Five Things; Know The Mythological Stories Behind It This Maha Shivaratri!
Watch Video of Mahamrityunjaya Mantra With Lyrics
Benefits and Power of Maha Mrityunjaya Mantra
There are many benefits of chanting the Maha Mrityunjaya Mantra. It carries certain power as well. The Shiv Purana mentions chanting Mahamrityunjaya Mantra in case of feeling any fear. It is advised to chant this mantra 1100 times. There is a belief that it creates a divine vibration which carries a healing power. It is also said to liberate a person from the cycle of death and rebirth. It is a protective chant which takes away the fear of death from a person. One more benefit of the Mahamrituanjaya mantra is that it can cure the diseases as well. It is thus said to have healing powers.  Maha Mrityunjay Mantra also connects human beings to their own inner divinity.
So this chant has a lot of significance and healing benefits to it. So chanting of this mantra on the day of Mahashivratri can also reap more benefits and blessings. One must close their eyes, sit in a pure environment to discover inner peace and divinity. Wish you all a very Happy Maha Shivratri!