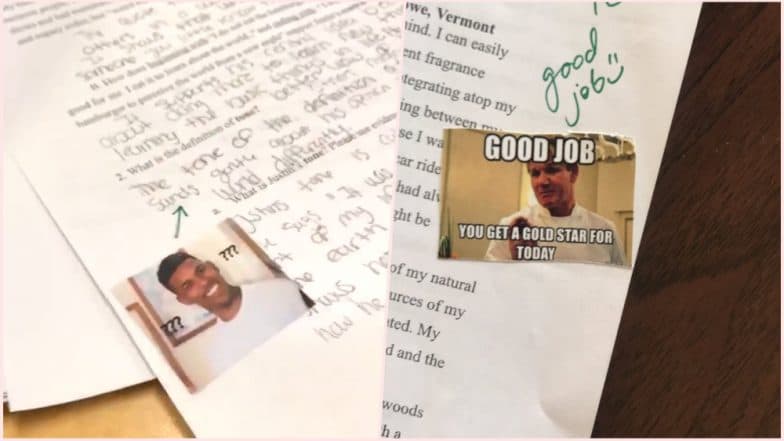 With time, memes are a great saviour. They are the cultural symbols and social ideas that spread virally, with the intent to either make people laugh or make fun of others. The Internet is surfaced with memes relating to minor everyday consequences. They scream relatable! Now if you ever thought, that memes only offer a quick smile and have no impact in the world, a Chicago teacher (now viral) has something for you. Well, she uses the quippy images to grade her high school English student's assignments. And her use of memes saw a quick reaction from her students who were inspired to do more and better work. They are in love with her! Moth Memes Have Taken Over the Internet and They Are Not 'Light' Humour. 
No matter if we like studying or not, it is a known fact that to see a bad grade on paper does not really feel good. Challenging, the typical dull way of grading, this teacher, identified as Ainee Fatima has in no time became every students' favourite. She prints out the memes on sticker paper and stuck them on her students' answer sheets and home assignments. Thanks to Donald Trump & Stormy Daniels, Funny Memes & Jokes on Mario Kart, Toadstool and Mushroom Take Over the Internet. 
Fatima teaches a media studies class to high school seniors, she told BuzzFeed about her quirky idea, "I was just grading and I was really frustrated, and in my head I was just like, I wish my kids could see my face my right now, because the answers they were writing were just incredibly wrong. So I was like, let's print out some memes."
Here is the 'confused Nick Young' meme for the papers that causes frustration.
I love grading with my new stickers! pic.twitter.com/4K66qQblSJ

— ainee f. (@axfxq) October 17, 2018
You thought it right! Only a low grader can understand the pain of seeing those red marks and Fatima was one among them in her school time. She told Teen Vogue, "I was a student who was a victim to the 'red marker' grading while in school, and it gave me immense anxiety about receiving my paper back in class. I do not use a red marker, and I think the memes offer a lighthearted look at getting a bad grade." These 'Hurt Me' Sex Memes Will Make You Laugh And Cry At The Same Time. 
And the memes are not only for students who leave a perplexed look on her face. Those who do well in their answers, Fatima created stickers from a Gordon Ramsay meme reading, "Good job. You get a gold star for today."
Don't worry, I did positive memes too! 😂 pic.twitter.com/rTfHCGKQwJ

— ainee f. (@axfxq) October 18, 2018
Fatima's effort has been lauded by her students in her classrooms, social media and her email inbox. Netizens clearly love the idea. After going through the creatives, even we wish, every institute has such cool teachers. Educators across should note this soon! Studying and grading would not be boring at all. Fatima also shared the confused Nick Young stickers in a Google Drive folder for others to print out and surprise their students.