Karma is a mirror, and it can teach you some great lessons, when the need arises. Much like this thief who stole two bottles of Tomato Ketchup from NJ Restaurant in New Jersey. After the mischievous act, the thief faced a fatal accident which damaged the person's car. Fearing bad Karma, two weeks later, the unnamed thief, bought two new bottles of tomato ketchup and left them in a bag outside the restaurant with a note. The action touched both the restaurant and Heinz. As per reports, the American food processing company, has offered help to the person, promising to keep the identity secret. Heinz Mayochup Mixes Mayonnaise and Ketchup, See how the Internet Foodies Reacted. 
Only identified with the pronoun, "she," in the heartfelt apology note, she wrote, "A few hours [after] I did it, someone crashed into my car, and since then karma, luck, and life have been s**t." She further adds, "I hope returning two new bottles will restore some for me, and I can stop carrying around this guilt."
Here's the Apology: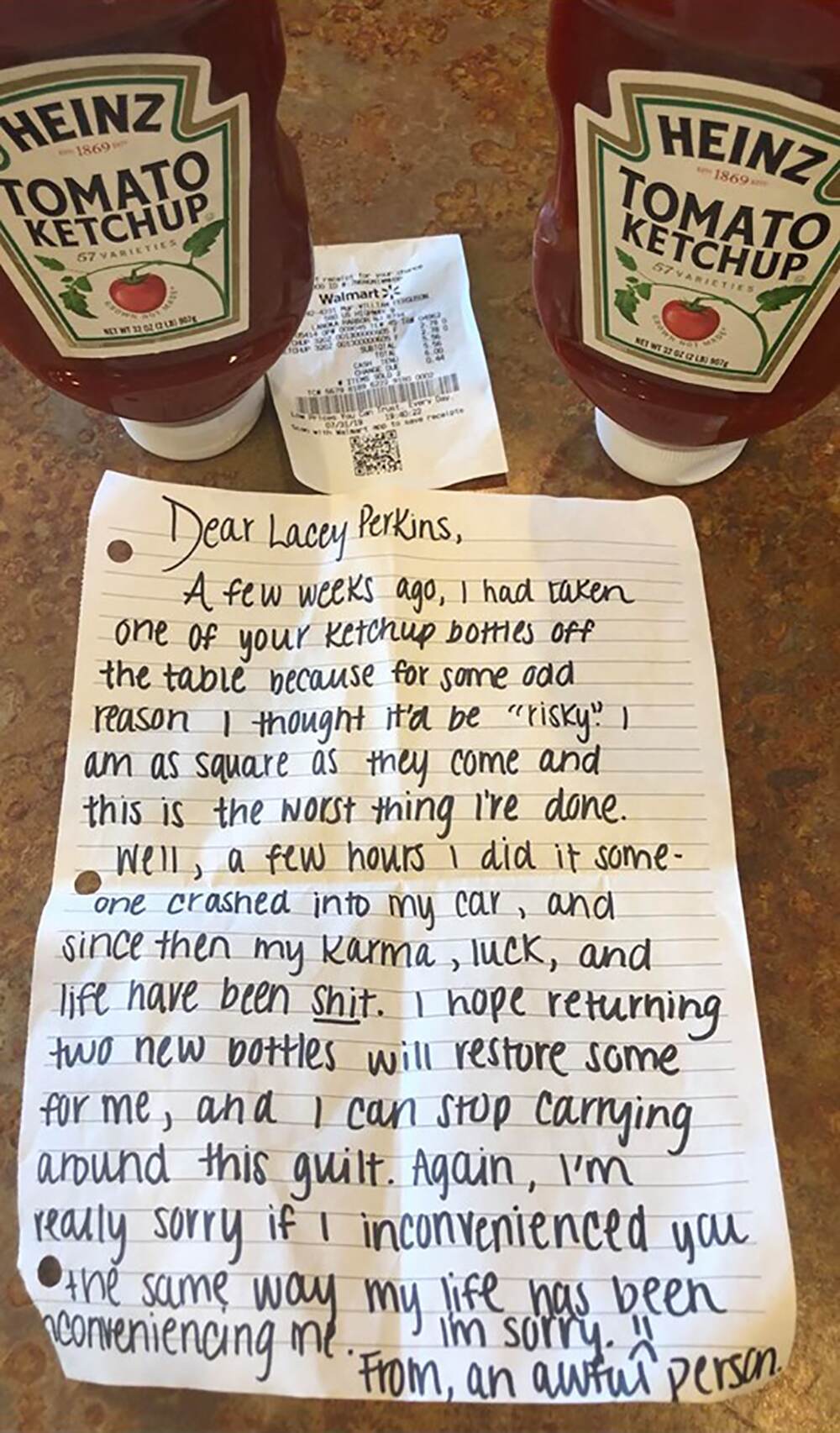 Seeing her apology, Heinz tweeted to help her out paying the damages to her car if she reached out to the company. Because the company knows, its ketchup, "makes you do crazy things."
Read Tweet:
Reformed Ketchup Thief,

We get it, Heinz makes you do crazy things. In honor of your good Ketchup Karma, we'd love to help you with your car damages. DM us. We'll keep your identity top secret.

— Heinz Ketchup (@HeinzKetchup_US) August 7, 2019
Whether you believe in Karma, or you don't, good deeds also pay you well. In this case, we do not know anything more about it, but only hope that good Karma has been restored.