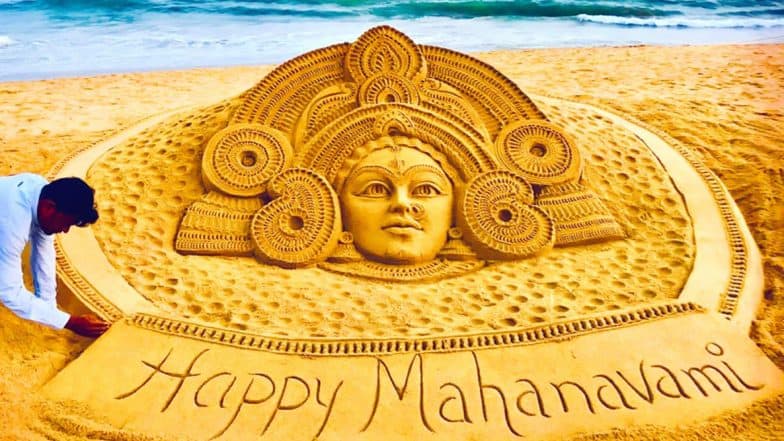 Maha Navami, the ninth day of Navratri festival is celebrated today. The day is observed with great fanfare across India. It falls on the ninth day of Shukla Paksha in the month of Ashwin according to the Hindu calendar. Maha Navami marks the third and final day of Durga Puja. The day is of great importance among believers as Goddess Durga is believed to have killed demon Mahashasura on this day. On the Maha Navami 2019, people have taken to Twitter wishing 'Subho Maha Navami'. Social media users are posting beautiful pictures of Maa Durga greeting Durga Navami. Meanwhile, popular sand artist Sudarsan Pattnaik created a sand art of Goddess Durga wishing 'Happy Mahanavami' at Puri beach in Odisha. Subho Maha Navami 2019 Wishes: WhatsApp Stickers, GIF Image Greetings, Messages, Facebook Photos, SMS & Quotes to Send During Durga Puja.
Durga is celebrated with grand celebrations in eastern parts of the country. In some regions, Mahanavami, Durga Puja celebrations begin with special prayers during which Mahasnan and Shodashopachar Puja is conducted. While rituals, traditions and customs attached to the observance is different in different parts of the country, the core essence of the festival remains the same. In some regions of India, kanjak or kanya puja rituals are held in which nine young girls are invited and are worshipped and treated as Goddess Durga. They are offered special food items are gifted new clothes and jewellery. Navratri 2019 Day 9 Colour and Goddess: Worship Devi Siddhidatri, the Ninth Avatar of Maa Durga This Sharad Navaratri.
Sudarsan Pattnaik's Maa Durga Sand Art Wishing 'Happy Mahanavami':
Greetings to all on the auspicious occasion of #Mahanavami. My SandArt at Puri beach in Odisha . #DurgaPuja2019 pic.twitter.com/qsdDxWUyRe

— Sudarsan Pattnaik (@sudarsansand) October 7, 2019
Happy Ayudha Pooja!
My heartiest wishes to everyone on this auspicious day of Ayudha Pooja and Mahanavami. #AyudhaPooja #Mahanavami #Navratri #Dasara2019 pic.twitter.com/c2wnZBMb16

— Rajeev Chandrasekhar 🇮🇳 (@rajeev_mp) October 7, 2019
Mahanavami Wishes Trend on Twitter:
If you treat your tools, including your own body and mind, with reverence, every activity will be a joyful and fruitful process. #SadhguruQuotes #AyudhaPooja #MahaNavami pic.twitter.com/8coLU4oKV9

— Sadhguru (@SadhguruJV) October 7, 2019
Happy Maha Navami!
Greetings to everyone on this special occasion of Maha Navami.

Maa Durga epitomises strength, courage & compassion. May she empower us to fight the evil in us & society. May this auspicious day bring immense fortune and happiness in everyone's life.

Jai Maa Durga!#Mahanavami pic.twitter.com/BCIfwk3KWP

— Sunil Deodhar (@Sunil_Deodhar) October 7, 2019
Subho Maha Navami!
On This Auspicious Occasion Of Durga Navami I Wish You Are Blessed With Prosperity And Success By Maa Durga

Happy Maha Navami..#Mahanavami#जय_माता_दी pic.twitter.com/7XvOIEH9LF

— Ibn Sina (@Ibne_Sena) October 7, 2019
Have a Blessed Maha Navami!
Wishing A Very Happy #Mahanavami To Everyone. May Maa Durga Blesses Us With Peace And Happiness And Give Us Strength To Fight Against The Evil. 🙏🇮🇳 pic.twitter.com/LJLG2eqDFO

— Sir Jadeja Fan (@SirrrJadeja) October 7, 2019
Happy Durga Navami!
May the candle light flame your life,

May you always be happy and victorious,

May the sunshine create glorious mornings,

May all your darkness fly away,

Wishing all a Very Happy Maha Navami !#MahaNavami #Puja #DurgaPuja2019 pic.twitter.com/vKaLIltbHz

— Shantanu Biswas (শুভ্র) 🇮🇳 (@Shantanu_subhra) October 7, 2019
According to Hindu scriptures, Goddess Durga is believed to have killed Mahishasur, the king of demons. She then detached his head from his body using a trishool on Maha Navami. In some regions, people worship Goddess Durga as Saraswati, the deity of knowledge and wisdom. People conduct Navami hom at home which is considered to be a very important ritual. It is believed to equivalent to the puja conducted on all the nine days of the Navratri festival.