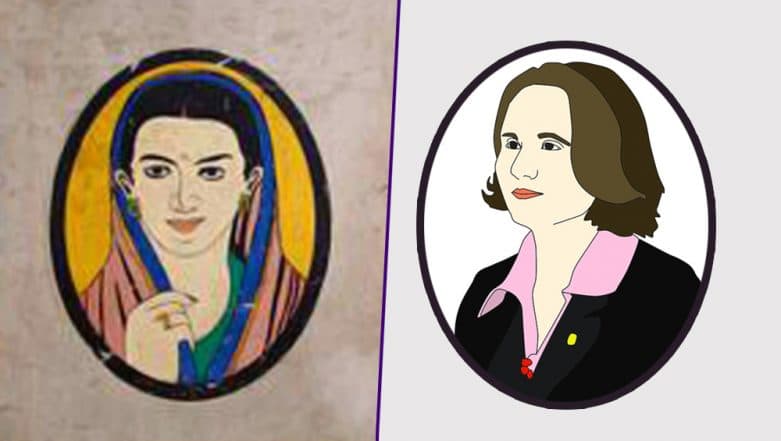 Local trains in Mumbai are called the lifeline of this giant city. Travelling in Mumbai locals is truly an exciting experience. For female commuters, the local trains are a safe mode of transport. In recent news, the most iconic symbol of the ladies compartment, the woman in the ghunghat will be undergoing a major makeover to keep up with the changing times. The Western Railway officials are planning to change the logo of the Mahila wearing a saree to a woman wearing blazers. Blue Light Indicators Installed on Doors of Mumbai Local Trains to Alert Passengers About Departure. 
Yes, in a recent report by Mumbai Mirror, WR General Manager AK Gupta has confirmed the change of logo for women's compartment. Not just that. Posters of inspiring women such as badminton player Saina Nehwal, cricket Mithali Raj and astronaut Kalpana Chawla, with details of their achievements, will grace the insides of the coaches. The same report, further confirmed that, 12-coach rakes have been modified with the new logo while another two are expected to be out soon in a few weeks. Buy 'Tourist Ticket' to Travel Unlimited All-Suburban Routes; Check Prices & Details Here. 
Two months ago, Gupta felt that the logos and signage on the trains needed to be modified to suit the modern age. It was when they were discussing the same, they realised that the picture of the woman in a saree did not accurately reflect the woman of today. Chief PRO of WR, Ravindra Bhakar was quoted in the Mirror as saying, "The idea was to adopt an icon that will do justice and represent today's women in this city, who are independent and successful."
Many images were drawn by the Railways' internal team and the senior officials approved the one with the woman in a suit, her arms folded in front, reflecting a confident, modern Indian woman. So that the commuters do not mistake it for general compartment, the red diagonal stripes, marking the first-class compartment have been enhanced. Again, coaches reserved for senior citizens and physically handicapped commuters will be marked in yellow. The report at the end confirmed that all the 110 rakes on Western Railway will soon be painted with the new logo, as soon as they go for periodic renovation.