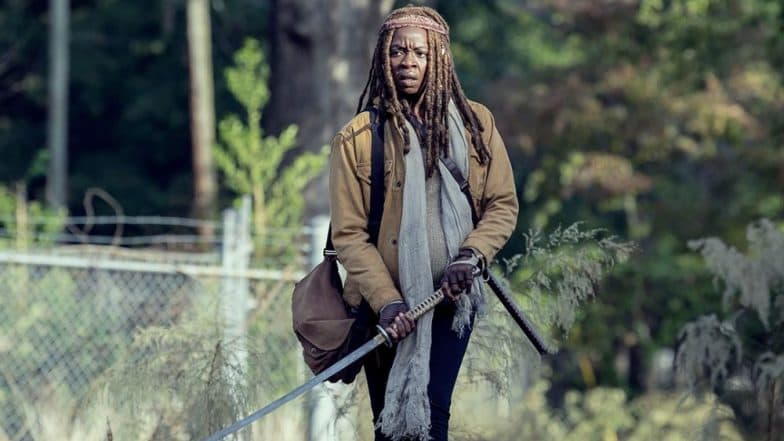 The newest spoiler of The Walking Dead Season 9 has left fans and followers of the series shocked and surprised. The X-scars on the backsides of Daryl and Michonne had often brought various questions to the minds of the viewers. However, nobody ever thought of child soldiers and Tara from True Blood probably. This week's episode probably seems to be finally answering the questions. While it seems to be explaining why Michonne has spent so many years distancing from Alexandria and the people they love.
Episode 14 shows flashbacks of a woman named Jocelyn played by Rutina Wesley in True Blood. She along with a group of children she takes care of, arrive at Alexandria after an attack. Suddenly, a pre-outbreak school friend, Michonne takes Jocelyn in. While things appear pleasant in the beginning, they go a downslope. She betrays them by raiding their pantry and takes off with all of Alexandria's children. After the episode unfolded, fans took to Twitter showcasing how shocked. Soon GIFs and memes on The Walking Dead Season 9 began to flood the micro-blogging site. Ezra Miller Teams Up With Grant Morrison To Write A Darker Flash Script; Will Quit The Role If Warner Bros Reject It!
The gruesome set of events unfold
What happened to Michonne and Daryl when Rick left? Find out on a new #TWD tomorrow! pic.twitter.com/fIjrosv7zL

— The Walking Dead AMC (@WalkingDead_AMC) March 16, 2019
The scary part
Michonne reflects on how the past shaped her present in this sneak of a new #TWD TONIGHT! pic.twitter.com/Vs53e7KVrP

— The Walking Dead AMC (@WalkingDead_AMC) March 17, 2019
Here are some of the Twitter reactions:
#TheWalkingDead 914 is one of the most intense, nerve-racking episodes of I ever watched. May be the darkest episode TWD has ever done. But so, so, so, so good. Have someone or something to hold.

— Kirsten (@KirstenAcuna) March 13, 2019
What till it unveils
Y'all 👏🏽 aren't 👏🏽 ready 👏🏽#TheWalkingDead

— The Walking Dead (@TheWalkingDead) March 18, 2019
Sneak peek into the look and feel of the episode
Jocelyn and these kids.......#TheWalkingDead pic.twitter.com/qI4FEeGaSh

— Ryan The Lion™ (@HerculesHandy) March 18, 2019
When the unexpected happens
These kids are demons what the hell #TheWalkingDead

— TWDThoughts (@SomeTWDThoughts) March 18, 2019
When children take the spotlight
Michonne be like... #TheWalkingDead pic.twitter.com/2WvY3AmXdp

— Forrest Day (@MOVIEidol) March 18, 2019
Did anyone think about it?
Well, damn. Maybe the real takeaway from season 9 is what mothers will do for their children... pic.twitter.com/JyS7HcGQyf

— Kirsten (@KirstenAcuna) March 18, 2019
Meanwhile, Judith tells Daryl conversation to say how it could all happen again with the Whisperers, but Daryl disagrees. Then Judith leaves Alexandria over the argument and leaves to the woods. This week's episode has quite a lot of terrible graphics content. The slaying of children is sure to have a great effect on Michonne. We wonder how the plot is going to unveil in the further episodes.