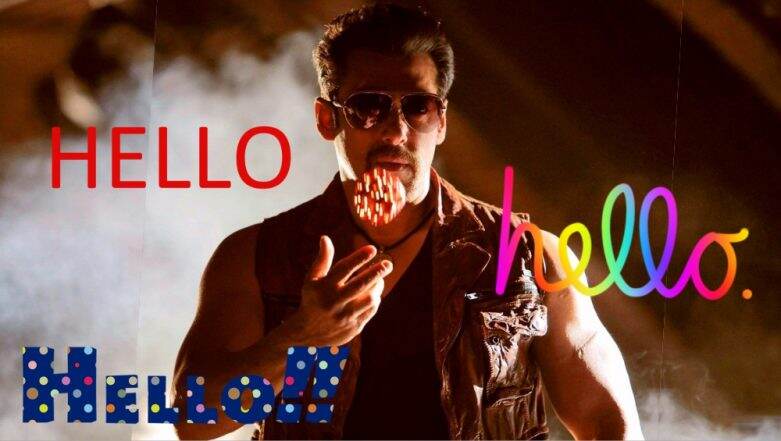 Did you know November 21 is celebrated as World Hello Day? Well, now you know. This annual secular holiday is observed stating that conflicts, no matter how small or big should be resolved through communication rather than the use of force. And who better than Bhaijaan of Bollywood, Salman Khan to teach us this wonderful thought *cough, cough*. In fact, the 52-year-old has given us a tailor-made song for the occasion – the "Hello, Hello" song! Let's find out more about this hidden gem of a song.
Once upon a time before Chetan Bhagat's novels became profitable endeavours for filmmakers in Bollywood, released Hello, a 2008 film based on the aforementioned writer's novel, One Night @ the Call Center. The multi-starrer thriller had Salman and his two brothers Sohail and Arbaaz along with Sharman Joshi, Gul Panag, Isha Koppikar and Amrita Arora. And yes, there was Katrina Kaif as 'Angel of God.'
Honestly, the only mysterious element about this mystery-thriller has been its existence. Why would you make a film featuring Salman as a writer and Katrina as the Angel! But thanks to World Hello Day, the film has redeemed itself…kind of. Check out the song below sung by Wajid Khan, Suzi Q, Ishq Bector, Harchelle, Merlin, Tim. The music composed by Sallu's favourite music director duo Sajid-Wajid.
Watch Salman Khan's Hello, Hello Song
On a serious note, World Hello Day is a beautiful event that is also related to the International Day of Peace. The occasion is used by people to express their concerns about world peace. Since its inception in 1973, the day is celebrated more than 180 countries with people believing in better communication to settle differences. Good communication is the best idea to bridge the gap created due to cultural, religion, caste or lingual differences.