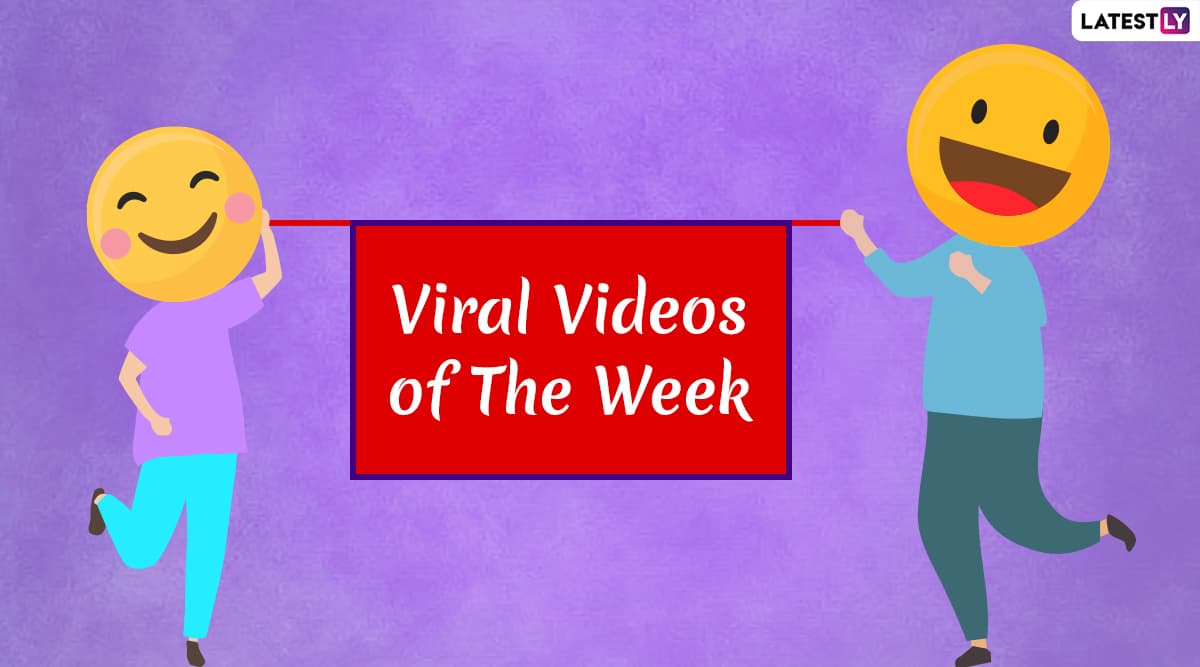 With days moving extremely fast, here we have arrived at another weekend! We will never be tired of recalling the viral moments that kept entertaining social media users. While some disheartening clips surface online, we cannot be thankful enough for the chubby-cheeky babies for keeping us entertained with their innocence. And this week, we have not been any short of it. Yes, we had Abhijit Ratan who embarrassed us by his disgraceful act of climbing a sacred monument in Bhutan. But thanks to the kids, whose actions keep reminding us that the world is not as bad as we see on Twitter. In this article, we will look at the seven viral clips that have gained massive attention. From the toddler complaining about his mom, to the Indian tourist Abhijit who got detained, watch out the videos that have gone viral this week.
1. Baby Complaining About His Mom:
This baby was visibly upset with his mother, who left for work without giving a kiss. That is simply unacceptable! He even points to his sister and father who was filming the moment, saying how mother did not kiss anybody in the house. The child's ordeal has melted millions of hearts, and we cannot stop watching the video, over and over again.
2. Whale Carcass on Seafloor in California: 
During a deep-sea dive, these scientists were stunned to undercover whale carcass covered with octopuses, eels and bone-eating worms. https://t.co/tlhe8Uzraz

— Twitter Moments (@TwitterMoments) October 16, 2019
A group of marine scientists through E/V Nautilus captured a whale carcass near the Davidson Seamount in the Pacific Ocean. The researchers have live-streamed the entire moment and clips from the same, have been shared on social media. With tiny bits of flesh still attached to the bones, the whale carcass attracted tons of other marine lives including worms, octopuses, eels and bone-eating worms.
3. TikTok ki Madhubala: 
Tu agar sath hai ☺️ #BollywoodActress #oldsongs #hindisongs #blackandwhite Guys plz suggest me some songs , which you would like to see m performing. pic.twitter.com/uCPAZjkonI

— priyanka kandwal (@priyankakandwal) October 16, 2019
TikTok user, Priyanka Kandwal is now a viral sensation. Thanks to her similar features with the iconic Indian actress, Mumtaz Jehan Begum Dehlavi, who is better known by her stage name, Madhubala. Her uncanny resemblance has wooed social media so much, that they dubbed her as "TikTok Ki Madhubala."
4. Baby Unhappy After She Learns From Where Sausages Comes From: 
The adorable question and answer round between father Brian Copeland and his daughter Erin has gone viral. During her meal, the girl was curious to know how sausages are made. And as a responsible father, Brian explained that it comes from pigs. Erin instantly responded, "That's not very nice." And she skips the sausages and eats the mashed potatoes in her meal.
5. Husband Applying Last-Minute Henna Patterns for Wife: 
So I messed up Sneha's plan for Karwa Chauth last night due to something urgent and then late night did this for her. After several iterations this came up well and now we both are giggling 🤭👫

Used a bangle and earbuds to make designs. pic.twitter.com/HsTAa3RdDN

— abhishek (@abhishek_tri) October 16, 2019
Married couples in India this week celebrated one of the most promising festivals, Karwa Chauth. Applying henna patterns, called Mehndi on women's hand is the most popular rituals. On one such occasion, this woman's husband could make it to her plan because of some work. So, he decided to do this!  Twitter user Abhishek's quick hack to apply mehndi on his wife's hand using bangles and earbuds has impressed the netizens.
6. Indian Man Climbs Over Bhutanese Sacred Monument: 
The video of Indian Tourist Abhijit Ratan Hajare from Maharashtra climbing the chorten.

Source: WeChat. pic.twitter.com/MwxzcvjLVl

— The Bhutanese (@thebhutanese) October 18, 2019
This recent act of the Indian tourist, Abhijit Ratan from Maharashtra has embarrassed the nation. He climbed over a sacred monument at Dochula Pass. Ratan was detained and taken in for questioning. And the video showing his act has angered the netizens.
7. Baby Fitness Instructor: 
Their fitness instructor is very short. pic.twitter.com/Rn5dJlLZbq

— jamie (@gnuman1979) October 18, 2019
Fitness routine for these enthusiasts was a bit extra fun, as the little girl decided to teach them the moves! The kid can be seen teaching the ladies how it is actually done as the song Me Too by Meghan Trainor was played on the background.
These were the videos that went crazy viral this week. But without any debate, the kids surely have ruled the viral moments. Cuteness is an understatement for these little ones who lightens the mood of social media users. We cannot wait to see, what the coming week has to offer us. More baby videos, maybe? Before that, enjoy your weekend.