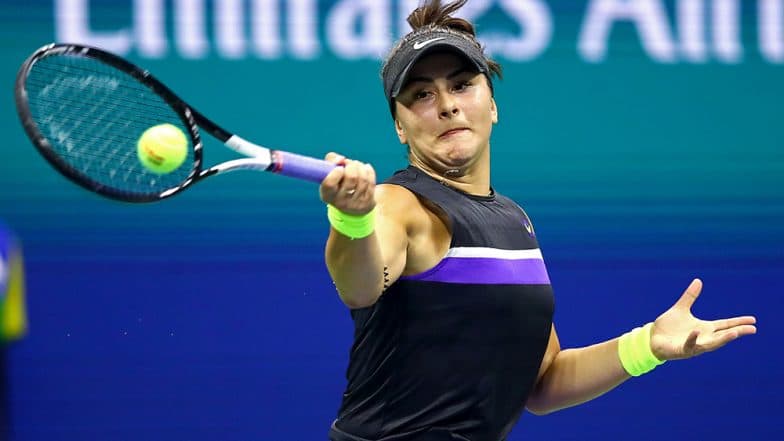 US Open 2019 single's winner Bianca Andreescu played against Serena Williams and won the game 6-3, 7-5 at the Arthur Ashe Stadium. The Canadian player was accompanied by her mother Maria Andreescu who was in the stands watching the match. Her mother was not only elated but also proud with Bianca winning first set. A video of her mother clapping was shared online on social media after the tennis ace won the first set by 6-3. Bianca's mother was quite cool throughout the game as if she knew that her daughter would walk away with a win. US Open 2019 Champion Bianca Andreescu Apologises For Defeating Crowd-Favourite Serena Williams in Women's Singles Final (Watch Video).
Bianca obviously watched the video and hailed her mother's cool attitude during the match. She took to social media to retweet the video and wrote, "This is actually hilarious. My moms a straight G. I'll never be that cool." Maria Andreescu is a Chief Compliance Officer at an investment firm in Toronto and is said to be guiding Bianca when it comes to meditation.
This is actually hilarious. My moms a straight G. I'll never be that cool https://t.co/4pvXVf5ZXv

— Bianca (@Bandreescu_) September 9, 2019
After winning the game, the 19-year-old said, "I couldn't hear myself think at that point. I was just in awe of how loud the US Open crowd can get, it was crazy but I was glad I witnessed that because that's what makes this tournament so special. At that point you can only try to focus on the things you can control, and that was my attitude towards it and I just kept my composure, which is why I think I dealt with that scenario really well," she said. This is the fourth time that Serena Williams lost the finals.