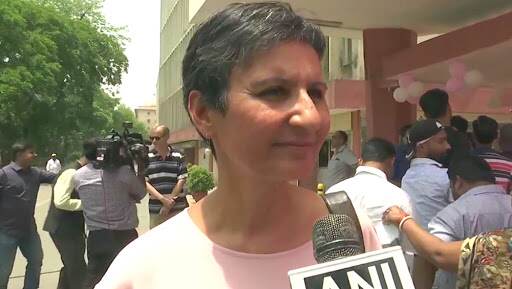 New Delhi, May 12: With the polling in 59 Lok Sabha constituencies underway on Sunday, Australia's Envoy to India - Harinder Sidhu - applauded the Election Commission's efforts in smooth conduction of elections across the country. She even called the use of VVPATs a good development.
Expressing her opinion on the current Lok Sabha Elections, Sidhu said, "It's been a really inspiring experience. How can you get so many people to voting? The answer is well-organised EC and its officials. It's a good system and organised." Lok Sabha Elections 2019 Phase 6 Voting Live News Updates: West Bengal Clocks Maximum Polling by Noon, EC Releases State-Wise Turnout Stats Till 12 pm.
Adding on, she praised the poll conducting body for using VVPAT machines during elections. She said, "I'm really impressed with EVMs, we don't have those in Australia. I think even with paper ballots which we have in Australia, it's always a case where there's a risk to integrity in any system. VVPAT is actually a good development."
It is to be known that nearly a total of 25.13 per cent voting was recorded till 12 noon in Phase 6. The polling percent recorded in West Bengal was 38.26, in Delhi it was 19.55, Haryana- 23.26 Uttar Pradesh 21.75, Bihar 20.70, Jharkhand 31.27 and Madhya Pradesh 28.25 percent respectively.