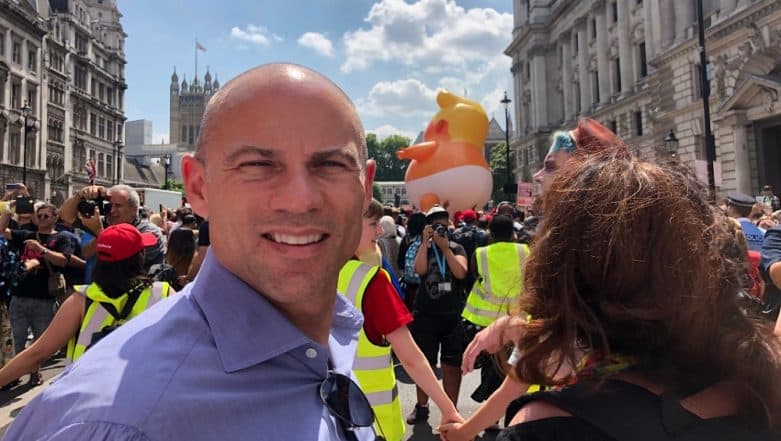 Toronto, March 26: The man who made his name accusing US President Donald Trump of paying hush-money, has become the one to be charged in multiple cases. Porn star Stormy Daniels' former lawyer Michael Avenatti was arrested on Monday for trying to extort more than US $20 million from the sports company Nike.
Along with this, he was separately charged in Los Angeles in a wire and bank fraud, where prosecutors said he embezzled money from his client. These two cases come just a month after Avenatti was also arrested for a case of domestic abuse.
In the Nike case, US prosecutors said Avenatti used his new found prominence to try to extort millions from Nike. He allegedly threatened to publicise allegations of misconduct by Nike unless the company paid a client he represented $1.5 million, and paid Avenatti and another lawyer up to $25 million to conduct an internal investigation, the criminal complaint says.
#MichaelAvenatti charged with engaging in a scheme to extort Nike pic.twitter.com/zxS6vSyavu

— US Attorney SDNY (@SDNYnews) March 25, 2019
The case against Avenatti says that the lawyer who has become a familiar face on major American news networks, threatened Nike that he would hold a press conference to publicize the charges – that Nike employees made illicit payments to top high school basketball prospects. The press conference was timed to coincide with the NCAA basketball tournament which is watched across the U.S. Avenatti had done his research as he mentioned that his press conference would also coincide with Nike's quarterly earnings reports announcement which was bound to make a dent on the company's stocks on the Wall Street. He told Nike that he was willing to keep quiet if his demands were met, prosecutors said.
Avenatti posted a tweet announcing a press conference on the allegations. "Tmrw at 11 am ET, we will be holding a press conference to disclose a major high school/college basketball scandal perpetrated by @Nike that we have uncovered," he wrote. "This criminal conduct reaches the highest levels of Nike and involves some of the biggest names in college basketball."
Investigators recorded Avenatti's conversation with Nike. An excerpt of the exchange between Nike and Avenatti reads that Avenatti would accept a total settlement of $22.5m in exchange for "full confidentiality, we ride off into the sunset". Avenatti was arrested as he came for a final meeting with Nike lawyers.
Nike said in a statement it "will not be extorted or hide information that is relevant to a government investigation". "When Nike became aware of this matter, Nike immediately reported it to federal prosecutors. When Mr Avenatti attempted to extort Nike over this matter, Nike with the assistance of outside counsel at Boies Schiller Flexner, aided the investigation."
Avenatti rose to fame, standing next to adult film star Stormy Daniels as the duo became prime time news over the allegations that Trump paid Daniels over US $1,30,000 to keep quiet about an affair the two had way back in 2004, as Trump was running for president.
Daniels reacted to Avenatti's arrest saying, "Knowing what I know now about Michael Avenatti, I am saddened but not shocked by news reports that he has been criminally charged today," Daniels said. "I made the decision more than a month ago to terminate Michael's services after discovering that he had dealt with me extremely dishonestly."