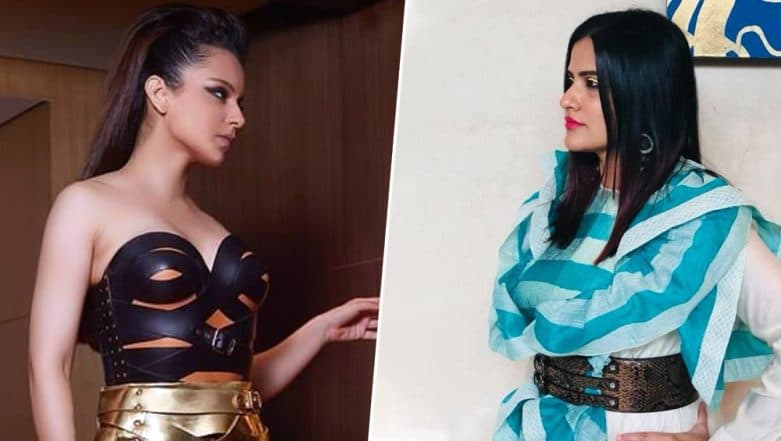 Kangana Ranaut controversy is taking an ugly turn each day. It all started during the song launch event of her next release, Judgemental Hai Kya. During a media interaction for the same, when a journalist tried to question the actress, she accused him of instigating a 'smear campaign' against her. And the ones present there thought her behaviour was uncalled for. What followed next was media deciding in unison to ban the actress and all her upcoming events while her admirers willingly stood by her side. Kangana Ranaut Labels Entertainment Journalists Guild of India as 'Deshdrohi'; Twitterati Has a Mixed Response to Her Video!
Check out Sona Mohapatra's tweets
'Fake Feminazi = fake being opposite of genuine,Nazi being a cuss word.. means someone like you, whose not a feminist ? You need to demolish all such non 'feminists', you mean? Like yourself? ( P.S You are sounding deranged. Do yourself a favour,take a break, find your bearings) https://t.co/41BF7IUrQT

— SONA (@sonamohapatra) July 10, 2019
Coming to industry people, her co-star, Rajkummar Rao has already extended his support to the actress and believes she has a right to have her opinion, singer Sona Mohapatra is strictly against her. The Ambarsariya singer took to her Twitter account to slam the actress for becoming a monster she once fought. She further applauded Kangana for fighting her lone battles but took a dig at her towards the end and hoped for her 'recovery.' Rajkummar Rao Supports his Judgemental Hai Kya Co-star, Kangana Ranaut in her Spat Against the Journalist.
Some more
When women fight an oppressive power structure,overcome obstacles & succeed,it's a worthy celebration like nothing else!When they,thereafter BECOME the monsters they fought after finding power & learn the worst from the bullies,it's such a tragedy. #KanganaRanaut hope u recover

— SONA (@sonamohapatra) July 10, 2019
fighting for a more equal & fair world is not about women becoming more like men or vice versa. Hopefully more women climbing the professional ladder or occupying positions of power in numbers at par with their male counterparts will only infuse the biotope with kinder energies.

— SONA (@sonamohapatra) July 10, 2019
Kangana or her sister Rangoli Chandel are yet to comment on Sona's digs but knowing them, we can hope for it to arrive very soon. From calling her sister 'deranged' to suggesting her to take a break, Sona Mohapatra has lashed out at these sisters for her current behaviour. As media continues to have a firm stand against the actress, Kangana is determined to let them go ahead with the same as she's in no mood to apologise.