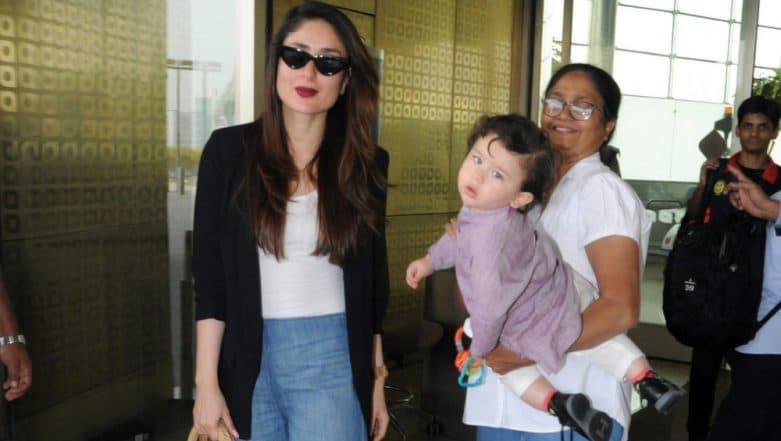 Kareena Kapoor Khan is arguably one of the sassiest actresses of B-town. She does not mince her words once when it comes to speaking out on a subject. The stunner has been away from social media platforms officially but is totally aware of what is being said about her. Whether it is her secret social media accounts or the news in general, but she just stumbled into some mean comments by trolls saying she is a 'careless mother' to Taimur Ali Khan. We all know that the kid is clicked the moment he steps out and is mostly seen with his nannies. However, Kareena finally addressed this issue by giving back a sassy reply to those trolls. Kareena Kapoor Khan Says She Does Not Buy Expensive Wear for Taimur, Just Shops Simple Clothes From Zara and Adidas!.
Bebo invited her actress-sister-in-law Soha Ali Khan on her radio chat show 'What Women Want' on Ishq 104.8 FM. Here, they both talked about parenting and nannies. While speaking on this, the Veere Di Wedding actress said, "I have to address one thing… recently I got trolled on a photo where I was getting into a private jet… and the trolling was about how apparently, I'm a careless mother who's letting my kid be brought up by nannies."
And then hitting back at the trolls like a boss, she added, "To you judgmental folks who know nothing about my life, please note that there's a finger I'm showing you in my mind right now." You don't even have to read between the lines here!
The Bollywood diva has made it crystal clear that the trolls are supposed to steer clear off her way as she does know her responsibility as a mom, quite well. So, next time when you catch yourself judging Kareena, walking ahead of Nanny and Tim Tim, remember that finger in Bebo's mind!