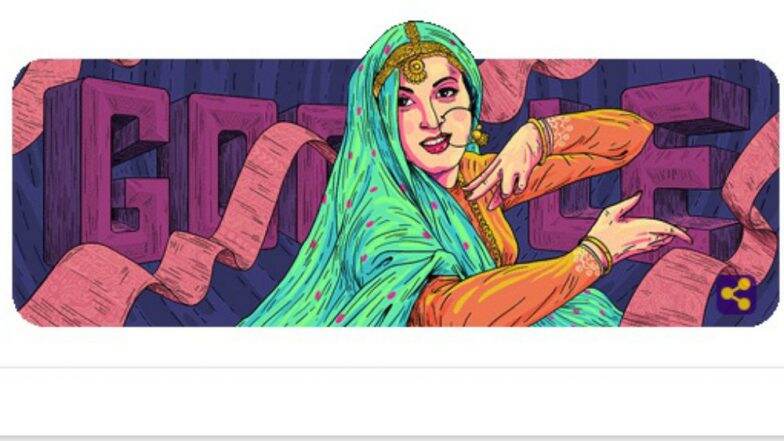 Mumbai, February 14: Search giant Google dedicated a doodle to legendary Bollywood actress Madhubala on her 86th birth anniversary. The Doodle remembers Madhubala in her classic pose from the iconic film Mughal-E-Azam starring her and Dileep Kumar in the lead roles. That Madhubala has been paid tribute on Valentine's Day 2019 is only poetic justice to the actress widely regarded as the most beautiful actress to grace the screen, ever. Madhubala 86th Birth Anniversary: 5 Songs of the Iconic Star Which Will Be Cherished for Generations.
Madhubala won millions of heart all over the world with her alluring charm. Her kohl-eyed look in Mughal-E-Azam was intoxicating as she was holding many secrets in her heart and yet she spelled her love which reflected with the integrity of her character in the epic movie. The Hindi cinema actress who shares her birthday with Saint Valentine had an equally tragic love story. Madhubala will continue to be the enigma of the Indian cinema. Her beauty was both unmatched an unattainable to say the least. New York Times Pays A Tribute To The Legendary Madhubala In Its 'Overlooked' Obituary Section.
Today marks the 86th birth anniversary of Madhubala, who brought to life the love story of Salim and Anarkali. Her Anarkali is etched in the collective consciousness of millions. As Google cherishes Madhubala, the Venus of Indian Cinema rekindles the essence of pure in our hearts!
Madhubala was born as Mumtaz Jehan Begum Dehlavi on February 14, 1933 and  starred in classic films of Bollywood. Known for her beauty, personality and sensitive portrayals of women in films, she was popularly known as "The Beauty with Tragedy" and "The Venus of Indian Cinema", and was compared with the Hollywood actress Marilyn Monroe and was known as the Marilyn Monroe of Bollywood.
Madhubala made her screen debut in a minor role at the age of 9 with the film Basant that released in 1942. However, her acting career actually began in 1947, when she made her debut with Raj Kapoor at the age of 14 with the film Neel Kamal in 1947.
In 1951, she also caught the interest of Hollywood when ace photographer James Burke visited India and photographed her for Life Magazine. In their feature of her, Life, called her "the biggest star" in the inter-national film industry. She was photographed extensively for this feature by James Burke. She was an avid fan of Hollywood, and while visiting Bombay, Frank Capra was keen in giving her a break in Hollywood but her father refused. Madhubala had a tragic ending and passed away at the age of 36, on February 23, 1969, only to live in the millions of hearts of her fans, forever. If beauty ever had a name, it has to be Madhubala.