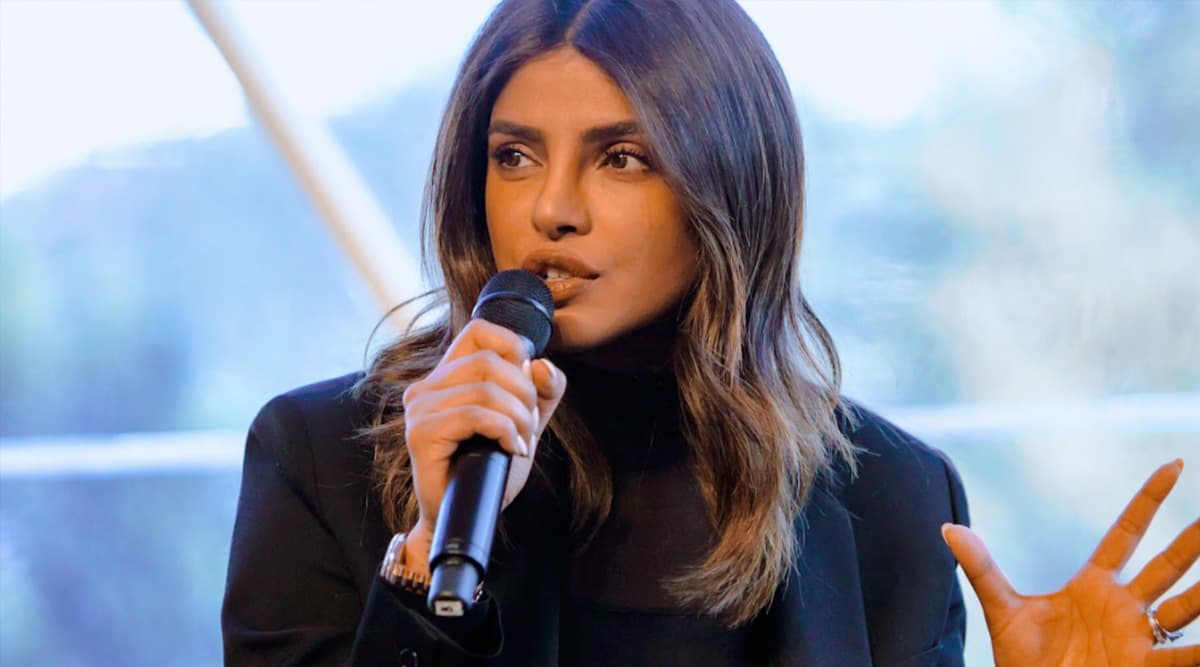 Priyanka Chopra recently flew to Davos to attend the World Economic Forum 2020 where she took to the podium on Tuesday, January 21 to speak about extreme poverty, climate change and inequity in the presence of world leaders as a Global Citizen ambassador. There's no doubt that the actress' oratory skills are beyond amazing and The Sky Is Pink star left everyone speechless with her recent talk. Priyanka was a part of the 'fireside chat' which included other prominent personalities such as Belgium's Deputy PM Alexander DeCroo, South African disability activist Eddie Ndopo, P&G's Chief Brand Officer Marc Pritchard, Chair of the Board of Gavi Dr Ngozi Okonjo-Iweala, Chief Strategy Officer of Verizon Rima Qureshi, Kenyan food and nutrition activist, Wawira Njiru, Teneo CEO Declan Kelly, and Global Citizen CEO Hugh Evans. Priyanka Chopra's Blue Pantsuit is Effortlessly Chic and Extremely Stylish all at Once (View Pics).
The actress spoke about countering world poverty and highlighted that $350 billion is needed annually in order to achieve the Global Goals and end extreme poverty in the world's poorest countries by 2030. In her speech, Priyanka also spoke about using her position as an influential person to initiate change. Chopra said, "I might not be a billionaire that can make the kind of contributions that we're talking about, but I know that as soon as I had a little bit of a platform when I started my work in the entertainment business almost 20 years ago, I understood the power of influence, I understood the power of keeping the conversation going. I understood the power of not letting it die down, to understand the urgency."
Check Out Priyanka Chopra's Speaking at WEF 2020 in Davos:
"we are at the beginning of this new decade. we in the history of human kind are seeing the worst refugee crisis that we've ever seen. that's not ok. we should bring the world to a place where that any child's dreams are achievable" @priyankachopra #WEF20pic.twitter.com/CvRSfOXVXR

— vísh (@yasiruvismini_) January 21, 2020
Priyanka Chopra's Powerful Statement at the WEF 2020:
Citing an example of Indian eradicating Polio with the help of 200 million volunteers, she stressed on creating a population people want to invest in. She also stated how she wanted her kids to grow up in a world where the world leaders have listened to Greta Thunberg's generation and that climate change is contained if not averted.  Priyanka Chopra Steps Out to Stun, Sports High Luxe Styles Versace and Chanel!
Netizens are lauding Priyanka Chopra's powerful statements at WEF 2020 although, the actress may receive a backlash for maintaining a silence on what India's battling at the moment with the whole CAA - Citizenship Amendment Act issue soon.