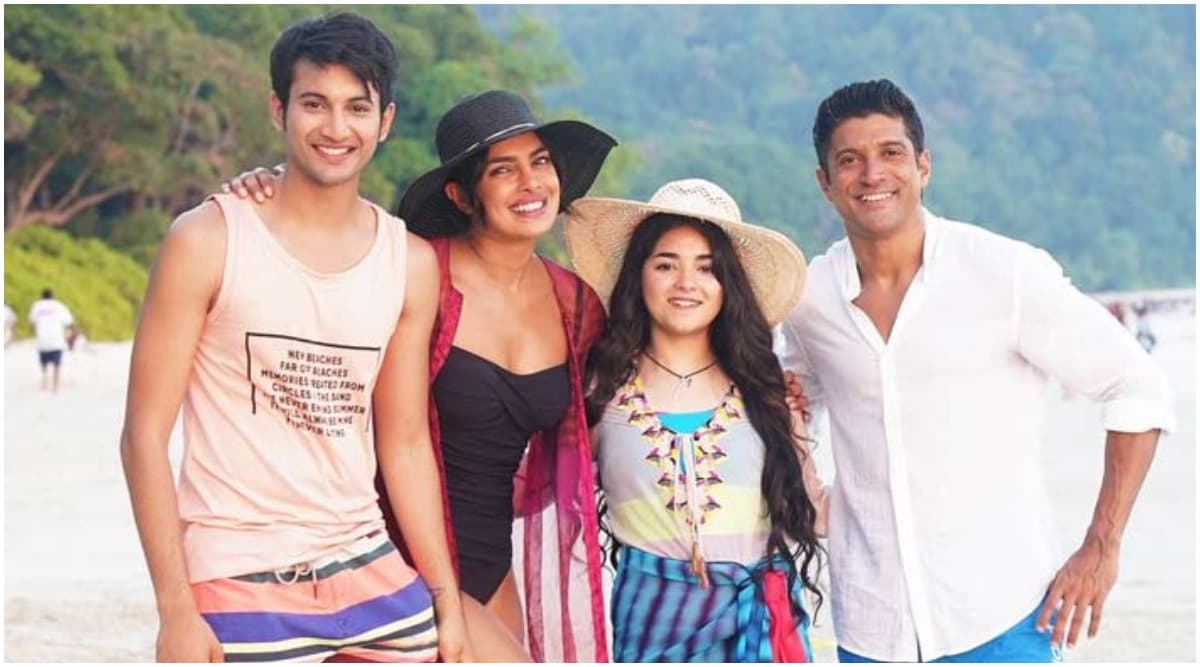 It is never easy to understand what exactly the audience wants from Bollywood cinema these days. On one hand, there is an argument on why the industry fails to make a content-driven movie that is really good. On the other hand, not all such movies, whenever there are made, work at the box office. Such is the unfortunate case with The Sky Is Pink, directed by Shonali Bose. The movie is based on the true real-life story of a young Aisha Chaudhury, a motivational speaker who suffered from pulmonary fibrosis and had passed away in 2016. While Zaira Wasim played Aisha, Priyanka Chopra and Farhan Akhtar played her parents in the film, and The Sky is Pink focuses on their love story. The Sky Is Pink: 7 Beautiful Moments From Priyanka Chopra-Farhan Akhtar's Film That Leave Your Heart Heavy With Emotions (SPOILERS).
Premiering at the Toronto International Film Festival 2019, The Sky is Pink had received positive reviews from international critics. During its Indian release last week, The Sky is Pink got nearly universal acclaim. And yet these positive reviews couldn't manage to transform themselves to awesome box office collections. In its initial three-day run, the movie had only managed to make Rs 10.70 crore. On Sunday, The Sky is Pink made only Rs 4.20 crore, while Hrithik Roshan and Tiger Shroff's War, in its second week-run, made Rs 13.20 crore. These dismal earnings for The Sky is Pink show the clear disparate attitudes critics and audiences have towards looking at a certain movie. The Sky Is Pink Box Office Report Day 3: Priyanka Chopra-Farhan Akhtar's Film is Stable at Ticket Windows, Collects Rs 10.50 Crore.
In this special feature, we look at the five reasons why The Sky is Pink has not managed to click with the audiences as much as it has managed to woo the critics.
The Title
The Sky is Pink is a beautiful title and is quite apt to what the film wants to convey. But such English sounding nuances are not enough to attract the general audiences in the theatres, unfortunately. The title gives an impression of being a niche film, something The Sky is Pink is absolutely not. I just wish that the makers should have used the English title for its festival run, and adopted a Hindi name for its domestic run.
Not a Crowdpulling Premise
Okay, now you may ask, what about War, Race and Thugs of Hindostan? Or even PINK? Don't these films also have English titles, and yet, managed to bring in the crowds? Yes, they did. But these are more massy movies, and even their titles didn't belie that. The Sky is Pink is the kind of movie that isn't expected to draw in the crowds that a War or Thugs of Hindostan does; it is expected to grow stronger on word-of-mouth. The movie relies on its performances, character development and well-written scenes to tell an exemplary story. Unfortunately for The Sky is Pink, the audiences these days have a craving for masala entertainers, light-hearted fare or mindless actioners. So the next time you ask, why Bollywood isn't making good movies, maybe, go for a little self-introspection.
The Perception
This point is based on a personal experience I had at a recent screening which wasn't The Sky is Pink. I overheard a couple of my peers talking about how they don't want to watch the film because it is very rotlu. Sadly, this is the kind of perception I see people are having, those who aren't planning to watch the movie. Sure, The Sky is Pink is about a girl who has an early demise because of her condition and how her parents cope with it. Sure, there are tearjerking moments in the film. But The Sky is Pink isn't a complete tearjerker; it is about the smiles that are borne through tears, of celebrating life even in the face of adversities. Dodging a movie because of a very false perception is doing injustice to the film and the people involved in the making. If only these people had bothered to check out the trailers properly.
Priyanka Chopra's Box Office Appeal
Priyanka Chopra is a global icon, and her achievements and how she has managed to rule the international tabloids need to be lauded. In India, Priyanka has managed to dominate the headlines with her humanitarian work, her fashion outings and of course, any bit that she does with her husband Nick Jonas. But just because you are grabbing all the spotlight in Page 3 doesn't guarantee box office success. Just ask Sonam Kapoor. Priyanka Chopra has been out of Bollywood for more than a couple of years, and her last Bollywood film before her big break, Jai Gangaajal, was a disaster. While there is a curiosity to see Priyanka back on screen, it isn't enough to draw the mainstream audiences to the theatres. Similarly for Farhan Akhtar, he isn't also an exact crowd-puller too, so there's that.
Let Down By Multiplex Audiences
Trade analyst Taran Adarsh raises an interesting point about The Sky is Pink's less-than-favourable collections. He had tweeted, "Even its target audience - multiplex crowd - didn't embrace it wholeheartedly..." With so many people tweeting praises about the film, I wonder where this disconnect happened. The Sky is Pink should have worked well in the multiplexes. Instead, the audiences there are rather happier rewatching War and Joker.