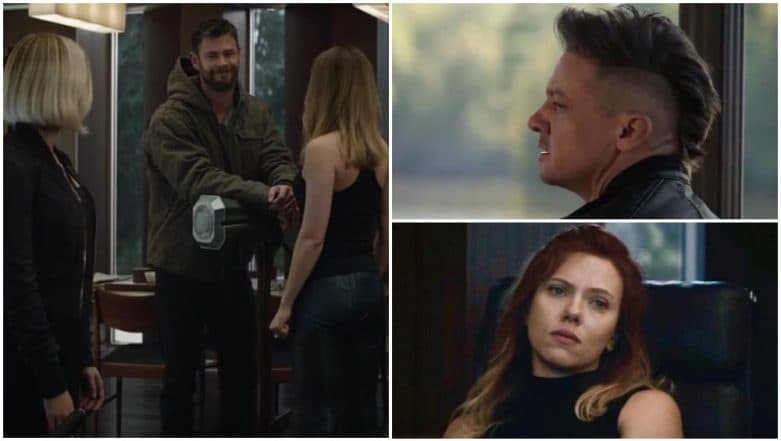 Marvel sprung a surprise on us when it revealed the new trailer of Avengers: EndGame. And what a trailer it is! Bringing back the gloom from the first trailer, there are still some moments to cheer in the new promo, with teases of some exciting action scenes. And did we mention that Tony Stark aka Iron Man (Robert Downey Jr) and Nebula (Karen Gillan) are back on Earth and are ready to go into the Quantum Realm with the rest of the Avengers? Avengers: Endgame New Trailer: The Superheroes Are All Set for Quantum Realm and Their New Costume Is Proof of It.
Hawkeye's (Jeremy Renner) new mohawk hairstyle, as well as Black Widow's (Scarlett Johannson) changing hairstyle, have left fans in wonder. Ant-Man (Paul Rudd) in his miniature form traipsing through a pencil and electric cord turns out to the trailer's best action scene. And last but not least, the trailer ended with a fun moment with Thor (Chris Hemsworth) and Captain Marvel (Brie Larson) sizing each other up.
Needless to say, the Avengers: EndGame trailer went viral in seconds and was received positively by the fans. And as in the ritual, it also led to some very amusing jokes and memes. Some of them were about Hawkeye's new hairstyle, some were about Thanos and some were about the overall impact. Avengers: Endgame New Trailer - Chris Hemsworth's Thor is Hitting on Brie Larson's Captain Marvel and We Are Totally Loving It (Watch Video).
Check out some of the jokes below:
Tweet #1
Trying to calculate how much time has passed based on the length and color of Nat's hair #AvengersEndgame pic.twitter.com/ggRae4zLQB

— Jess💫 (@Jessfangirl13) March 14, 2019
Tweet #2
Thanos when Thor and Captain marvel run up on him while he's farming#AvengersEndgame pic.twitter.com/OoG93YpcYC

— тαтα 🌪 (@blossomazzello) March 14, 2019
Tweet #3
The Avengers after getting destroyed by Thanos. #AvengersEndGame pic.twitter.com/pKLQf6eZKU

— Kermit The Mistake (@CuckKermit) March 14, 2019
Tweet #4
Barber: What you want?

"You seen that New Avengers 4 Trailer?"

Barber: Say no more fam #AvengersEndGame pic.twitter.com/9wARcvexKS

— Aaron (@Aaroncabrera_) March 14, 2019
Tweet #5
*Avengers enter*

Thanos: Fools! This is your end and...

*Thor & Captain Marvel enter*

Thanos: #AvengersEndGame pic.twitter.com/p6rIfjmH50

— Joseph Marshall (@JoeMarshall1994) March 14, 2019
Tweet #6
From this day forward, Jeremy Renner shall be known as 'Mo-Hawkeye' #AvengersEndgame pic.twitter.com/0q867oywK0

— 𝙈𝙖𝙩𝙩 🏳️‍🌈 (@Mr_Whelan101) March 14, 2019
Tweet #7
Me after watching #AvengersEndgame trailer 20 times before lunch pic.twitter.com/rTDwe60DtS

— Bruce Dafuk Wayne (@BruceDafukWayne) March 14, 2019
Tweet #8
me running to the cinemas to see #AvengersEndgame the day it comes out pic.twitter.com/2EE3Ydg0uR

— a (@implicitave) March 14, 2019
Avengers: Endgame also stars Chris Evans, Don Cheadle, Mark Ruffalo, Gwyneth Paltrow, Bradley Cooper and Josh Brolin. The movie is directed by Anthony and Joe Russo and is scheduled to release in India on April 26.