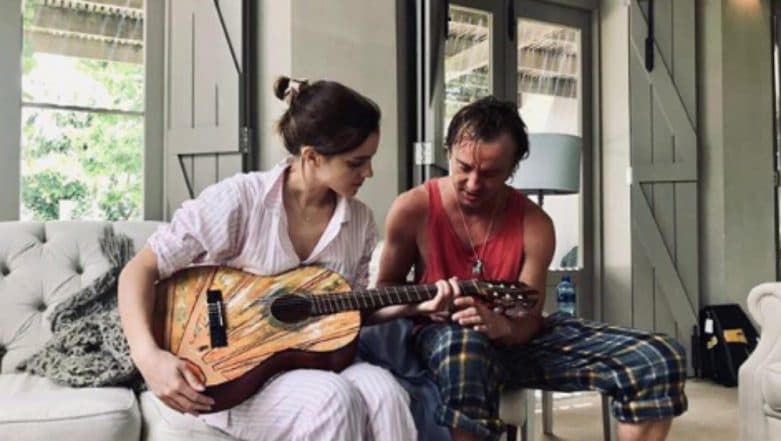 Harry Potter fanatics are currently freaking out and that's because Hermione Granger and Draco Malfoy may be becoming a thing soon! Confused? Well, we are talking about something cooking between Emma Watson and Tom Felton who recently sent the internet in a tizzy with their latest picture together. On Monday, August 19, Felton shared an adorable picture of himself and Watson amidst a guitar lesson that he was giving her. Not just this, later Felton posted a solo picture of himself and also gave photo credits to Watson. Emma Watson Teams Up with Time's Up to Launch Workplace Sexual Harassment Hotline.
This recent Harry Potter reunion has got fans going crazy, who are now speculating if Emma and Tom are dating. The two are known to have been "good friends" but the recent pictures have got fans calling them "Dramione" now (Draco + Hermoine).
Check out the picture here:
View this post on Instagram
Users were quick to notice that the pair were wearing their pyjamas in the photo, indicating a possible sleepover for the pair and are over the moon with the thought that they may be dating. A user even commented on the photo saying,"BRAD & GAGA, make room!" Twitter too was full of reactions about the two stars dating and how they would love to see this Harry Potter couple together. Harry Potter Turns 39 Years Old: 15 Amazing Details About the Boy Wizard and His Friends That You Probably Didn't Notice in the Movies!
Hoping against hopes:
Please tell me they're dating 😍♥️♥️#EmmaWatson #TomFelton #HarryPotter #DracoMalfoy #HermioneGranger pic.twitter.com/wwMcK6U60C

— shaghayegh ⚡️ #IBelieveHim (@_shaqayegh_) August 20, 2019
Dramoine Forever:
Awww i ship them so hard #EmmaWatson #TomFelton pic.twitter.com/aGfJxYfasl

— Sajad (@SajadNavy) August 20, 2019
When Slytherin Meets Gryffindor:
Angry with the world me:

Can't a woman and man JUST be friends? 🙄

Also me:

THEY ARE GETTING MARRIED AND HAVING #SLYTHERINDOR BABIES!!!! ❤🥳 #TomFelton #EmmaWatson pic.twitter.com/B1GgvMt5Jz

— JennyWren (@JenWrenny) August 19, 2019
Watson had fuelled dating rumours previously in November last year, after sharing a selfie with Felton on a beach to her Instagram profile but the alleged couple have never hinted at being anything more than friends during their interactions.