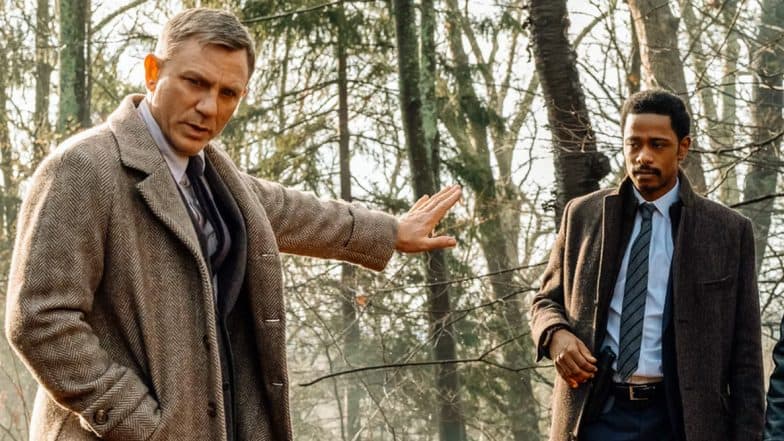 Tired of seeing Daniel Craig as a suave British spy, James Bond? Well, then you should wait for Knives Out to hit the screens to see a different version of his. Starring Craig with Chris Evans, Ana de Armas, Jamie Lee Curtis, Michael Shannon, Don Johnson, Toni Collette, Lakeith Stanfield, Christopher Plummer, Katherine Langford and Jaeden Martell, the movie is a murder mystery where the Bond actor plays a detective with some quirk. Knives Out Trailer: Chris Evans and Daniel Craig's Star-Studded Film Adds a Dangerously Stylish Spin to Agatha Christie's Murder Mystery.
Critics in the west are convinced with Craig's performance as Benoit Blanc whose character has a great eccentricity. A perfect murder mystery coupled with a strong star cast, Knives out is what they are calling a worthy watch. Check out what they have to say and how convinced they are with Chris Evans and Daniel Craig's new release.
NME: Everything about this film is a hoot. Johnson's control of so many characters and so many plot twists is extremely impressive, even more so for being so unshowy. He gets out of the film's way and lets his story go haring off in all sorts of directions until it winds up at an ending that makes sense of a whole lot of madness that precedes it.
Independent:  Daniel Craig's Benoit Blanc, with a Foghorn Leghorn accent and his own unique mix of wisdom, perception, and witlessness. He's exactly what we want from our cinematic detectives: he sees what we don't, but has enough flaws to make him loveable.
Mirror: The true stars of the film, however, have to be the unlikely crime-solving duo of Daniel Craig's Benoit Blanc and his future Bond 25 co-star Ana de Armas as Harlan's kind nurse, Marta. Johnson allows his cast to use the snappy and busy script to their advantage and delivers many an amusing verbal smackdown, but not at the expense of the twisty plot which manages to challenge predictions at every turn.
Variety: With "Knives Out," writer-director Rian Johnson shows that there's life left in the genre, paying crowd-pleasing tribute to the likes of Arthur Conan Doyle, Agatha Christie and Ruth Rendell with a wondrously convoluted case recounted in the most roundabout way possible.
The Verge: For such a sprawling picture with such a large cast, Knives Out winds up feeling lean and efficient as it hops from one revelation to another, and from quiet personal confrontations to what one character dubs "the dumbest car chase of all time."
Knives Out will hit the screens on November 27, 2019. Rian Johnson's murder mystery was previously hailed as the funniest movie of 2019 at Toronto International Film Festival (TIFF) and that's enough for us to rest our case.