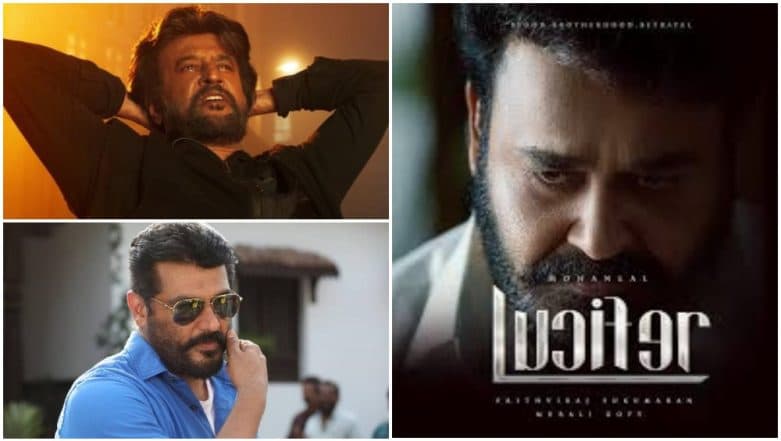 Mohanlal's latest film, Lucifer, has got a booming start at the box office, when it released on March 28. Lucifer has come to the theatres riding on a lot of hype, ever since the project was announced. Any Mohanlal movie mounted on a big scale invited hype. But there were more reasons other than Lalettan to look forward to in the film. Lucifer marked the directorial debut of actor Prithviraj Sukumaran and also marks the debut of Bollywood actor Vivek Oberoi in Malayalam cinema. Apart from Mohanlal and Oberoi, the movie features an ensemble cast in Manju Warrier, Indrajith Sukumaran, Tovino Thomas, Sachin Khedekar, Nyla Usha, Kalabhavan Shajohn, Suresh Menon etc. Why even Prithviraj has a cameo in the film. Lucifer Movie Review: Prithviraj Sukumaran's Directorial Debut Is A Cliched But Stylishly Shot Fanboy Tribute to Mohanlal's Mass Persona.
Not just that, Prithvi and his writer, actor-scenarist Murali Gopy, also dropped a couple of references to Tamil superstars Rajinikanth and Ajith Kumar in Lucifer. We have to add here that we are putting some SPOILERS ahead. So if you have not watched the film and plan to do so, then don't read ahead.
In a scene in the film, Tamil actor John Vijay who plays a corrupt cop is seen arresting Mohanlal's character over false charges. When a tiff happens between the two, the cop asks Mohanlal's Stephen Nedumpally if he is MGR, Thalaivar (Rajinikanth's nickname given by fans) or Thala (Ajith Kumar's nickname). Mohanlal's character doesn't offer him any reply then. Lucifer Movie Review: Prithviraj Sukumaran's Directorial Debut Starring Mohanlal Receives Average Response From Critics.
Later, near the climax, when Nedumpally goes on a vengeance spree, he and his men attack the cop. After the cop is stabbed brutally, Nedumpally tells him that he is not 'thala' (head) but someone who does 'thala koyum' (someone who chops off heads). It is a very smart punchline and an applause-worthy comeback, though we are not sure how Thala fans would take this!
Watch the trailer of Lucifer here:
Meanwhile, while Lucifer is doing great business at the box office, it has got mixed reviews from the critics. The performances of the cast, as well as Prithviraj's direction, has been praised. But Lucifer has been criticised for its screenplay that is very derivative and feels like old wine in a new bottle.