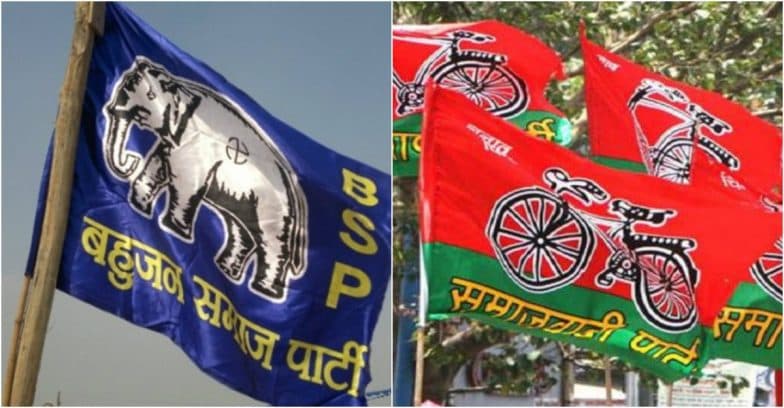 Lucknow, May 13: Tainted politician Atul Rai, the joint SP-BSP candidate from Uttar Pradesh's Ghosi constituency, has gone missing ahead of the Lok Sabha election in the seat scheduled on May 19. Rai, who is facing charges of rape, disappeared from the poll-bound parliamentary segment on Tuesday, a day before his anticipatory bail plea was rejected by the Allahabad High Court.
Rai was accused in April by a Varanasi college student of raping her. The victim alleged that she was taken by Rai to his house on the pretext of meeting his wife. The alleged sexual assault was committed at his residence, as per the FIR registered against him on May 1. Afzal Ansari, Brother of Jailed UP Don Mukhtar Ansari, Fielded by BSP From Ghazipur Constituency
For BSP, on whose ticket Rai is contesting, his absence from the poll-bound region is not a matter of major concern. The party's district in-charge Lalit Kumar Akela said the voters vying for the mahagathbandhan are committed and will not switch at any cost. He, however, has appealed the party cadres to not to take their core voters for granted.
For Ghosi, voting for a missing candidate is not a new phenomenon. In 1996, the electorate had overwhelmingly elected Congress' Kalpnath Rai, who was then lodged in Tihar jail for his alleged role in sugar mill scam.
Similarly, the Mau assembly segment in Ghosi region has consecutively elected strongman Mukhtar Ansari from the seat despite him reeling in jail since 2005 on the charge of murdering BJP leader Krishnanand Rai.
Pollsters claim that the caste arithmetic is stacked up in favour of Atul Rai in Ghosi. The seat has nearly 3.5 lakh Jatavs (Dalit), 3.5 lakh Muslims, 2 lakh Yadavs (OBC) and 1.2 lakh Rajbhar voters. In contrast, the upper caste voters total up to an estimated 4 lakh.