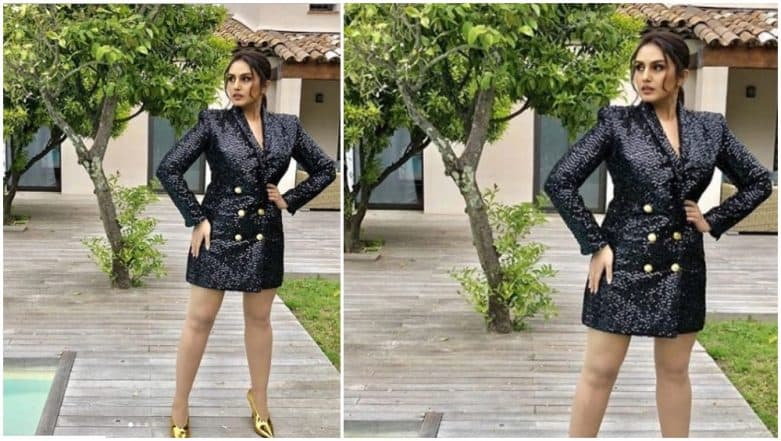 There's nothing flattering about Huma Qureshi's first appearance at Cannes Film Festival 2019. We still remember her golden ensemble by Manish Malhotra that she paired with a white coat last year. That was marvellous and oh-so-chic. However, her fashion journey on the French soil starts on a disappointing note this time. We were expecting her to go a bit loud and pick attires that would flatter her curvy bod. However, this black ensemble is anything but unusual and so mundane. Cannes 2019: Deepika Padukone's Second Red Carpet Look is All About Tulle and Some More Tulle - View Pics.
Huma picked a black blazer for her big day and paired it with a messy ponytail, golden heels and no jewellery. While the attire was highly okay, she made it worse by pairing it with her golden pumps. That looked hideous and out of the box (we mean in a bad way). Huma can seriously do so much better and we hope her future outings are exciting and not a snoozefest like this. Cannes 2019: After Rocking a Kanjeevaram Saree, Kangana Ranaut Sets the Temperature Soaring in her Michael Cinco Gown -  View Pics.
Huma Qureshi at Cannes 2019
It's time Huma gears up for her special appearances and start slaying like her contemporaries. While Deepika, Kangana and Priyanka are having a field time at the French Riviera, Huma shouldn't sit ideal with no headlines. It's a sincere request from one of her many admirers.