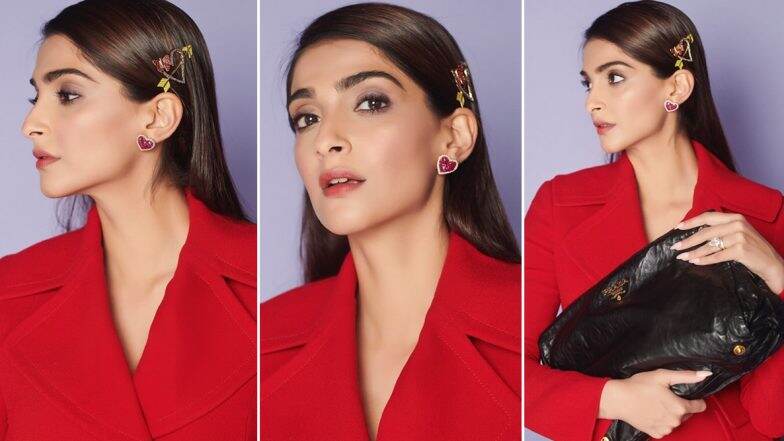 Red is the theme for the week, thanks to Sonam Kapoor's new trend. The actress has been on a spree of promoting her film The Zoya Factor wearing red outfits. She carefully chose the bold hue in different forms without really making it look repetitive. How many of them can make the most common colour look so different every damn time? Well, our lucky charm Zoya can! In the last leg of her promotions, she wore this red-hot pant-suit combo but you know what stole the attention? Her heart shaped butterfly hair clip! Yo or Hell No? Sonam Kapoor Picks a Rajesh Pratap Singh Design for The Zoya Factor Promotions.
The style diva wore this amazing plain red pant-suit by Akris for the special screen of The Zoya Factor. She has vowed to stick to the red theme and from her first outfit to this one, she has successfully managed to outshine herself. Her hair was styled in a sleek straight style, keeping it classy and simple. However, her accessories are worth stealing!
She pinned her long hair with this one statement hair pin with heart and butterfly on it. The shimmery hair clip by Schiaparelli X John Nollet Paris is a must in your wardrobe. She wore a matching pair of red shiny heart shaped earrings by Prerna Rajpal's Amaris. All in all, her look was P.H.A.T (pretty hot and tempting guys! ) Check out the pictures below.
Sonam Kapoor Looking P.H.A.T
That Beautiful Hair-Clip
View this post on Instagram
Lucky Charm in her Lucky Colour
 

View this post on Instagram
The actress never goes wrong with her fashion choices. She has set this trend of selecting common colour and making it work like magic. We won't be surprised if we see more actresses opting for the same pattern.