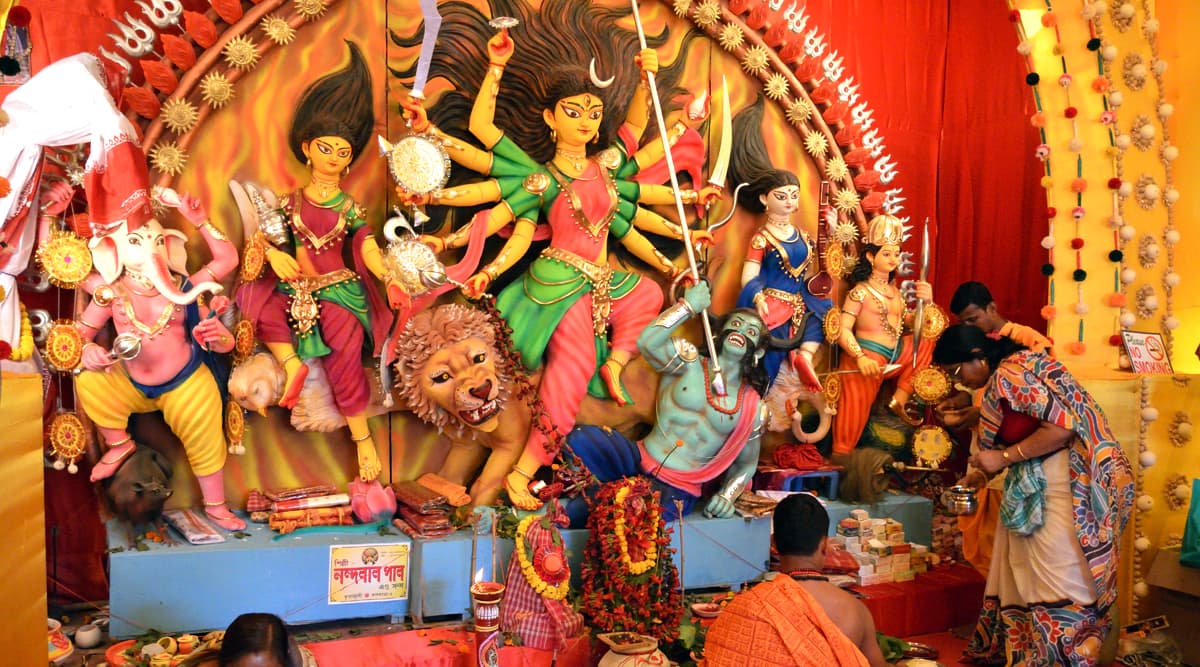 The festival of Sharad Navratri 2019 is approaching and the nine days celebrates the nine forms of Maa Durga on each of the days. When Goddess Durga destroyed the demon king Mahishasura, the Gods knew no boundaries. They cheered Maa Durga, praised her and bowed down before the Devi, seeking her blessings. According to the Hindu mythology, the hosts of gods headed by Indra sand the 'Devi Stuti' in her praise. The Devi Stuti is the longest and most potent of the hymns worshipping Devi Durga. It is considered a good omen for the devotees to chant Shri Durga Stuti path. On the auspicious occasion, here we bring you the Durga Stuti lyrics along with the video of Anuradha Paudwal's devotional song and mantra to worship Maa Durga. Traditional Bengali Dishes: Kosha Mangsho to Muri Ghonto, Check Out the Finger Licking Non-Veg Food Recipes to Devour This Pujo
Chanting Durga Stuti on the festival of Sharad Navratri is auspicious. It is believed that those who sing the divine words, Maa Durga blesses that person to be fortunate. The Devi Stuti, also called the 'Shakaradi Stuti,' is recited during the nine days of Navratri as a reminder of the Maa Durga's boon to the Gods. Listen to the Shri Durga Stuti paath sung by Anuradha Paudwal and repeat the lyrics throughout the celebrations. How Sonagachi Sex Workers Fought Their Way to Start Their Own Pujo And Are Celebrating With A Special Theme This Year. 
Watch Video of Anuradha Paudwal Singing Durga Stuti:
Shri Durga Stuti Paath Lyrics:
Miti Ka Tan Huaa Pavitra, Ganga Ke Asnan Se |

Ant Karan Ho Jaye Pavitra, Jagadambe Ke Dhyan Se ||

Sarve Mangal Mangalye, Shive Sarvarth Sadhike |

Sharanye Trambake Gauri, Narayani Namo Stute ||

Shakti Shakti Do Mujhe, Karoon Tumhara Dhyan |

Path Nirvignya Ho Tera, Mera Ho Kalyan ||

Hridya Sinhasan Par Aa, Betho Meri Maa |

Suno Vinay Mam Din Ki, Jag Janani Vardan ||

Sundar Deepak Ghee Bhara, Karoon Aaj Tayaar |

Gyan Ujala Maa Karo, Metto Moh Andhkaar ||

Chandra Surya Ki Roshni, Chamke Chaman Akhand |

Sab Mein Vyapak Tej Hai, Jwala Ka Prachand ||

Jwala Jag Janani Meri, Raksha Karo Humesh |

Dur Karo Maa Ambike, Mere Sabhi Kalesh ||

Shradha Aur Vishwas Se, Teri Jyot Jalaoon |

Tera Hi Hai Aashra, Tere Hi Gun Gaoon ||

Teri Adhabhut Gaat Ko, Padhoon Mein Nischay Dhar |

Sakshat Darshan Karoon, Tere Jagat Aadhar ||

Man Chanchal Se Baat Ke, Samay Jo Aogun Hoye |

Dati Apni Daya Se, Dhyan Na Dena Koye ||

Main Anjan Malin Man, Na Jano Koi Rit |

At Pat Vani Ko Hi Maa, Samjho Meri Prit ||

Chaman Ke Aogun Bahot Hai, Karna Nahi Dhyan |

Sinhvahini Maa Ambike, Karo Mera Kalyan ||

Dhanya Dhanya Maa Ambike, Shakti Shiva Vishal |

Angh Angh Mein Rum Rahi, Dati Din Dayal ||
Remember Maa Durga and her fearless avatar as she freed the world by destroying the demon king Mahisasura. During the festival, chant the Durga Stuti and seek her blessings with this rendition as an essential part of Sharad Navratri.