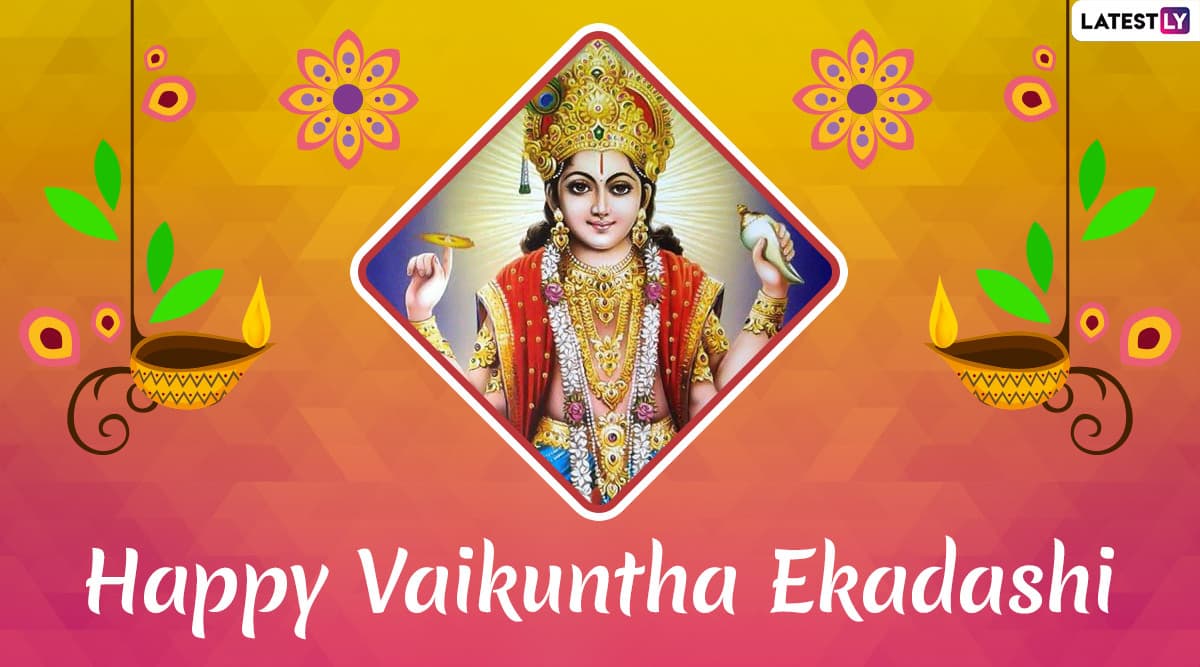 Happy Vaikuntha Ekadashi 2020, readers! The observance of Vaikuntha Ekadashi is considered to be very important for the Hindu community. It is said that people who observe Vaikuntha Ekadashi, it is equivalent of observing the remaining 23 Ekadashis round the year. It is believed that 'Vaikunta Dwar' or (Gate to Lord's Inner Sanctum) is opened on this day. If you are searching for Vaikuntha Ekadashi 2020 date, shubh muhurat, pooja timings, story, significance, wishes, images, and other details then you need not worry as you can find them all below.
What are the dates of Vaikuntha Ekadashi 2020?
This year, there will be two occasions of Vaikuntha Ekadashi. The first one will be on January 6, while the second one will be December 25. Vaikuntha Ekadashi is an annual event. Vaikuntha Ekadashi 2020 Date & Shubh Muhurat: History, Significance and Auspicious Time to Worship Lord Vishnu on Mukkoti Ekadashi.
The occasion of Vaikuntha Ekadashi falls in the solar month of Dhanur (also known as Dhanurmasa, and Margazhi month as per Tamil calendar). As per the Gregorian calendar, the Vaikuntha Ekadashi usually falls during the month of December-January.
What is the shubh muhurat, i.e. pooja timings, of Vaikuntha Ekadashi 2020 in January?
Vaikuntha Ekadashi 2020 Tithi Begins – January 6, i.e. Monday, from 03:06 AM

Vaikuntha Ekadashi 2020 Tithi Ends – January 7, i.e. Tuesday, from 04:02 AM

Vaikuntha Ekadashi Parana Time – January 7, from 01:51 PM to 04:03 PM
Note: 'Parana' means the act of breaking the fast.
What is the story of Vaikuntha Ekadashi?
As per a legend, it is said that Lord Vishnu opened the gate of Vaikuntham (God's Abode) for demons despite they being against him. The demons then asked Lord Vishnu for a boon that whoever hears their story, and sees Lord Vishnu coming through the door of his abode, will reach Vaikuntham too.
Another legend says that the female energy of Lord Vishnu killed the demon Muran and protected the gods. Since this happened on the 11th day of the lunar month, Lord Vishnu named her 'Ekadashi' and gave a boon that whoever worships her will reach Vaikuntha.
What is the significance of Vaikuntha Ekadashi?
Fasting on the holy day of Vaikuntha Ekadashi is considered to help you be blessed with purity of mind, freedom, and peace. It keeps the negative vibes and thoughts at bay. Observing fast on the occasion of Vaikuntha Ekadashi is also said to heighten one's self-awareness and self-consciousness.
Vaikuntha Ekadashi Wishes and Images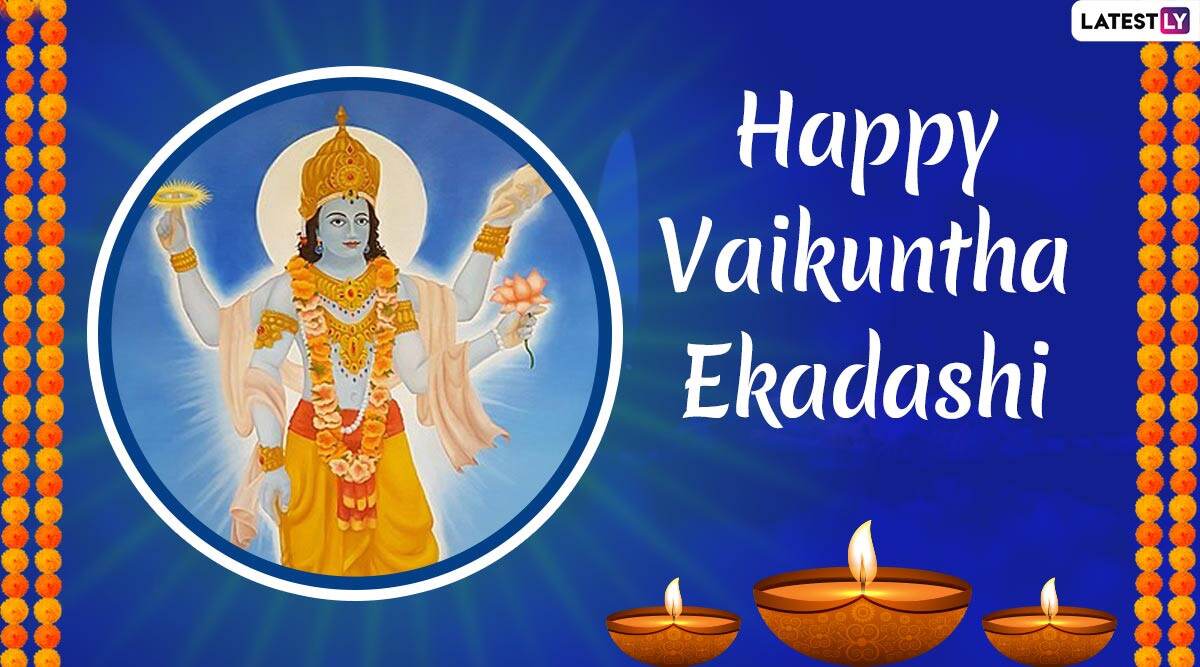 WhatsApp Message Reads: Happy Vaikuntha Ekadashi!
WhatsApp Message Reads: Happy Vaikuntha Ekadashi!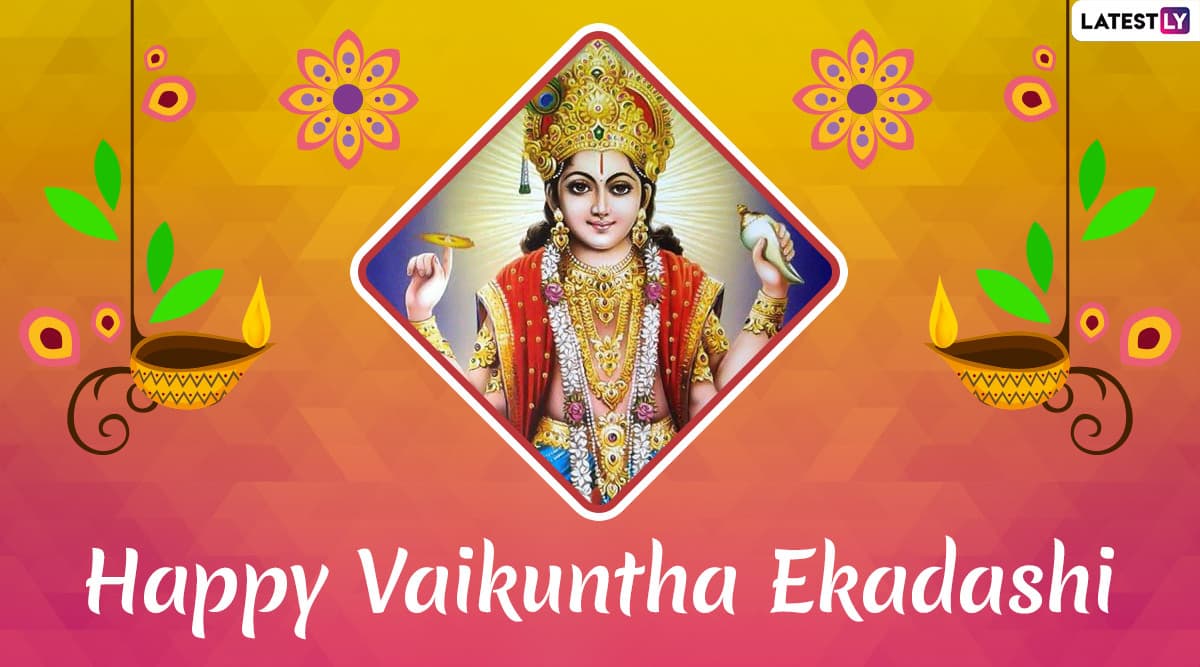 WhatsApp Message Reads: Happy Vaikuntha Ekadashi!
Special prayers are also observed and special mantras are chanted amidst high-level of meditation. As mentioned above, it is believed that people who observe fast on this day of Vaikuntha Ekadashi, is said to have observed equivalent to all the 23 Ekadashis throughout the year. Also, a legend says that the Bhagavad Gita conversation between Krishna and Arjuna started on this very day.