An average human scrotum weighs less than 60 gms. Despite which men will tell you how precariously they carry their family jewels around, after all, the scrotum is the most delicate part of their anatomy. And for Michigan man Dan Maurer, carrying his scrotum around was the biggest challenge in his life because until three years ago, his testicles weighed around 35 kgs. His abnormally large scrotal sac interfered with his everyday life, so much that he couldn't use a toilet normally or have sex for seven years of their married life. The 40-year-old was suffering from a mysterious medical condition, where his testicle sac grew uncontrollably. But thanks to a timely life-saving surgery, Dan finally got a new lease of life.
In an interview with TLC, Dan says, "It has made me a prisoner in my own body," speaking about his abnormally-large scrotal sac. "The best way I can describe the weight to someone who's trying to imagine it in their head would be to slit open your scrotum and put in three large bowling balls and sew it back up and have you carry it around. I am constantly in pain and a lot of weight on your back."
His condition was so severe that Dan couldn't move around much or use the toilet normally. He was heavily dependent on his wife Mindy who has never left his side since the ordeal begun. In a desperate attempt to slow the growing testicle down, Mindy used to wrap it in bandages. But despite which, there was no change in his condition since the condition was progressive.
The problem started showing up a year after Dan and Mindy got married in 2005. Mindy recalls how Dan's scrotal area turned puffier than usual one day and then gradually started growing larger and larger. Dan's doctor was baffled by his unusual condition and diagnosed him with scrotal lymphedema.
Here's Dan's story:
What Is Scrotal Lymphedema?
Scrotal lymphedema or scrotal elephantiasis is a disease caused by the obstruction of the lymphatic vessels draining the scrotum. In this disease, the scrotum gets enlarged and can occur in males of any age. Scrotal lymphedema is rarely seen outside Africa and Asia.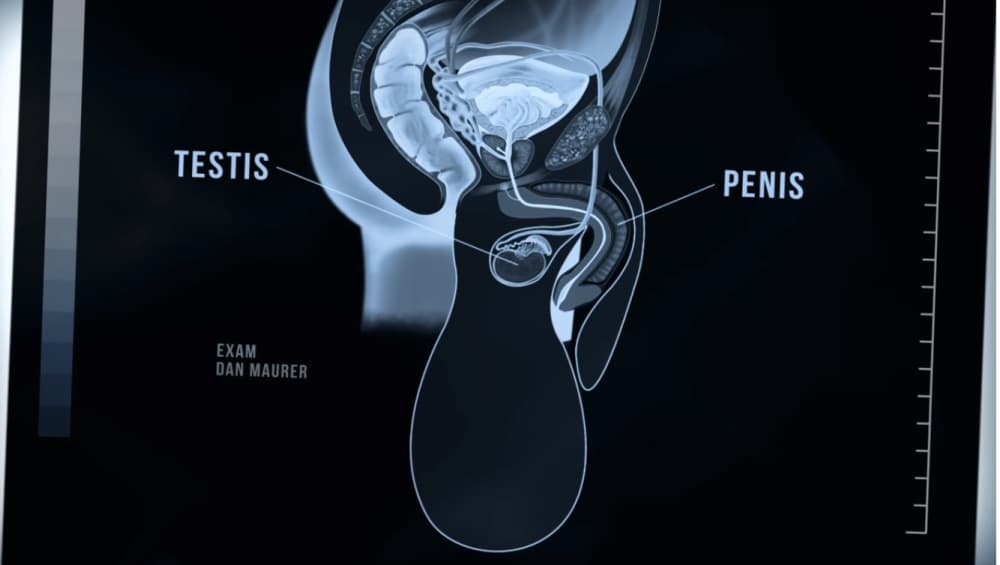 The problem may either be congenital or acquired, in most cases, due to an infection. Other problems like chronic inflammation, hernia, trauma, neoplasm, irradiation and lymph node dissection can cause the disease.
Scrotal lymphedema is treated by identifying the cause of oedema in the first place. The golden standard is to drain the scrotum of the lymphatic fluid, followed by compression bandaging to reduce the size.
Surgery At Last
Dan's case was complicated by his obesity and doctors asked him to shed at least 100-150 pounds before they could put him through surgery. The scrotal growth impeded his efforts because it kept growing although he started losing weight.
He then found Dr Joel Gelman at the University of California, Irvine who took up the complicated case. In the 14-hour surgery, the doctors helped remove the 120-pound scrotum and trimmed some of the fat around Dan's stomach. The surgery was a success; however, new challenges lay ahead. It took him a while to learn how to walk normally, after living with the large scrotum for so long. In the recent edit to his Gofundme page, Dan expressed his fear of developing heart diseases after his idols actor Kevin Smith suffered a heart attack this year.
The condition did affected his conjugal life as much as it did his health. After the life-saving surgery, Dan expressed his wish to finally resume having sex with his wife after an involuntary hiatus for seven years.
(References: Giant lymphedema of the penis and scrotum: a case report; Scrotal Lymphedema
Compression solutions for a challenging condition; Scrotal Lymphedema)