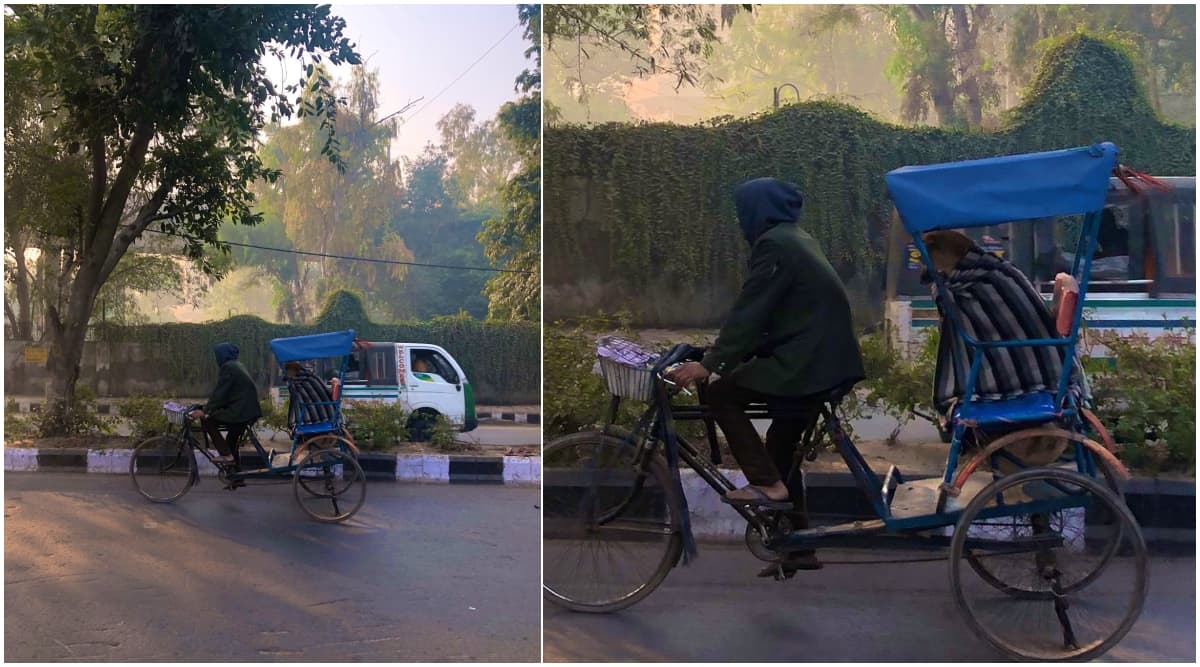 The country is experiencing a very tough winter spell, especially in the Northern regions. Delhi is also blanketed under the cold wave and people are doing all that they can to keep themselves warm and protected. But a rickshaw puller is winning everyone's hearts after he wrapped a stray dog in a blanket and took it around. Pictures of the stray dog sitting in the rickshaw were shared on Twitter and they are going crazy viral. The act of kindness has won praises online for this rickshaw puller. Stray Dog Attends 550th Parkash Purab Celebrations and Enjoys Guru Nanak Dev Kirtans Along With Devotees, Adorable Videos Go Viral.
Twitter user Hayat (@sevdazola) was on her way to work when she saw the adorable sight. The stray was wrapped in a blanket and sitting in the passenger's seat and the man was riding the rickshaw. She took these pictures from some distance and wrote a caption, "Zoom in on the rickshaw and thank the heavens later." These pictures soon went viral with over 10,000 likes and melted everyone's hearts online. This Video Of A Street Dog Walking Up To A Pharmacy To Get A Treatment For Her Injured Paw Is Pure Gold!
View Pics of Stray Dog on Rickshaw Ride in Delhi:
zoom in on the rickshaw and thank the heavens later pic.twitter.com/PFDvrlwxGw

— hayat ✨ (@sevdazola) January 2, 2020
Check how some people reacted to this cuteness.
Everyone Likes it!
— Nikhil (@beatsbyskyie) January 2, 2020
Emotional Picture
such a emotional and inspirational picture

— manish mishra (@Manish81Mishra) January 2, 2020
Sweetest Thing on The Internet
Sweetest thing on the internet today 🥺❤️

— The Wiser Fool (@noobmaster__69_) January 2, 2020
So Touching
This is so touching 🙂

— Shweta🌸 (@IMShwetaShekhar) January 2, 2020
The Man is God
Probably the God is pulling the Rickshaw!

— Arpit Sharma (@thearpitsharmaa) January 2, 2020
The pictures are indeed beautiful and convey such warmth. Talking about it, the Twitter user was quoted in Indian Express report, "It was a sight that I had never seen before. It was beautiful and I couldn't stop myself. I was awestruck and it was late by the time I decided to capture it."
We often neglect the strays in looking after ourselves. But in winters, when the temperatures are so severe they deserve a bit of attention if not more. Even last year, few people from an NGO had volunteered to provide bedding and sweaters to the street dogs in Delhi. In a time when we hear of more violence against the stray dogs, such incidences only warm the heart.