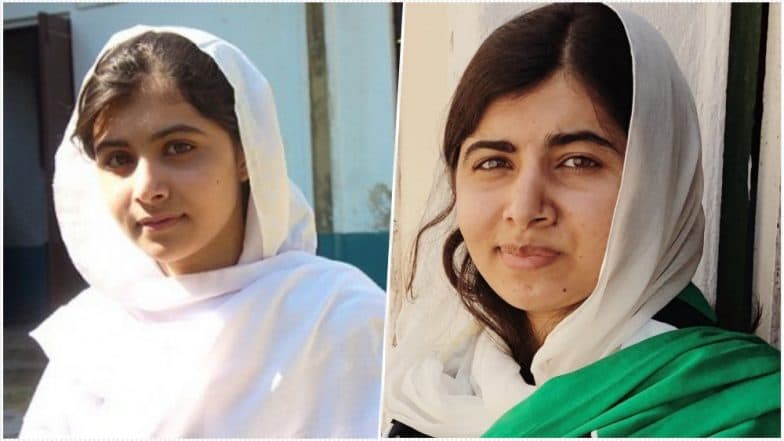 The #10YearChallenge is everywhere now with people reminiscing their decade-old self on social media. We are so grateful that the internet has made this far, giving the netizens an opportunity to share some inspiring post. Every individual including the popular faces and commoners from across the world are celebrating life as they have grown up, old and strong. Keeping up the trend, Nobel Laureate Malala Yousafzai participated in the 10-year challenge by sharing a picture of her when she was 11-year-old, just a few years before the young girl was shot in the head by Taliban gunman. Her soul-stirring post has given a whole new meaning to the #10YearChallenge, and it could not get better.
The Internet is full of decade-old pictures now. It sparked Malala's memories ten years ago, when she was only 11. She remembers the dark days in the dearth of peace under the Taliban, when Malala was living under, "terrorism and violence", where firing and bombing became their regular 'wake-up calls', recalls the youngest Nobel Prize, achiever.
Malala Taking #10YearChallenge
When I saw the #10YearChallenge, I started thinking about my life when I was 11 years old and how different it was then. #EducationDay https://t.co/IX7xBKxu6g

— Malala (@Malala) January 24, 2019
"As an 11 year old, I worried about my future and my freedom. All I wanted was to put on my ink-stained scarf, walk through the streets, sit on our old wooden chairs inside those cracked walls, pick my pen, open my book. I wanted to read and write and question and learn," added Malala on her blog post. Elon Musk and Malala Yousafzai's Hilarious Twitter Conversation Will Brighten up Your Day. 
Speaking of her diary entries during those times of turmoil, which was published BBC in regular instalments, the activist recollected the anxious feelings that soared around her. She said, "Reading these entries now, 10 years later, I hear so much in that young girl's voice — scepticism, nostalgia, hope and caution. The same feelings that I hear in the voices of the girls that I meet around the world, in schools, on city streets, in refugee camps."
The Pakistani youngest Nobel Laureate unfolded every struggle she fought ten years ago. From a schoolgirl fighting for her education to the youngest influencer who is now the global voice girl's education. She noted that January 14, 2009, was her last day of school in Swat Valley and the same in 2019 was the first day "back to lecturers for my second term at Oxford University." She goes ahead stating that despite the passing time, her struggle to promote female education remains. Malala concluded the emotional note saying, "What will the next 10 years look like? That's up to all of us." Her 10-year challenge took all the readers go back to the struggle that continues to prevail. And there are so much more; we need to accomplish to make the planet a better place to live in.