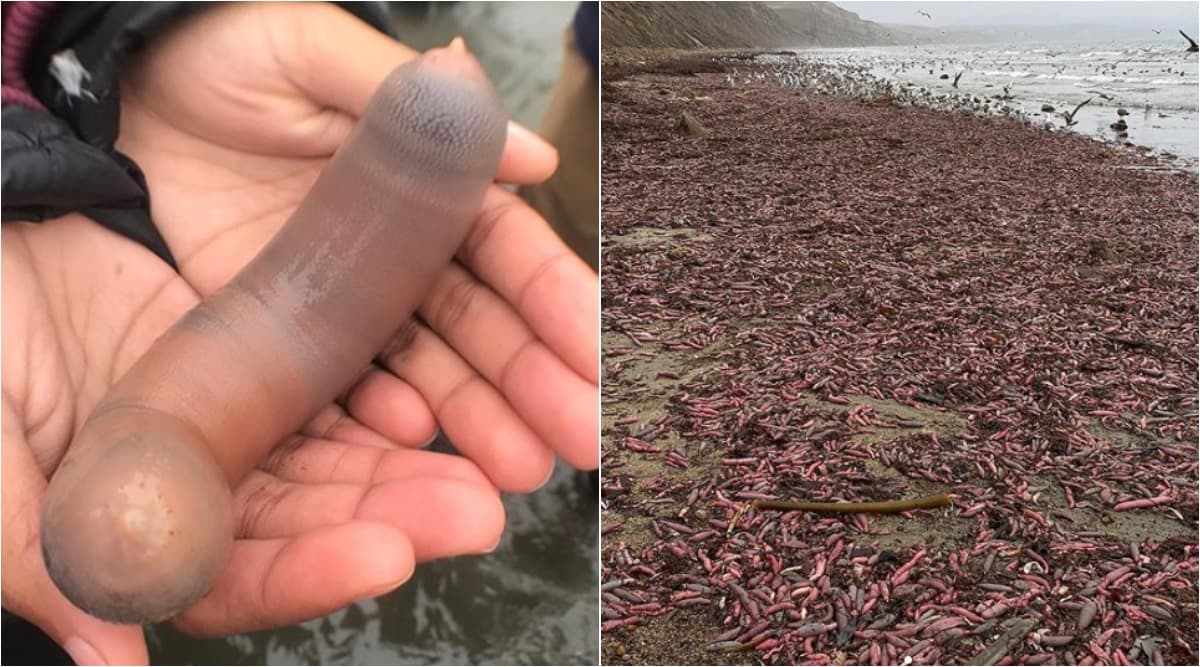 If you have come across XXX pics of phallic-shaped organisms, please stop freaking over it. These are 'penis fish'. Ok, Ok, like really stop freaking about it.. They're harmless fat innkeeper worms also known as 'penis fish' and have washed ashore at a beach in California, the United States in large numbers following storms. So, stop your dirty thoughts in check and stop your ideas are running wild, because it is just a fish! The scientific name of the worms is Urechis unicinctus. The worms, which were burrowed under the sand were brought on the surface by storms. These tiny fish are enjoyed by seagulls, sharks, rays and other fish. Yes, the photos of penis fish are definitely NSFW but these thousands of phallic-shaped creatures wrigging on the beach are simply stranded. Poor creatures. Alien-Like Fish Caught off Norwegian Island! Fisherman Finds Rare Catch With Gigantic Eyes (View Pics)
According to the nature magazine, these 10in wrigglers are marine worms called fat innkeeper worms, but are colloquially known as penis fish. An expert who writes for Bay Nature said that a recent storm in the Drakes Beach causes the storm to mysteriously appear on the beach. Ivan Parr, a biologist from the Western Section of The Wildlife Society said that the 10-inch fat innkeeper worm lives underwater or remains burrowed in mud or sand. Fish From China With a Human-Like Face Goes Viral on the Internet! Netizens Freaked Out (Watch Scary Video)
Penis-Shaped Fish Washed Ashore at California Beach:
He writes, "I have heard my share of imaginative theories from beachcombers, such as flotsam of a wrecked bratwurst freighter. We are seeing the risk of building your home out of the sand. Strong storms — especially during El Niño years — are perfectly capable of laying siege to the intertidal zone, breaking apart the sediments, and leaving their contents stranded onshore."
Penis-Fish For Sale at Market!
View this post on Instagram
These tiny penis-like creatures can live upto 25 years using its "spatula-shaped proboscis". It typically eats bacteria, plankton and other small particles which it collects using "sticky mucus nets." Meanwhile, the penis fish is a delicacy in South Korea where it is known as gaebul. Parr says that she has heard about the sighting of penis-fish over the years at Pajara Dunes, Moss Landing, Bodega Bay and Princeton Harbor. The creature dates back to 300 million years.