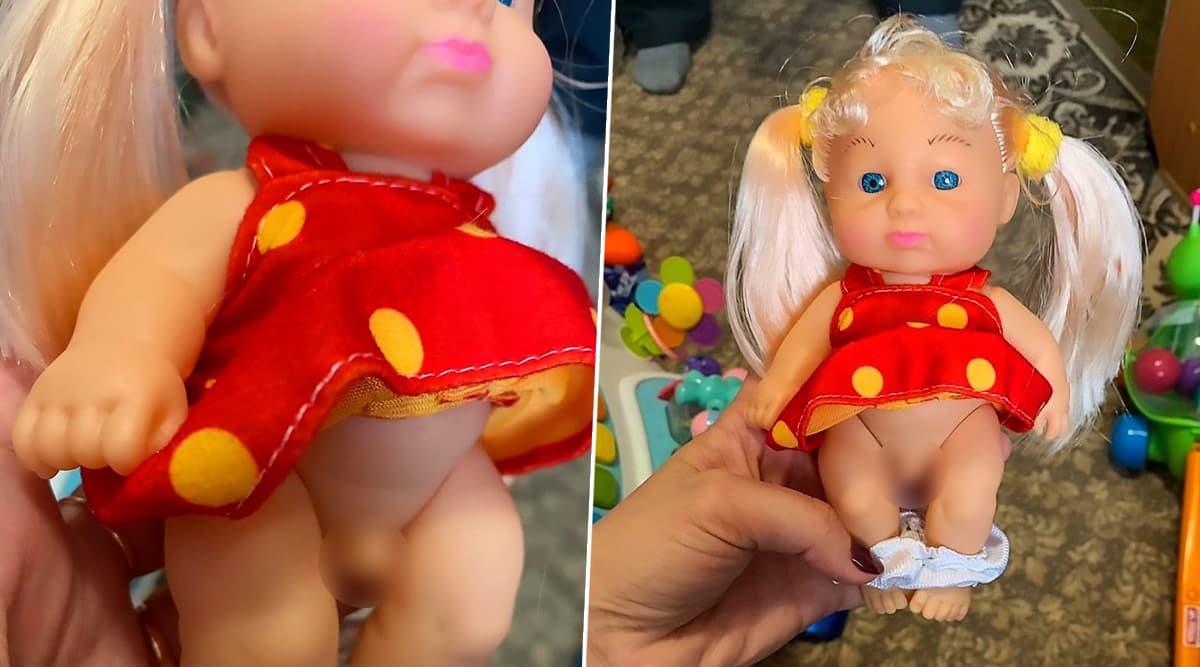 A controversial children's doll has created an outrage on the internet. The female-looking doll has a penis and is said to be 'transgender'. The doll was found in a  Russian toy store and ever since it has been spotted and its picture is doing rounds on social media, social media outrage has taken place. Social media is coming up with mixed reactions but more and more people are bashing the doll and calling it "freak doll". Some are even calling playing with this doll is no less than child abuse. In the pictures, one can see that the doll is wearing a red and yellow polka dot dress with blond hair tied in two ponytails.
However, underneath the dolls dress is what appears to be a penis. Probably the first transgender doll in the world, it didn't go down very well with netizens. The Planeta Igrushek (Planet of Toys) shop in Siberia is said to have been selling the toy, as per gritdaily.com.
Take a Look At the Pictures of 'Transgender' Female Doll with a Penis:
What are we doing to our children???This is horrible.

Transgender children's doll, a doll with male genitalia under a dress.

Barbie and Ken dolls are created with no genitalia, so why this doll?

https://t.co/KPmDzxxcoB https://t.co/k5d7zXX2vB pic.twitter.com/YJY08aIsoe

— 𝕁𝕖𝕟𝕟𝕚𝕗𝕖𝕣🔱🇺🇸🔱 𝓣𝓮𝔁𝓽𝓣𝓻𝓾𝓶𝓹to88022 (@GodLovesUSA1) January 17, 2020
Check Out The Reactions:
The whole world is going nuts. These liberals are going to destroy us if we don't fight back. VOTE RED 2020

— Larry N (@LawrenceNiezgo1) January 17, 2020
People Are Angry
No doubt made in China or some other country that wants to rot us out from the inside.

— Donnie Leach (@DonnieLeach1) January 17, 2020
Netizens Are Calling It Freak Doll
No one should buy this freak doll!

— Ali McGuire (@__DragonWings__) January 17, 2020
Child Abuse They Say
These people are sick. It's child abuse.

— Diana Dale (@DaleDiswaneck) January 17, 2020
Just last year, a Twitter hashtag #TransLooksLikeThis was going viral, encouraging people in the transgender community from various backgrounds to share their personal experiences after the medical transition. The hashtag #TransLooksLikeThis exposed the discrimination to some of them face for not being "trans enough", not having a top surgery or being on hormone therapy. But coming back to this trans doll, do you think it can be as bad as "child abuse" to have dolls that propagate inclusivity?