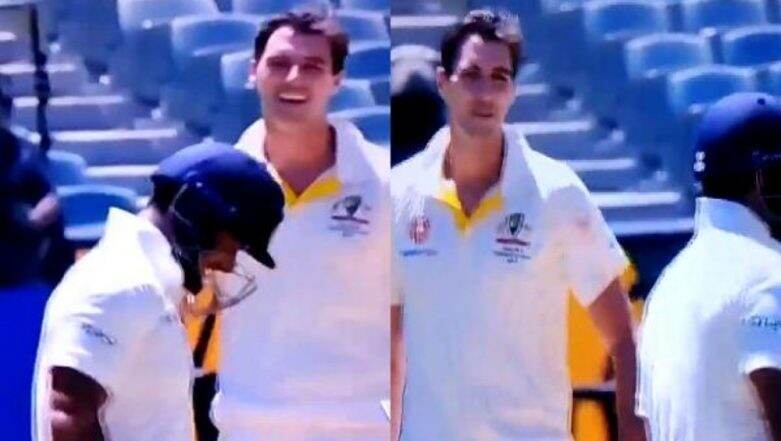 The Australians had a good start to the day one of the Test match with India. The Aussie bowlers removed KL Rahul and Murali Vijay within the first half an hour of the day one of the game. Virat Kohli also got out quickly by making three runs and Ajinkya Rahane scored 13 runs from 31 balls. Rishabh Pant came in for a while but made 25 runs from 38 balls. During his short stay, Pant went on to hit a couple of fours and one six. Australian pacer Pat Cummins was also being hit out of the park and this did not go down well with the pacer. Pat Cummins' Stunning Direct Throw Sends Cheteshwar Pujara Packing During India vs Australia 2018, 1st Test (Watch Video Highlights).
After one of the deliveries, Pat Cummins went on to sledge India's wicket-keeper batsman Rishabh Pant who ignore his words. Pant not only ignored the Australian pacers sledging attempt but also did not engage in any conversation. The moment was captured by a few netizens on social media and they posted the video on the Internet. Ajinkya Rahane Plays with the Special bat Signed by Rahul Dravid in India vs Australia 2018, 1st Test (See Pic).
Cummins v pant pic.twitter.com/qMir1FkGui

— Prem Chopra (@premchoprafan) December 6, 2018
Pant's wicket was claimed by Nathon Lyon after the Indian wicket-keeper batsman made a vital contribution. Sunil Gavaskar was quite unimpressed with Indians who could put up only 250 runs on the board. During the lunch session he said, "That (poor outside the off-stump) is an understatement. They [India batsmen] were just reaching out for deliveries which they could have very well left alone. The only exception may be KL Rahul but all the others played shots that they could have avoided."