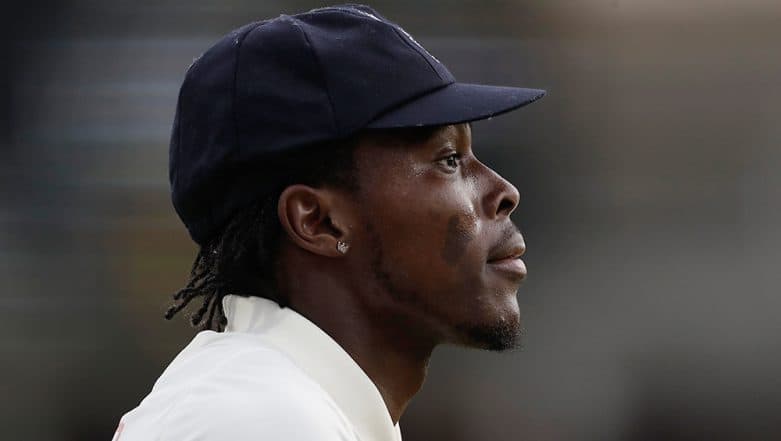 Two Australian fans were expelled from Emirates Old Trafford stadium in Manchester after making abusive taunts to Jofra Archer. The incident occurred during the first day of Ashes 2019, England vs Australia fourth Test. The duo were also involved in abusive behaviour during the match. According to a report The Sydney Morning Herald newspaper, the pair were seated during the boundary. When Archer came to field near the boundary, they said, "Jofra, show us your passport". Australia Vs England Live Cricket Score 4th Test Match. 
The Australian supporters, who were also sitting near England Dressing room, were sent off the ground by authorities over their wrong behaviour. People sitting near them in the stands also complained about their violent behaviour, post which authorities took the decision of evicting them out of the ground. Archer heard their inappropriate comments but he did not respond during the incident. Jofra Archer Hits Back at Steve Smith As Mind Games Continue Ahead of 4th Ashes 2019 Test in Manchester. 
The incident became an important matter during the first day of Ashes 2019 4th Test.  Archer, who has been playing for the England team recently, is a former West Indies' cricketer. He changed his nationality and shifted to England, after which he became part of England cricket team. With his pace attack, Archer has been a leading bowler for World Cup 2019 champions. He also bowled the super over during ICC Cricket World Cup 2019 final agasint New Zealand, after which England won the match on boundary count.
Meanwhile, the first day of England vs Australia, Ashes 2019 fourth Test saw Australia scoring 170-3 at the end of Day 1. On Day 2, Steve Smith smashed a century and is leading Australia towards a good score in the first innings.