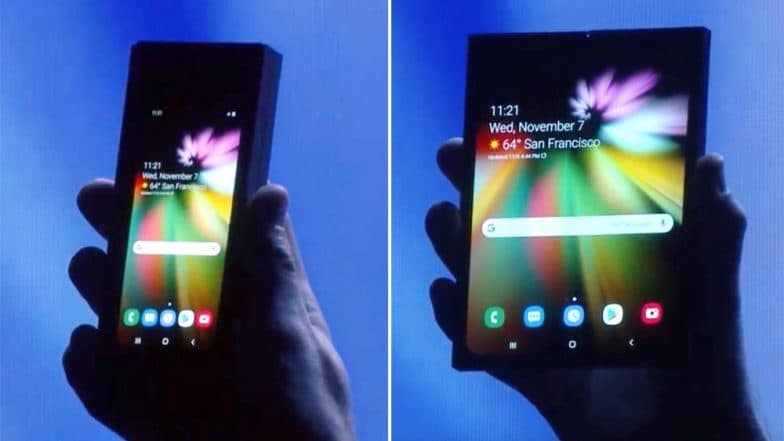 After months of waiting for the foldable phone, Samsung gave the first glimpse of what their newest creation will look like. The foldable phone will become a tablet once it is fully opened. Samsung unveiled the much in anticipation phone and also asked Android developers to start making apps for this device. The company also said these phones will be mass produced in the months to come. Justin Denison, Samsung Senior Vice-President of mobile marketing, showed off the multitasking device at its fifth annual developers' conference in San Francisco today. Samsung's New Foldable Smartphone Will Offer Tablet Functionality - Report.
The device that was showcased was a very thick one but the final product will be a sleeker design than the one that was displayed. The screen measures 18.5cm (7.3in) diagonally. This phone uses the Infinity Flex Display technology which makes it possible to fold the device without any degradation in quality. Talking about it Denison said, "The Infinity Flex Display represents an entirely new mobile platform. We've been living in a world where the size of your screen can only be as large as the device itself. We've added a new dimension to help you browse, watch and multitask like never before."
Watch Pictures and Videos of Samsung's First Foldable Phone Unveiled at the Event
Infinity Flex Display foldable phone at #sdc2018 from #Samsung pic.twitter.com/6cc3nhgOpO

— acmetransmedia (@acmetransmedia) November 7, 2018
Here's Samsung's foldable phone unveiled at #SDC18 pic.twitter.com/dIBACr0PpJ

— Ken Yeung (@thekenyeung) November 7, 2018
The South Korean company has lost a considerable amount of market to Apple. But this foldable phone cum tablet could in a way help in reversing their marketplace. Google's head of Android, Glen Murphy who was also present at the event said they would team up with other developer communities to bring in more features to the phone. FlexiPai is World's First Foldable Smartphone; Priced at CNY 8999 Launched - Checkout Video. 
The success of this device will also depend on the final design. Provided it is sleek and easy to use then it will attract more consumers as opposed to a bulky design. The phone can run about three applications at the same time. Denison also mentioned that along with the foldable technology, the company is also working on developing rolling and stretchable displays.