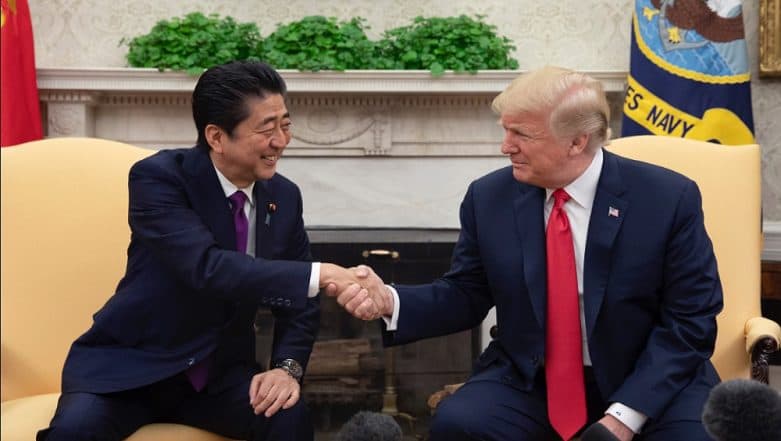 Toronto, February 19: Japan's Prime Minister Shinzo Abe has indirectly admitted that he nominated US President Donald Trump for this year's Nobel Peace prize. This after Trump announced that he had received a "copy of the beautiful letter" that Abe had written to the Nobel Prize committee.
Upon being questioned in Japan's parliament about Trump's claim, Abe said, "In light of the Nobel committee's policy of not disclosing recommenders and nominees for 50 years, I decline to comment."
However, after being pressed further the Japanese leader said, "I'm not saying that it is not the fact," adding that the US President had been working to curb North Korea's nuclear and missile development, and that he "highly" appreciated his leadership. "I'll continue to (offer) my utmost cooperation to President Trump to solve the North Korean nuclear and missile issues and the abduction issue, which is the most important ... for Japan," said Abe.
The news of Trump's nomination came from the Japanese newspaper Asahi Shimbun which reported on Sunday that Abe had nominated Trump at the US president's request keeping in mind the historic US-North Korea summit of 2018. The two have also established a personal rapport of sorts through their various meetings.
The Nobel Peace Prize considered one of the most prestigious awards in the world if not the most prestigious award, has in the past gone to stalwarts like Mother Teresa, Martin Luther King Jr, Nelson Mandela and former US President Barack Obama.
Trump who has been in a competition of sorts with his predecessor ever since he entered the White House wants to leave no milestone untouched that was accomplished by Obama and this seems to be his motivation for wanting to win the Nobel Peace prize as well. Trump reportedly complained that his predecessor was there "for about 15 seconds" before he was awarded the prize. Obama was awarded the Nobel Peace Prize in 2009 for laying out a U.S. commitment to "seek the peace and security of a world without nuclear weapons".