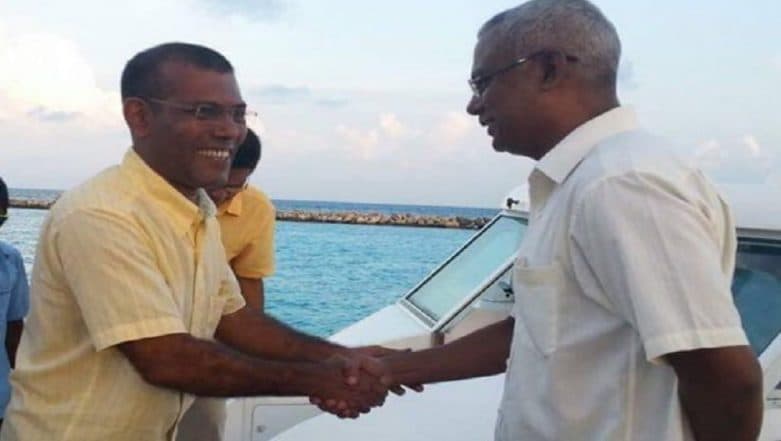 The Maldives' Supreme Court has overturned a terrorism conviction against the country's first democratically elected President Mohamed Nasheed.
The Supreme Court held that Nasheed was wrongfully charged and should not have been convicted in the 2015 trial which was brought against him after he was overthrown mid-way through his presidential term.
Nasheed went into exile a year later when he traveled abroad to seek medical treatment, and was branded a fugitive from justice during Abdulla Yameen's reign as president. Nasheed welcomed the news in a post on Twitter, expressing his "deepest gratitude to the people of the Maldives". The ruling came 10 days after the inauguration ceremony of recently elected President Ibrahim Mohamed Solih.
"President Nasheed's entire trial was a politically-motivated sham," his lawyer, Hisaan Hussein, said after his conviction was quashed. "It is appalling that an innocent man was unjustly forced to spend a year in jail, 35 months in exile, and was prevented from standing for political office."
Former President Maumoon Abdul Gayoom, who ruled the Maldives archipelago for 30 years but lost the country's first multiparty election to Nasheed, also took to Twitter to say that "justice has prevailed".
I am so happy that President @MohamedNasheed has been freed by the Supreme Court. Justice has prevailed. Congratulations and good luck!

— Maumoon Abdul Gayoom (@maumoonagayoom) November 26, 2018
Nasheed's trial and the subsequent charges against him were described by the United Nations as politically motivated. Nasheed, the leader of the opposition Maldivian Democratic Party, was expected to contest the September poll but was barred from contesting on account of his terrorism conviction.
He has since become an icon of democracy in the island-nation. He returned to his home country this month after the joint political candidate Ibrahim Mohamed Soli defeated the incumbent president in the country's closely watched general elections. Yameen, during his time as president jailed or exiled most of his opponents but since he departed office political prisoners have been freed and opponents abroad have returned. (With PTI inputs)