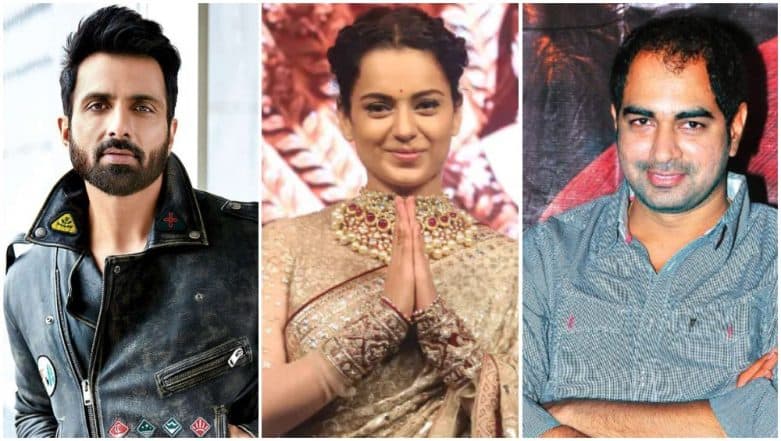 It is time that he spoke up! Manikarnika, that was released on January 25, had faced a lot of production problems with its shoot. Its original director Krish was booted out of the film, citing that the producers were not happy with what he had made. Though, the grapevine was that it was Kangana who was not happy with Krish's work for the film. Following his exit, Kangana took to herself to reshoot many portions of the film, prompting actor Sonu Sood to walk out. He was later replaced by Mohammed Zeeshan Ayyub for the role of Sadashivrao, Manikarnika's scheming brother-in-law. Manikarnika Movie Review: Kangana Ranaut's Dominant Show Gives an Energetic Appeal to This Faltering Historical Drama.
In an earlier interview, Sonu Sood had talked about the reason why he walked away from the film, is that his role felt reduced. Now Krish, after months of silence, have finally spoken up to Spotboye about what exactly went into these reshoots and reshaping the characters.
Speaking to the portal, Krish talked about how Kangana insisted for reshoots because she wasn't happy about how some of the supporting characters are 'over-powering' her character. Krish had agreed to her demands and the reshoots at that time weren't that much. Kangana Ranaut Is Rude: Manikarnika Director Krish Makes SHOCKING Revelations About the Actress.
However, here's where the real problem began for him. He said, "We decided we needed to shoot for an additional 6 days. Kangana was not required in that extra time. I discussed with Prasoon Joshi and few others how we will go about it. And then, she suddenly rose to say that Sonu's character should be killed at the interval point. This was completely against history. Sonu was playing an important antagonist, he had a beautiful arc in the story and we had shot with him beautifully for 35 days, Sadashiv (Sonu's character) would have died in the film but just little before Laxmibai's death. She (Kangana) insisted. She said Sonu is not required in the second half. But I put my foot down. Big arguments followed. Kamal Jain took Kangana's side." After Sonu Sood, Swati Semwal Walks Out of Kangana Ranaut's Manikarnika; Says Her Roles 'Was Not Significant Anymore'.
Krish later added about how Kangana managed to convince Zee Studios, who were financially backing the movie, to agree with her changes. He was later informed that Kangana would be directing all the changes, including the reshoots for Sonu's character. Krish added, "I got a call that they were doing re-recordings on the film that I had made. Not over yet, the editor was changed. The editor who had worked with me was asked to leave. A few days later, I got a call from Sonu. He wanted to know if I was directing the film further or not."
"I came back to Hyderabad and got a call from Sonu that they were terminating his character at the interval. I told them that I won't direct that change in Sonu's role. Kamal Jain replied that Kangana will direct. Sonu told me that he wasn't going ahead if I was not taking any further part." The rest, as you know, is some very controversial history, with Sonu Sood getting replaced by Zeeshan and Kangana accusing him of being sexist.
In the same interview which you can read here, Krish also revealed that not just Sonu, the roles of many actors in the supporting cast were reduced, including Atul Kulkarni, Suresh Oberoi, and especially Prajakta Mali who plays Kashibai in the film. Wonder how Kangana would react to this!