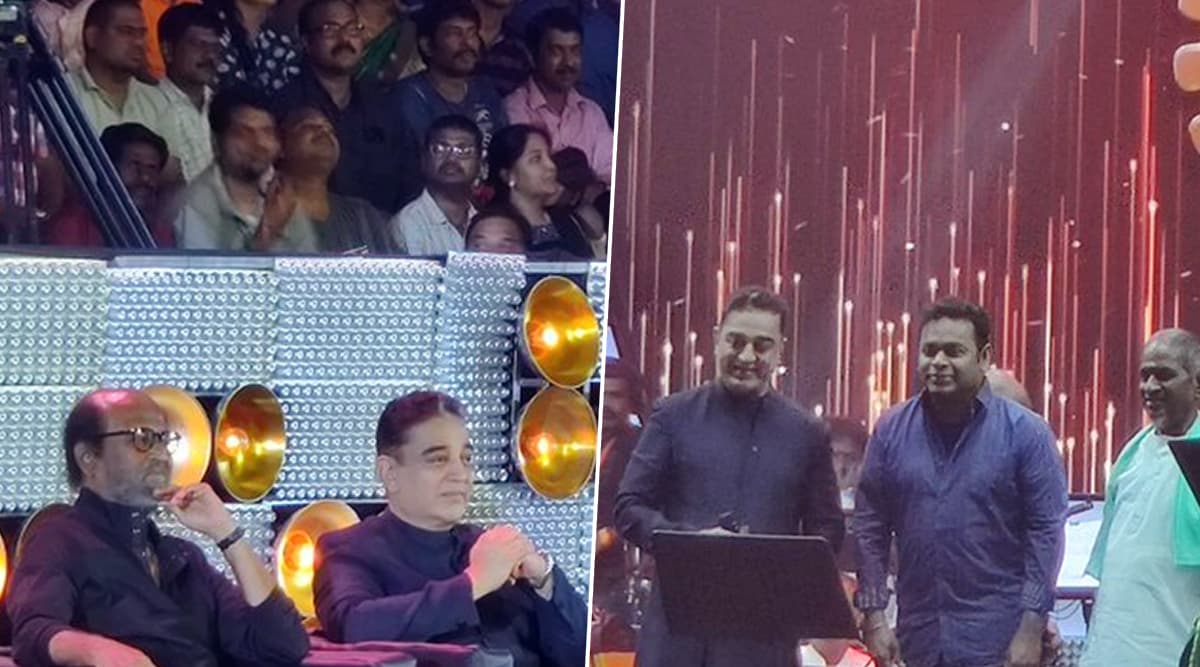 The fans of Kamal Haasan were waiting for this golden day since long. The actor who won the hearts of the movie-lovers down south and Bollywood completes 60 years in the industry. Now, six decades is a lot for any artist and surviving on the top unabashedly calls for a celebration. Suiting his stardom, a grand musical event was held in Chennai where music maestro Ilayaraja performed. A picture was posted by ace music composer AR Rahman along with Kamal Haasan and Ilayaraja gracing the event titled as Ungal Naan. It was also graced by none other than superstar Rajinikanth and loved actor, Karthi. Kamal Haasan on Rajinikanth: 'We Continue to Respect, Criticize and Endorse Each Other despite Different Political Ideology'.
In the tweet, the music director called Kamal Haasan 'Tamil Pride.' As seen in the snap, the three legendary figures of the south industry gathered to celebrate the big moment. In the backdrop, there are musicians, giving a glimpse of grandeur of the event. Here are a few pictures that floated across the social media from the event.
AR Rahman's Tweet
#Kamal60 #univercity #tamilpride pic.twitter.com/9YnqMrwVzt

— A.R.Rahman (@arrahman) November 17, 2019
Rajinikanth With Kamal Haasan
Superstar Rajinikanth is here at #Kamal60 pic.twitter.com/HLrozANJxq

— Rajasekar (@sekartweets) November 17, 2019
More From The Event
கலைஞானி @ikamalhaasan உடன் மக்கள் செல்வன் @VijaySethuOffl #UngalNaan @RKFI @turmericmediaTM #Ilayaraja #Ulaganayagan #KamalHaasan #60YearsofUlaganayagan #Kamal60 #60GloriousYearsOfKamalHaasan pic.twitter.com/YHo6mpUvEd

— BULLET R VIGNESH (@bulletvikki) November 17, 2019
Glimpse of The Grandeur and Fan Frenzy
நடிகர் கமல்ஹாசனின் 60 ஆண்டுகால சினிமா பயணத்தை முன்னிட்டு சென்னையில் `உங்கள் நான்' என்ற நிகழ்ச்சி தொடங்கியுள்ளது. இளையராஜா, ஏ.ஆர்.ரஹ்மான் உள்ளிட்டோர் கலந்துகொண்டுள்ளனர்.#Kamal60 #UngalNaan #KamalHaasan pic.twitter.com/JLFUbiuZx6

— சினிமா விகடன் (@CinemaVikatan) November 17, 2019
However, the fans are quite surprised about the fact that Thalapathy Vijay did not attend this mega event. It was totally expected that the Bigil star would grace the show. However, as per the reports, he had prior work commitments and hence had to fly off to Delhi. His absence here broke the heart of a few die hard fans. We wonder if he will have anything to say on the unexpected reactions by the fans. Coming back to Kamal Haasan, which of his movies are your favourite? Drop the names in the comments section below.