Por Thozhil Movie Review: A good investigative thriller doesn't need mind-blowing reveals. Some of the things it should do right are to give well-rounded characters, an antagonist(s) whose crimes could raise shivers, a taut screenplay that manages to create a tense atmosphere, and occasionally surprise with twists and turns. I am happy to say that Vignesh Raja's Por Thozhil, starring R Sarathkumar and Ashok Selvan in the lead, gets most of these aspects right and becomes a thriller that kept me completely invested throughout. Por Thozhil Trailer: Ashok Selvan, Sarath Kumar Try To Hunt Down a Sadistic Psychopathic Serial Killer in This Grim First Glimpse.
Prakash (Ashok Selvan) is a new DYSP in the Crime Branch. A young man with brilliant academic performance and shooting expertise, Prakash is not exactly "tough" as he himself expects a regular cop to be. It doesn't help his case when he is asked to follow senior officer Lokanathan (R Sarathkumar), a brilliant but no-nonsense cop who doesn't take too kindly to having a rookie cop tagging along.
This prickly start to their professional relationship is further challenged when they are assigned to investigate a double murder in Trichy, which they soon realise is the start of a series of serial killings. Prakash's bookish brilliance clashes with Lokanathan's skilled experience at first, but soon enough, they use their strengths to complement each other and figure out the killer's identity.
Watch the Trailer of Por Thozhil:
Por Thozhil does a wonderful job of setting up the nature of the two protagonists and the friction between them, as well as the grisly nature of the murders they are investigating. The template isn't anything new - there are influences from Se7en, Zodiac, and Memories of Murder - but the tight screenplay and the riveting mystery grab hold of your attention. The film teases a romance between Prakash and Veena (Nikhila Vimal), but doesn't allow this subplot to eat into the screen time.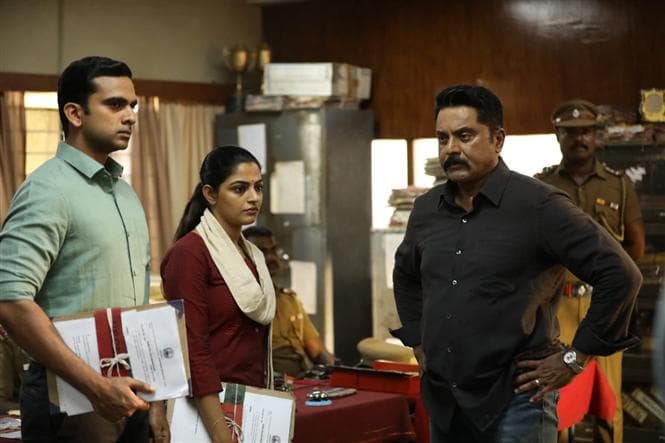 What also felt relatable in the film is that the investigative nature of the film also provides a foil to the coming-of-age arc for Prakash, who slowly and steadily fights against his insecurities to gain the respect of his hard-to-please senior. Despite the intense nature of the mystery, it is a small moment of a heartfelt chat between Lokanathan and his protege where the former explains the difference between fear and cowardice, that stands out in the film (which also gets a nice payoff in the end). Ashok Selvan and R Sarathkumar's edgy bonhomie elevates the proceedings wherever needed, with both actors delivering impressive performances.
The palpable whodunit nature of the mystery seemingly comes to a conclusion when a major suspect is revealed near the interval. The second half goes into the duo figuring out if that person is the killer, also indulging in extended flashbacks that give a troubling background of familial abuse. There are still twists and turns, and a couple of heart-in-the-mouth moments that I don't want to spoil. Por Thozhil features one of the last onscreen appearances of an actor who passed away recently, and it is a poignant swansong performance from the person here.
The movie also offers moments of introspection. There is a scene where Prakash says he doesn't know if he wants to hate the killer or feel bad for them, and Lokanathan admonishes him saying that it is their choice to take the wrong way. Por Thozhil doesn't take sides in this debate, but at the same time, it doesn't discount the factors that could lead a person to be a hardened criminal.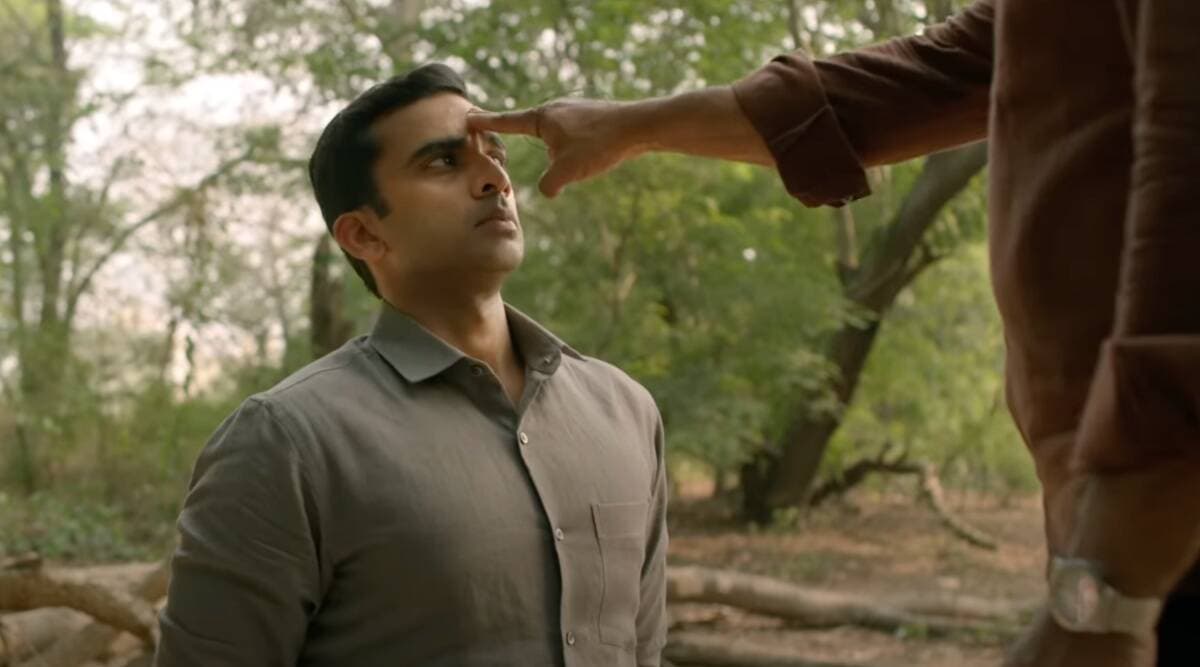 Another aspect I found fascinating is the way the film explores the idea of masculinity. When Prakash joins the police force, he is told by both his nephew and a superior to grow a moustache (which is always and incorrectly aligned as a sign of masculinity). It matters little when his senior partner has an impressive thick mustache. (SPOILERS AHEAD) Masculinity gets further toxified when a killer chooses to compensate for the abuse they suffer by killing innocent women.
Ironically, while the female victims in the film are victims of someone trying to compensate for their abuse, Por Thozhil's treatment of its sole major female character - Veena - also suffers from the same. Despite her character being that of a technical assistant to both the cops, Veena is mostly relegated to shuffling through files and occasionally lending a shoulder of support. Yes, she has a crucial involvement in the climax of the film and it has a nice twist, but it continues on the trope of female leads in this genre of films.
There are also occasions when Por Thozhil indulged me into getting my brain into overthinking mode and ask questions about certain deductions the leads make. (SPOILERS AHEAD) For example, while investigating if there are other similar murders in the past, the heroes come across a series of killings that date a couple of decades back and they conclude that it could be the same killer. But I am not sure why neither of them thought of the possibility of a copycat killing, considering one has experience and the other has bookish knowledge.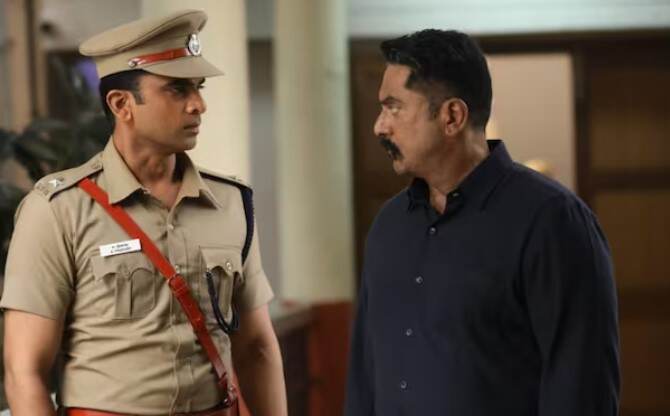 Another example I can point out is how Prakash conveniently figures out the identity of the killer through an old book on pressure point attacks. Considering that pressure point attacks are also a crucial part of some martial art forms, such as kalaripayattu, it's surprising that the film forgets about this fact. Despite these loopholes, Por Thozhil maintains its gripping nature to the very end, leading to a brief and intense climax.
Final Thoughts
With Por Thozhil, director Vignesh Raja makes an impressive big screen directorial debut, helped by a taut screenplay (that he wrote with Alfred Prakash) and fabulous performances from Sarathkumar and Ashok Selvan. Do not miss this!
(The above story first appeared on LatestLY on Jun 09, 2023 04:25 PM IST. For more news and updates on politics, world, sports, entertainment and lifestyle, log on to our website latestly.com).