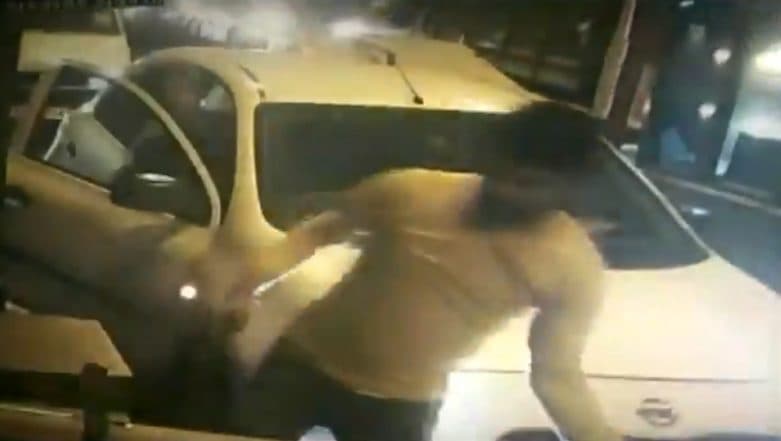 Gurugram, May 16: In yet another incident of toll plaza violence in Haryana,  a man on Wednesday brandished a pistol at a toll booth in Gurugram. According to a tweet by ANI, two men, travelling in a car, fled without paying toll tax. Reports inform that police has registered a case into the matter. According to the video that went viral on social media, two men are seeing walking out of the car at the toll plaza, of which, one is seen displaying a pistol.
A man, in white t-shirt, is seen holding a pistol and walking near the toll system and opening the toll plaza loop. In the meanwhile, the other man, who is in the car, speeds the car and crosses the toll plaza without paying the toll amount. Toll Plazas To Go Off National Highways Soon; Here's Why And How.
Here's the Video:
#WATCH Haryana: A man brandished a pistol at a toll plaza in Gurugram and fled without paying toll tax. Police have registered a case (15.5.19) pic.twitter.com/mhcsdxXmCu

— ANI (@ANI) May 16, 2019
Earlier this month, a monkey entered through the small gap of the toll booth in Kanpur and took away cash worth Rs 5000. The incident took place at Bara toll plaza under Akbarpur Kotwali in Kanpur's Dehat area. According to a video that went viral on social media, as the car stopped at the toll booth, a monkey was seen coming out of the window and entering the toll booth. The monkey then snatched the bundle of notes from the hand of the toll executive. Delhi Man Shot Dead While Trying to Rob Toll Plaza Cash Van in Pul Pehlad Pur.
In March this year, a toll plaza employee in Telangana's Sangareddy was thrashed brutally with a slipper by an unidentified man. Reports inform that the incident took place after a heated argument broke out between the two about the toll charges and it was caught on the CCTV camera.