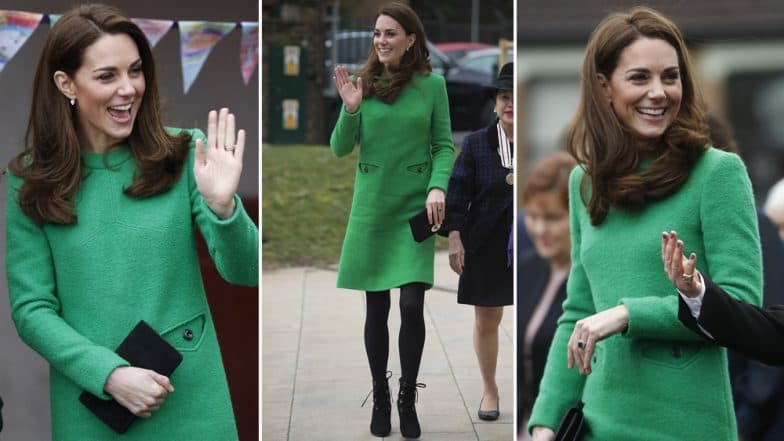 Kate Middleton, the Duchess of Cambridge, unsuspectingly stepped out in a green Eponine knee-length dress on Wednesday and now it has been termed the 'world's angriest dress' ever. Pictures of her latest public appearance while celebrating Children's Mental Health Week in the United Kingdom went viral as Twitterati couldn't help but ponder at her bright green dress comparing the buttons on the pockets to a video game character's eyes from Angry Birds. And eagle-eyed Twitter didn't even miss the folds in the dress created as she walked which made it looks even angrier.
Remarking on the dress, a fan shared a photo of the Duchess writing: 'Someone wasn't happy to be brought out of the wardrobe this morning.. World's angriest dress'. Kate paired the green dress with black Bennett boots and gold earrings. She completed the look with a Mulberry clutch but it was the black buttons that grabbed eyeballs on social media. Royal Family Is All Smiles in Their Candid Photo Marking Prince Charles' 70 Birthday.
Check out the tweet below:
Someone wasn't happy to be brought out of the wardrobe this morning.. World's angriest dress 😠 #DuchessofCambridge #pocketeyes pic.twitter.com/J5Ro71u5Fq

— Sairajasmin Davies (@Sairajasmin) February 5, 2019
Twitterati came up with a funny explanation for every snap of Kate where the dress creates a different fold while she walked. It almost looked like different facets of an angry face. Neither did they let go off the clutch pointing out how it added more effects to the 'angry dress' emotions. 
The dress was grumpy, not me!
Kate's dress was really not enjoying its day out 😠 #KateMiddleton #greendress #grumpy #grumpydress #DuchessofCambridge pic.twitter.com/O2tbQYH1tv

— Penny W (@penelopedw) February 5, 2019
Kate Middleton in 'World's Angriest Dress' Ever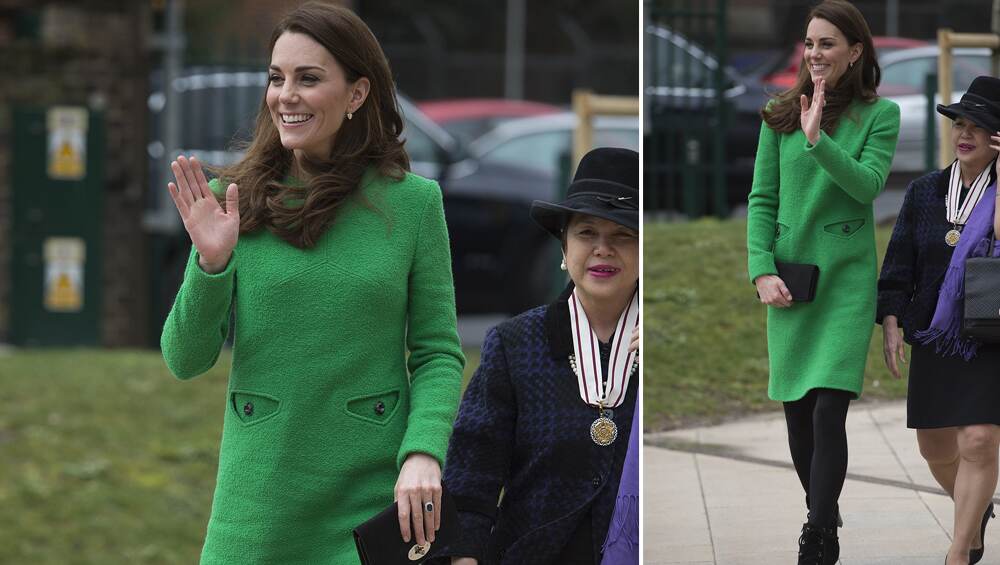 Kate today visited Lavender Primary School in north London during the Mental Health Week. This year's the week focuses on the "connection between physical and mental health." Last year during the event, the Duchess had released a video talking about the importance of supporting children at their young age. The Duchess also has a mental health charity with Prince William, the Duke of Cambridge and Prince Harry, the Duke of Sussex named Heads Together. It strives to end the stigma against mental health issues. Meanwhile, we wonder what Kate thinks about her bright green jumper being called 'world's angriest dress' ever.