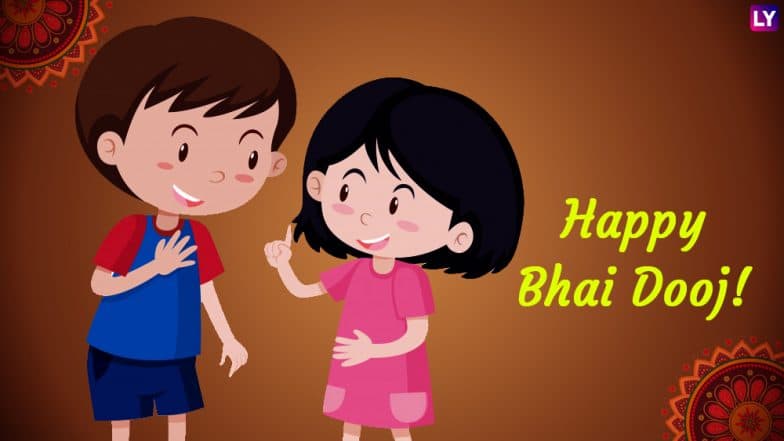 After the main Diwali celebration on November 7, the festivities are followed by two more auspicious occasion - Govardhan Puja on November 8 and Bhai Dooj on November 9. Bhai Dooj celebrates the beautiful bond of brothers and sisters. On this day, women pray for the health and wealth of their brothers. On this day, brothers and sisters send Bhai Dooj messages to each other. As the beautiful custom will be celebrated tomorrow, we have compiled a list of Bhai Dooj WhatsApp messages, Facebook Status, Stickers, SMS and GIF Images you can send your siblings. Diwali 2018: Bollywood-Inspired Traditional Wear For Brothers and Sisters This Bhai Dooj.
While Bhai Dooj is known by various names in different states if the country, the same customs and traditions are followed. It is known as Bhau Beej among Gujarati and Maharashtrians while Konkani-speaking communities call it Bhai Phota. In Bengal and Nepal, they address the day as Bhai Tika.
Sisters invite brothers to their house and apply vermilion and sandal paste on their foreheads. They conduct a small puja praying for their prosperity and long lives. Sisters then offer them sweets and brothers shower them with gifts in return. This is followed by a grad feast generally prepared by the sister for her brother. Bhai Dooj 2018 Greetings in Hindi: WhatsApp Messages, GIF Images and Pictures to Wish Your Brothers and Sisters on This Special Day of Diwali 2018.
As the day will be celebrated tomorrow, we have a list of messages you can send your brothers and sisters telling them how important they are in your lives: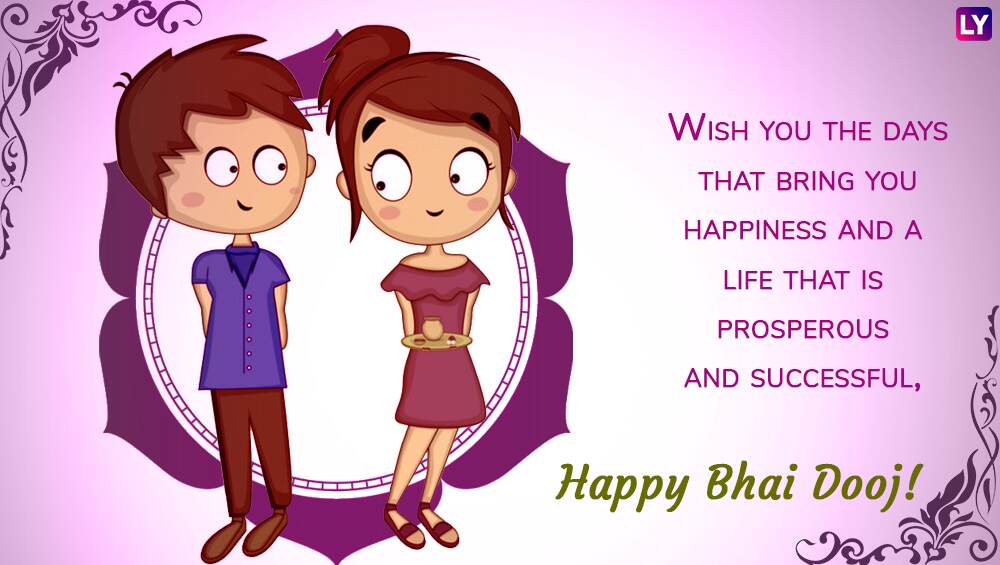 Wish you the days that bring you happiness and a life that is prosperous and successful, Happy Bhai Dooj!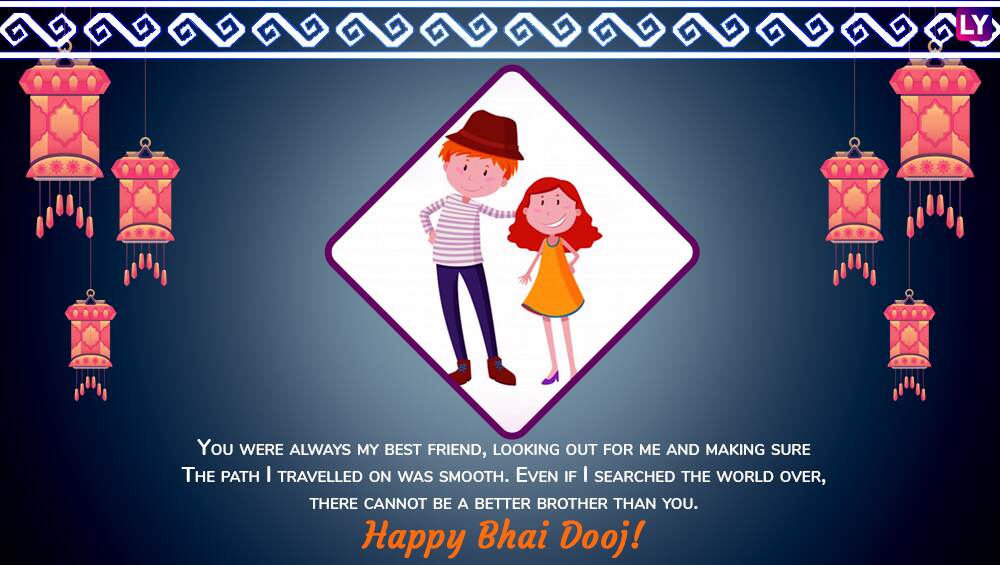 You were always my best friend, looking out for me and making sure the path I travelled on was smooth. Even if I searched the world over, there cannot be a better brother than you. Happy Bhai Dooj!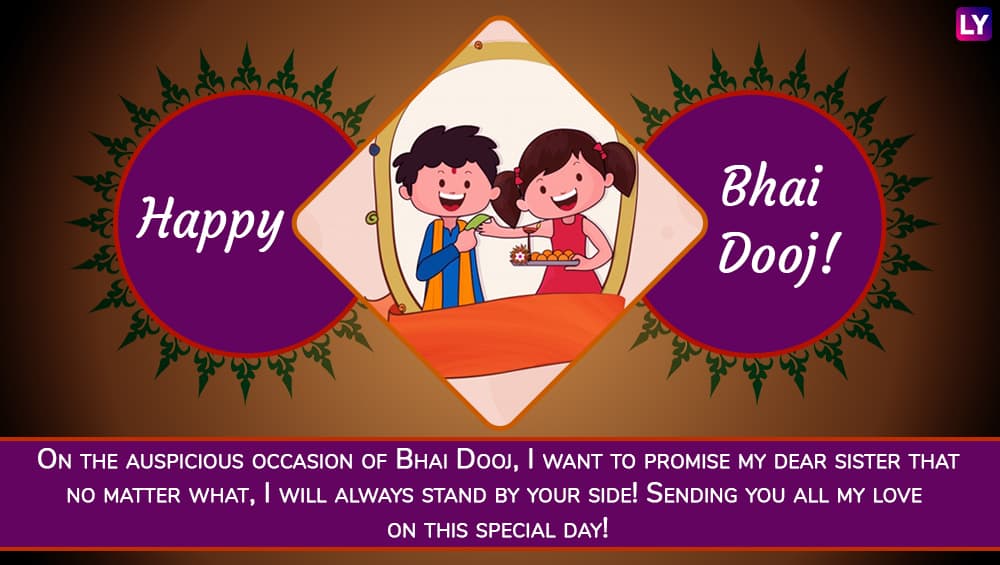 On the auspicious occasion of Bhai Dooj, I want to promise my dear sister that
no matter what, I will always stand by your side! Sending you all my love on this special day! Happy Bhai Dooj!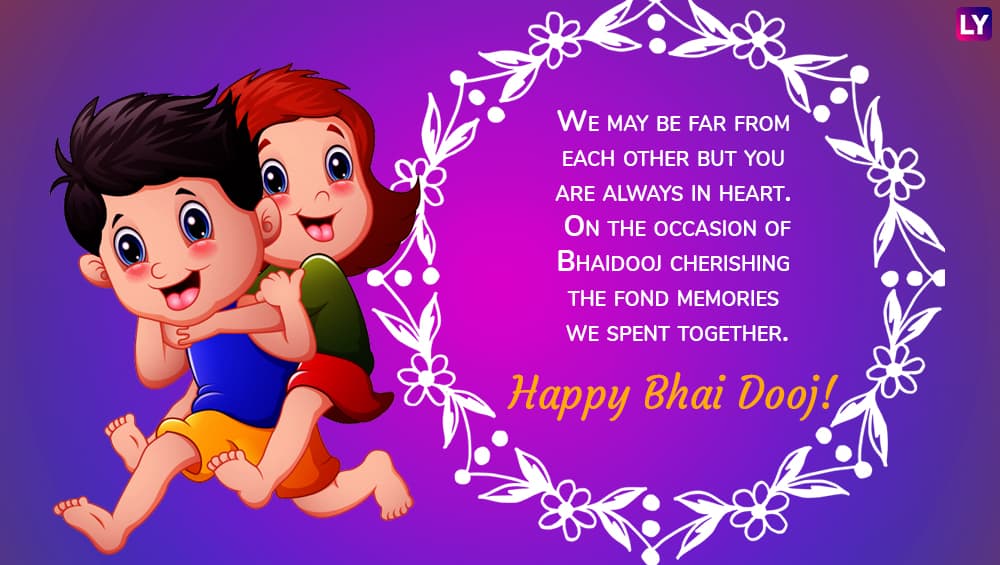 We may be far from each other but you are always in heart. On the occasion of
Bhaidooj cherishing the fond memories we spent together. Happy Bhai Dooj!
Diwali GIF!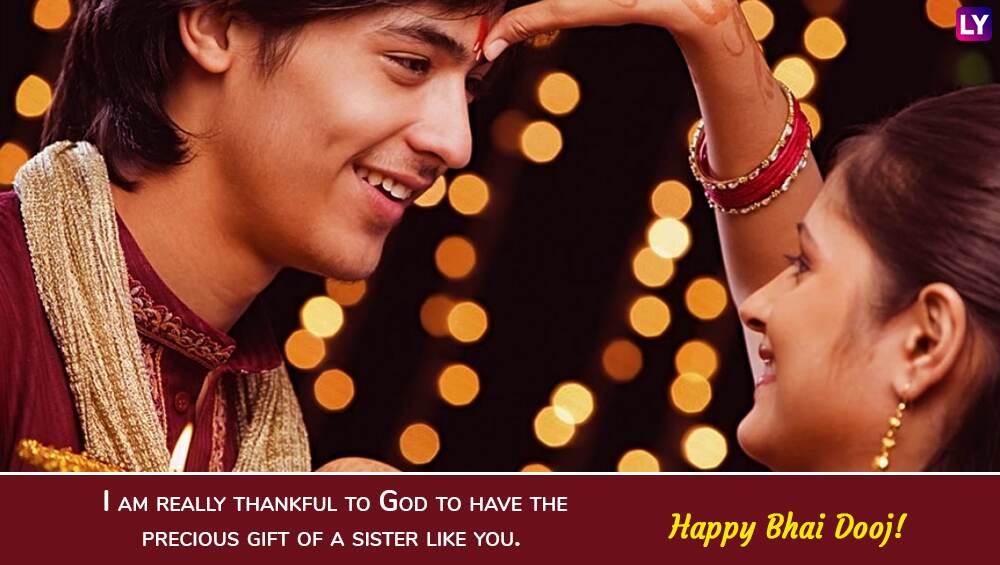 I am really thankful to God to have the precious gift of a sister like you. Happy Bhai Dooj!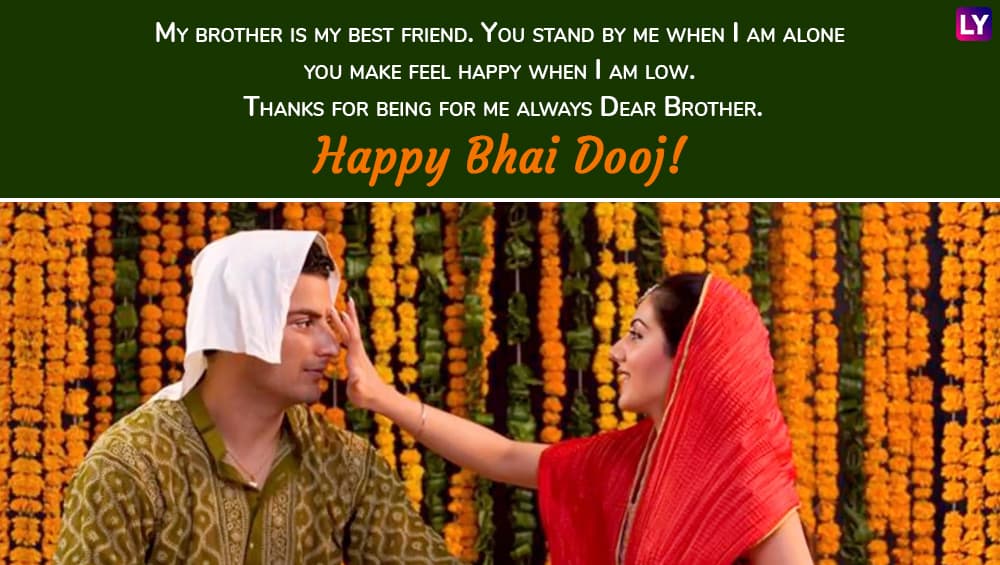 My brother is my best friend. You stand by me when I am alone you make feel happy when I am low. Thanks for being for me always Dear Brother. Happy Bhai Dooj!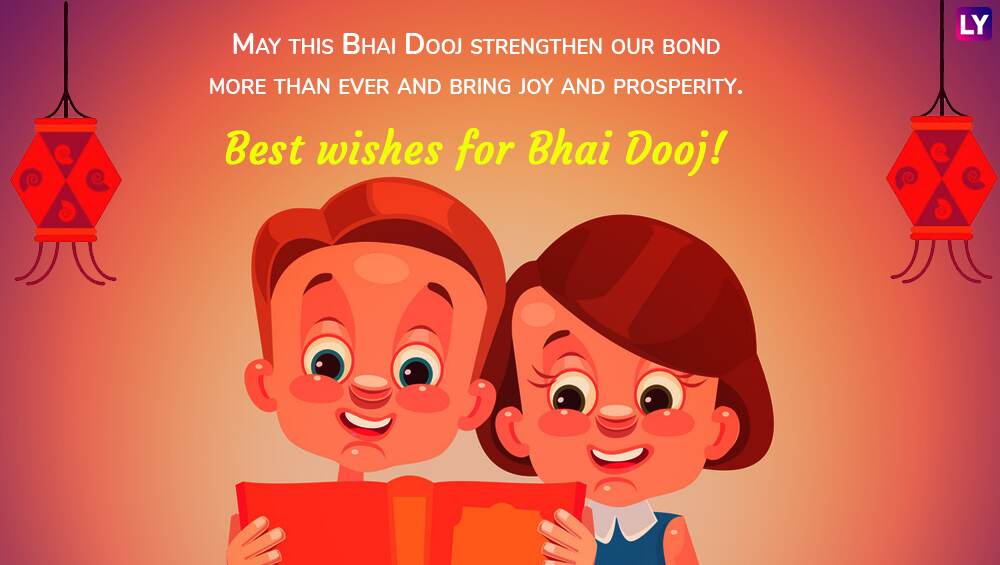 May this Bhai Dooj strengthen our bond more than ever and bring joy and prosperity. Best wishes for Bhai Dooj!
Bhai Dooj is also a day of celebrations and get-togethers. The day has various stories and myths attached to it. According to a popular belief. Yamraj, the God of Death visited Yami on this day. She welcomed him home, offered sweets and applied tilak on his forehead. Moved by her love and compassion, Yamraj gave her a gift as a symbol of his love. Thereafter he said that brother who will receive a tilak from his sister need not be afraid of death. Another story says that Lord Krishna's sister Subhadra welcomed him with an aarti, tilak and flowers after he killed the demon king Narakasur. We wish everyone celebrating the day a very Happy Bhai Dooj!