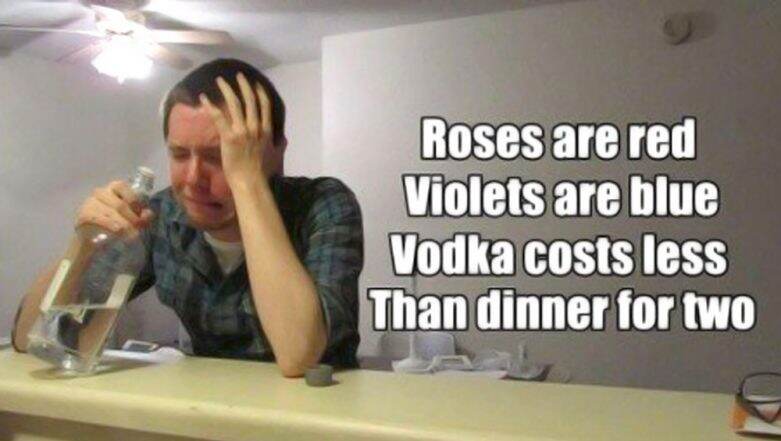 It is Valentine's Day today and couples everywhere are enthusiastically celebrating the day of love. Social media is filled with people exchanging Valentine's day messages, wishes and greetings. Couples make sure they wish their significant other a very Happy Valentine's Day. While all that goes on, it is the singles that are left feeling miserable. But there is something for them too on social media. We are talking about Valentine's Day memes. Several memes, jokes and funny images are shared on social media showing how Valentine's Day feels like for the singles. Single on Valentine's Day 2019? Sharing Funny Memes to Joining Bajrang Dal, Here's What You Can Do to Enjoy Your Singlehood on This Day of Love.
It can get a little annoying to see all hearts and lovey-dovey post filling your timelines throughout the week. It may be Valentine's Day today, but enthusiastic couples celebrate each day of the Valentine Week. If you are single and annoyed about the entire hullabaloo and display of love in public, we have compiled a bunch of Valentine day memes and jokes that can get you through all the sappy posts. Singles on Twitter have shared some of the funniest memes and jokes to express their thoughts on the day of love. Anti-Valentine's Day 2019: Funny Bajrang Dal Memes and Jokes That Are So Dank That It Is Crazy.
Check Some Funny Memes and Jokes on Valentine's Day
Social Media Vs You Today
Realtionship Status : #Valentines pic.twitter.com/BAqi4RnolX

— Suzy (@ 1D HIATUS😭) (@ONED_REUNION) February 14, 2019
You Are Not Alone
Two people who have no plans for #Valentines day are staring at each other pic.twitter.com/dmalESYj72

— Bollywood Gandu (@BollywoodGandu) February 14, 2019
Vodka Shots Please
@xoxoangelina How I plan on spending Valentine's Day. #ValentinesMemes #GreatNightAhead #SoManyMemesSoLittleTime pic.twitter.com/0vJ9FzEvJD

— Chris D.A. Rodriguez (@Xrodriguez525) February 14, 2016
You've Got a Mail
Me on Valentines day 😁😁 #valentinesday #ValentinesDay2019 pic.twitter.com/GENbwuUynt

— KADUNA KING🇳🇬 (@TBoywonder) February 14, 2019
Holding Hands to Singlehood
Happy valentine #ValentinesDay #ValentinesDayMemes pic.twitter.com/koypCIoxw7

— Pacarnya Ariel Tatum (@mw_m27) February 12, 2019
Genuine wishes?
Roses are red,

I'm an absolute wreck,

California trusts the weed industry more than its tech.

Happy Valentine's Day everyone 💛💛💛#ValentinesDay⁠ ⁠#ValentinesDayMemes

— eribee (@barelyeri) February 14, 2019
Team Ugly!
When your parents ask you why you're still #single #sad #alone #valentinesday #ValentinesDayMemes pic.twitter.com/jeh0iypB2s

— oli (@endolissuffer) February 14, 2019
Normal Day > Valentine's Day
Who else is gonna have a normal day this #valentines? #ValentinesDay pic.twitter.com/LDDkdQ0vJP

— 👑 OLUWAFIFUNMI 🎨🇳🇬 (@FifunmiRexx) February 14, 2019
Valentine Day Product
Girl : Mom, I'm going out with my boyfriend to celebrate Valentine

Mom : You are not going anywhere.

Girl: Mummy ,why now ??

Mom : I hate to tell you this, but you are an Unwanted product of Valentine.

😂😂😂😂😂😂😂😂😂😂😂😂#Valentines

— CHIEf , THE DADDY™ 🦁 (@umar_ayotunde) February 14, 2019
You Are Enough
Single life is good for me.... #ValentinesDay2019 pic.twitter.com/PR2JRAbPWr

— Olukadaniel🇺🇬🎧 (@OlukaDaniel5) February 14, 2019
Perfect Meme!
ME: *hugs* happy #valentinesday

SHE: wish u the same

ME: will u marry me?

SHE: pic.twitter.com/xysoOzaPLW

— DR. GILL (@ikpsgill1) February 14, 2019
Didn't these memes and jokes make you laugh and go relatable as you scrolled down for more? Don't forget to share these funny jokes with your other single friends too. Wish you all single's a very Happy and Funny Valentine's Day!