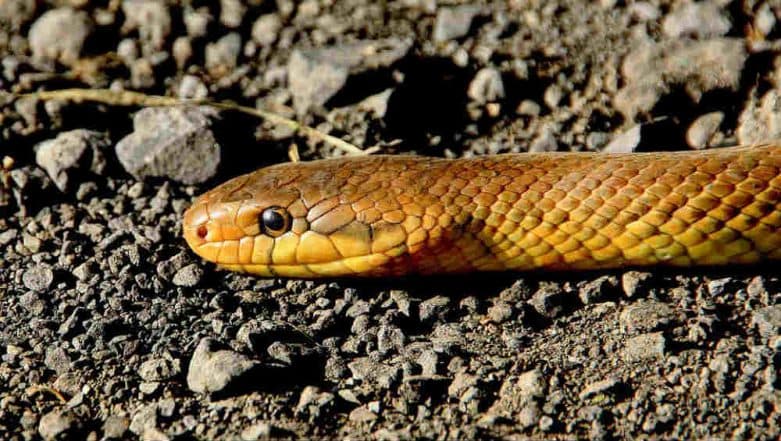 Three people were arrested for trying to sell a red sand boa or the two-headed snake for Rs 15 lakh in Panvel on Saturday. Ganesh Patil, a 25-year-old Dadar resident who hails from Pen, 34-year-old Nilesh Baig and 27-year-old Avishkar Mhatre tried to strike a deal after buying the snake from Adivasis. Patil said that they purchased the two-headed snake from an Adivasi in Pen.
The men said that they were going to sell the snake for Rs 15 lakh, but its actual price in the market is around Rs 1 crore. According to a report in The Times of India, the snake could have fetched around Rs 2.5 crore. The snake which was rescued is 3.5 ft in length and weighs 2.5 kg. Albino Cobra Hatchling Rescued in Bengaluru, In a First A Two-Day Old Rare Snake,Was Found
It is believed that the sand boa brings luck to those who own it. It is also said that the non-venomous type brings good luck if kept at home. Some believe it to have medicinal value. However, it is also used for black magic also. While the reptile is known as a two-headed-snake, it does not have two heads. It is called so, as the size of its head resembles the head. It is one among the protected species of snakes. Rattlesnake Dancing! Check The Rare Combat Dance Video of Two Deadly Snakes in Virginia
Last year in March, the Mumbai Crime Branch had arrested a man for allegedly trying to sell one of the rare two-headed snakes. He had tried to sell it for Rs 40 lakh. It was a four-feet brown snake which was later handed over to Forest Department officials. The arrest was made after a senior Crime Branch official received information about a group that sells rare snakes and antique idols.